Amazon Web Services Could Soon Be Worth A Massive $350 Billion
Amazon.com's (NASDAQ:AMZN) wildly profitable Amazon Web Services (AWS) business, which provides back-end cloud infrastructure and hosting services to broad swaths of the internet, has become increasingly important in recent years as it relates to the e-commerce giant's financial performance. For example, AWS has generated $6.5 billion in operating income over the past year, representing 60% of consolidated operating income over that time frame. Better yet, AWS is only getting more profitable over time as it grows, thanks to operating leverage.
This article originally appeared in the Motley Fool.
The company is hosting its annual AWS re:Invent conference this week in Las Vegas, and one analyst has put out a stunning new estimate.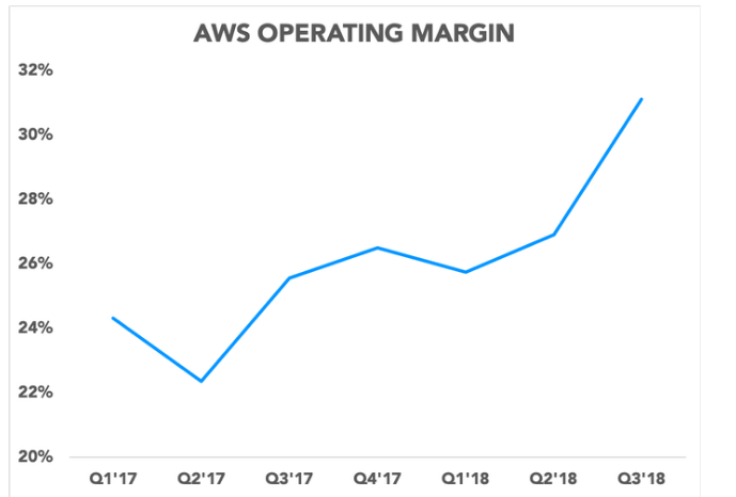 AWS could be worth $350 billion in just a few years
Jefferies analyst Brent Thill has released a research note (via Barron's) pointing to bullish signs from customers attending the conference. "Enterprise customers are making bigger commitments earlier with AWS, increasing partner deal sizes," writes Thill. Many of the deals that Amazon is announcing are 3.5 times as large as comparable deals in 2017, according to the note.
Customers are expanding their business with AWS, and the analyst notes examples of some customers that are increasingly relying on AWS for back-end process needs. AWS has already announced four customers going "all-in" on the platform this week, including Korean Air and Ellie Mae, among others.
Given that momentum, Thill is revising his forecast on AWS revenue, which he now expects to reach an incredible $71 billion by 2022. For reference, AWS' trailing-12-month (TTM) revenue is currently $23.3 billion. If you apply a five times sales multiple to that forecast, Thill argues that AWS could be worth a massive $350 billion by then. That's a premium compared to the 3.5 P/S that Amazon shares currently trade at, but easily justified given how much faster AWS is growing compared to the e-commerce business, as well as how profitable it is.
The analyst estimates that AWS will bring in $26 billion in revenue for 2018, compared to the $10 billion in Azure revenue that he is modeling for Microsoft (NASDAQ:MSFT). Overall, Thill is maintaining a buy rating alongside a $2,300 price target on Amazon shares.
Still the top dog in the cloud
AWS is maintaining its dominance of the cloud infrastructure market. The global market for cloud infrastructure services jumped 46% in the third quarter to $21 billion, with AWS leading the way with 32% market share, according to Canalys. That's nearly twice Microsoft's 17% share and quadruple Alphabet's Google Cloud at 8%.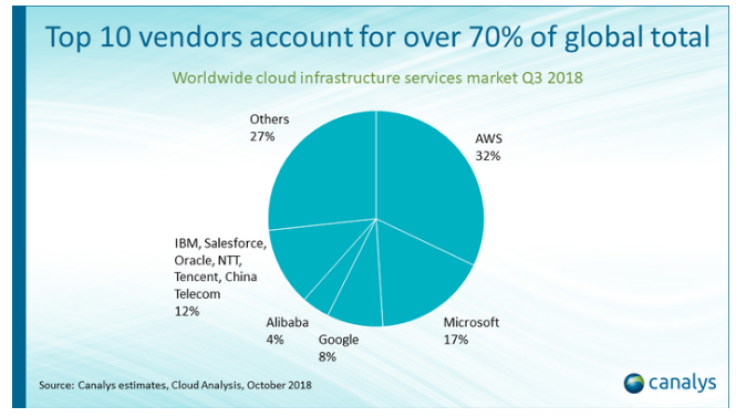 AWS is crushing it, and it's not hard to justify buying Amazon shares just for the exposure to AWS, like I did recently.
John Mackey, CEO of Whole Foods Market, an Amazon subsidiary, is a member of The Motley Fool's board of directors. Suzanne Frey, an executive at Alphabet, is a member of The Motley Fool's board of directors. Teresa Kersten, an employee of LinkedIn, a Microsoft subsidiary, is a member of The Motley Fool's board of directors. Evan Niu, CFA owns shares of Amazon. The Motley Fool owns shares of and recommends GOOGL, GOOG, and Amazon. The Motley Fool owns shares of Microsoft. The Motley Fool has a disclosure policy.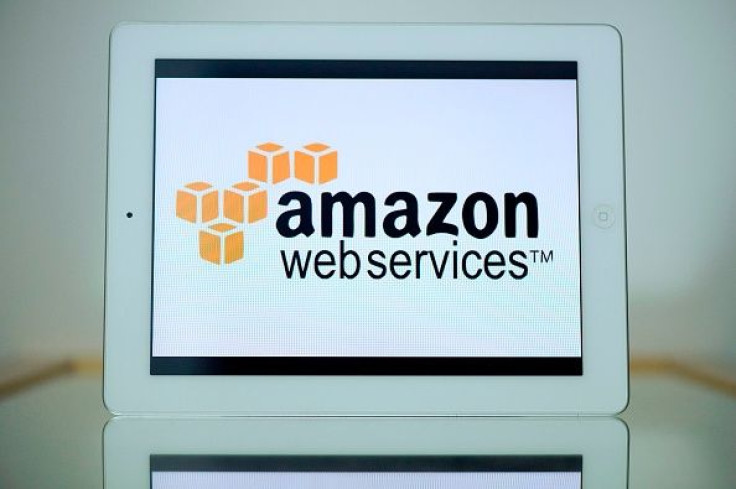 FOLLOW MORE IBT NEWS ON THE BELOW CHANNELS