American War Veteran Merrill Newman Returns Home After North Korea Deports Him On Humanitarian Grounds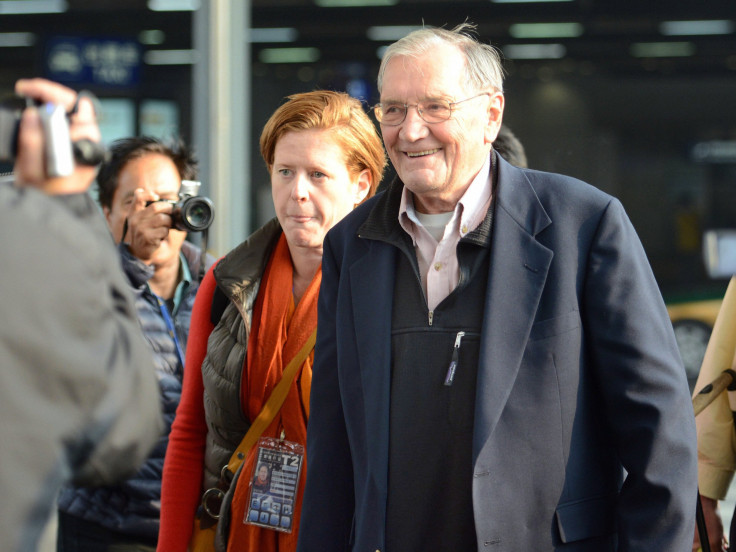 North Korea on Saturday freed Merrill E. Newman, an 85-year-old American veteran of the Korean War, following a 7-week detention for committing what the isolated nation described as "hostile acts" against it.
Newman, who resides in Palo Alto, Calif., arrived in Beijing on Saturday after being deported, and hours later boarded a United Airlines flight to San Francisco. He is expected to arrive in California at approximately 9:00 a.m. on Saturday.
"I am very glad to be on my way home," a smiling Newman told reporters after arriving at the airport in Beijing from Pyongyang, according to South Korea's Yonhap news agency. "And I appreciate the tolerance the (North Korean) government has given to me to be on my way."
"I feel good," Newman said, adding that the first thing he planned to do was "go home and see my wife," Yonhap reported.
KCNA, the official news agency of the Democratic People's Republic of Korea, earlier said that Newman was being deported from the country on humanitarian grounds, considering his age, health condition, and because he apologized for his wrongdoings against the North during the 1951-53 Korean War.
Last Saturday the KCNA issued an apology that it claimed was made by Newman after he was detained. Newman had served in North Korea during the war and trained an anticommunist guerrilla unit fighting against the North's regime.
Newman's release came as U.S. Vice President Joe Biden visited South Korea as part of a three-country Asia tour.
"The DPRK today released someone they should never have had in the first place," Biden said in Seoul. "It's a positive thing they've done."
Biden said he had offered Newman a ride home on Air Force Two, but the veteran declined the offer pointing out that there's a direct flight to San Francisco.
"I don't blame him, I'd be on that flight too," Biden reportedly said.
Newman spoke to his family briefly after arriving at the Beijing airport, and his son, Jeffrey, said his father was "in excellent spirits and eager to be reunited with his family."
"This is a great moment for us as a family and it will be even better when we are able to see him in a few hours," Jeffrey Newman said in a statement read outside his home in Pasadena, Reuters reported.
"After Merrill comes home and has a chance to get some well-deserved rest, we will have more to say about his unusual and difficult journey."
Newman was detained by North Korean officials in Pyongyang when he was about to leave the country in an Air Koryo plane on Oct. 26. He had been visiting North Korea as a tourist through a tour group based in Beijing. But Pyongyang had not publicly acknowledged Newman's detention or arrest until last Saturday, despite several pleas from his family to release him.
North Korea also has been holding Kenneth Bae, 44, another U.S. citizen and a Christian missionary of Korean descent, who was arrested last year and sentenced in May to 15 years of hard labor for committing hostile acts against the North.
© Copyright IBTimes 2023. All rights reserved.