Americans Believe God Chose The US To Play A Special Role In Human History, According To New Poll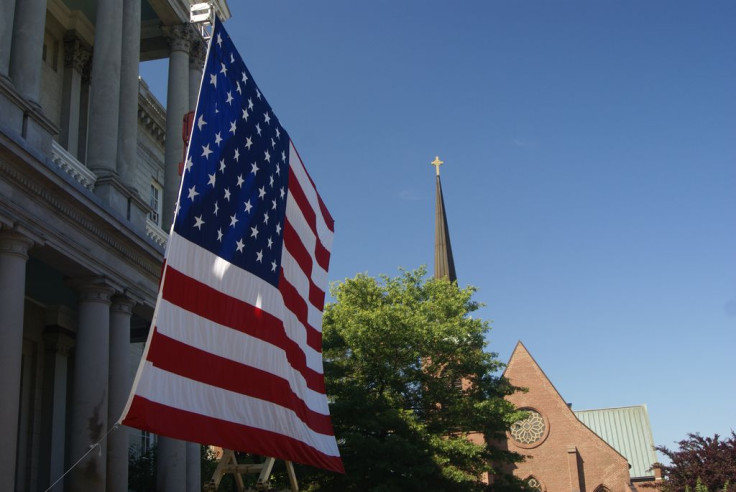 What makes America unique? God deemed it so, according to some Americans.
More than six in 10 Americans believe God granted the United States a special role in human history. That's just one of the findings from a new poll conducted by the nonpartisan Public Religion Research Institute in conjunction with the Religion News Service. The survey, conducted between June 10 and June 14, polled 1,007 Americans nationwide on their views on patriotism, America's moral standing and what makes someone "truly American."
But the perceived belief that God has singled out the U.S. doesn't mean Americans think that the U.S. is making the most of that status. Only 43 percent of those polled said that the U.S. sets a good moral example for the world, while 53 percent disagreed.
To many of those surveyed, the role of religion -- namely Christianity -- plays an important part in determining who is a "real" American. A whopping 69 percent of respondents said that believing in God is essential to a truly American identity, while more than half -- 53 percent -- said that being Christian is an important part of being truly American.
Yet those polled don't believe that the U.S. is a Christian nation. Only 35 percent of respondents said that the U.S. is a Christian country today, while 45 percent believed that it once was a Christian country but is not anymore. Another 61 percent agreed that this change is a bad thing.
"We see a stark shift across the generations when it comes to defining what makes someone truly American," said Dan Cox, research director at the Public Religion Research Institute. "Young adults are roughly half as likely as seniors to say that being Christian is an important part of the American identity. Young adults are also much less likely to believe the U.S. is a Christian nation, an idea largely embraced by older Americans."
© Copyright IBTimes 2022. All rights reserved.
FOLLOW MORE IBT NEWS ON THE BELOW CHANNELS