Amid Anti-ISIS Airstrikes, US Troops Deployed To Syria To Fight Islamic State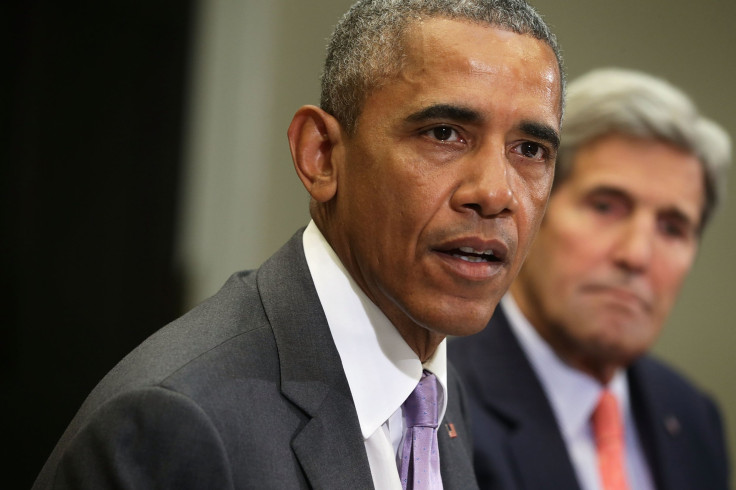 UPDATE: 1:30 p.m. EDT -- White House press secretary Josh Earnest confirmed at a Friday afternoon news conference that fewer than 50 troops will go to Syria to "train, advise and assist" moderate opposition forces. When reporters grilled Earnest on the specifics of President Barack Obama's previous vows of "no boots on the ground" there, Earnest said the announcement was in keeping with Obama's strategy of intensifying support for people battling the Islamist fighters.
Earnest contrasted the president's stance with former President George W. Bush's 2003 decision to invade Iraq. "The president has been quite clear that there is no military solution to the problems that are plaguing Iraq and Syria," Earnest said. "There is a diplomatic one."
Earnest said the special operations personnel would not be in a combat mission, but "there's no denying the amount of risk that they are taking on here."
Original story:
President Barack Obama will reportedly send a group of special operations advisers to Syria to help with the battle against the Islamic State group. Fewer than 50 fighters will be involved, and they will not participate in combat but rather advise allied forces, the Washington Post reported.
"Specifically, we have enhanced our ability to partner with these forces -- advising them and helping to facilitate their activities, providing air support for their ground offensives and directly equipping them so that they are more effective," a senior official told Politico. In addition, Obama approved the deployment of A-10 and F-15 fighter jets to Incirlik, Turkey, and the U.S. will provide other military assistance to Lebanon and Jordan.
The sure-to-be controversial decision to put boots on the ground "is consistent with strategy to intensify battle against ISIS," an unnamed White House source told ABC News. A U.S.-led coalition began airstrikes on the extremist group in September 2014.
Rep. Mac Thornberry, R-Texas, told NBC News he thought the military deployment showed the White House was worried its current policies weren't working. "I'm concerned that the administration is trying to put in place limited measures -- too late -- that are not going to make a difference," he said. "I don't see a strategy toward accomplishing a goal; I see an effort to run out the clock without disaster."
Obama said last year that American soldiers "do not and will not have a combat mission" opposing the Islamic State group -- also known as ISIS or ISIL -- adding that "as your commander in chief, I will not commit you and the rest of our armed forces to fighting another ground war in Iraq," the Associated Press reported at the time.
But Defense Secretary Ash Carter referenced the tense situation overseas in a speech earlier this week, according to the Hill. While discussing the recent death of Sgt. Master Joshua Wheeler, who was killed in Iraq Oct. 22 while trying to rescue ISIS hostages, Carter admitted, "There are American troops in combat every day."
© Copyright IBTimes 2023. All rights reserved.