Amid Boko Haram Insurgency, Nigeria To Buy JF-17 Thunder Fighter Jets From Pakistan For $25M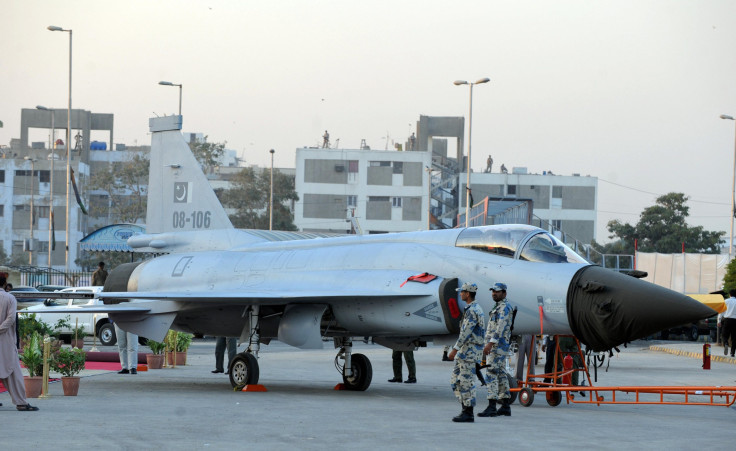 Nigeria plans to buy three JF-17 Thunder multirole fighter jets this year from Pakistan for $25 million, which would make the West African country the first export operator of the warplanes. The Nigerian government, led by President Muhammadu Buhari, has also set aside money to buy 10 PAC Super Mushshak basic trainers and two Mi-35M helicopters, Nigerian newspaper Punch reported Wednesday.
The local newspaper report cited a leaked copy of the fiscal 2016 budget, which Buhari presented to the National Assembly in December. Buhari reportedly proposed spending some $326 million to buy various combat aircraft, equipment, vehicles and ships in the current fiscal year, as the Nigerian military aims to defeat Boko Haram insurgents in the northeast.
Nigerian military officials have apparently been interested in obtaining the JF-17 since the 2014 International Defense Exhibition and Seminar in Karachi. During the exhibition, a Pakistani defense official said Nigeria was close to signing a contract for the fighter jets to upgrade its air force. But a deal was not immediately finalized, according to South Africa's defenceWeb.
Sri Lanka has reportedly signed a deal with Pakistan for an initial eight JF-17 Thunder jets, as the two countries aim to boost defense cooperation. There has been no official confirmation of the agreement, though it has been widely reported, according to Defense News.
The JF-17 Thunder is a lightweight, single-engine, multirole combat aircraft developed jointly by the Pakistan Aeronautical Complex and China's state-owned Chengdu Aircraft Corp. The jet is equipped with a 23 mm GSh-23-2 twin-barrel automatic cannon and can also be armed with air-to-air and air-to-surface missiles. The JF-17 Thunder is currently only in service in Pakistan, according to UPI.
© Copyright IBTimes 2023. All rights reserved.