Amid Ceasefire In Colombia, FARC Proposes US Military Funding Go To Peace-Building Fund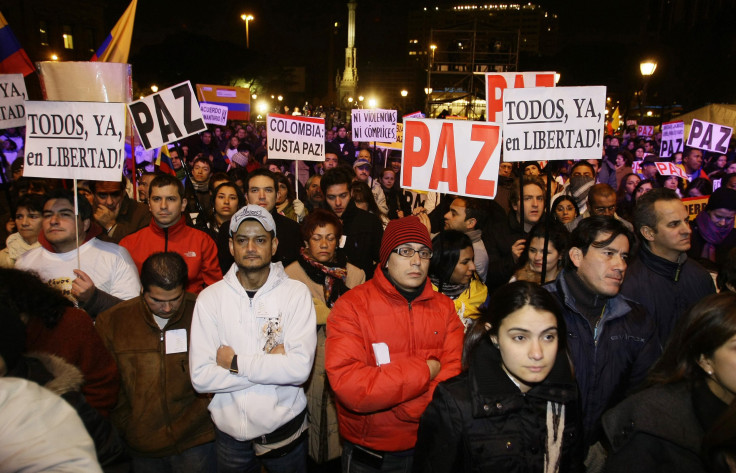 The Revolutionary Armed Forces of Colombia, a leftist guerrilla group also known FARC, proposed to the United States government Thursday that military aid to the South American country should be directed to a peace-building fund, TeleSUR English reported. The FARC negotiators -- based in Havana -- proposed the fund as part of 10 recommendations to end the civil war that has raged in Colombia for more than 50 years.
"The resources allocated to military aid should be redirected in their entirety to the fund" to end the conflict, according to a statement read by Lucas Carvajal, a FARC peace delegation member. The statement also called upon Colombian President Juan Manual Santos to "redefine the current structure of public expenditure…in particular, the spending on security and defense."
Colombian Military Expenditure Over Time | FindTheData
FARC wants to make the national fund valid for 10 years, with an investment of 1.5 percent to 2 percent of the total GDP for the next five years. It also suggested eliminating tax breaks to big businesses, requiring that they pay a "special contribution" to the fund and requiring that mining and energy countries make contributions to the fund.
Peace talks have been in the works between the rebel group and the Colombian government since 2012, and FARC announced a ceasefire over the summer shortly before meeting with the government officials in September to agree to work on a landmark peace deal expected be signed within six months. FARC has operated as a terrorist group in the country since the 1960s and has denied criminal accusations to prevent jail time for its members.
"We are hopeful the parties will soon conclude a final agreement to end this terrible war," U.S. Secretary of State John Kerry said in a September statement. "The Colombian people deserve a just and durable peace, and this will be their victory."
© Copyright IBTimes 2023. All rights reserved.