Amid Libyan Civil War, A New Coalition Is Brewing To Fight ISIS Militants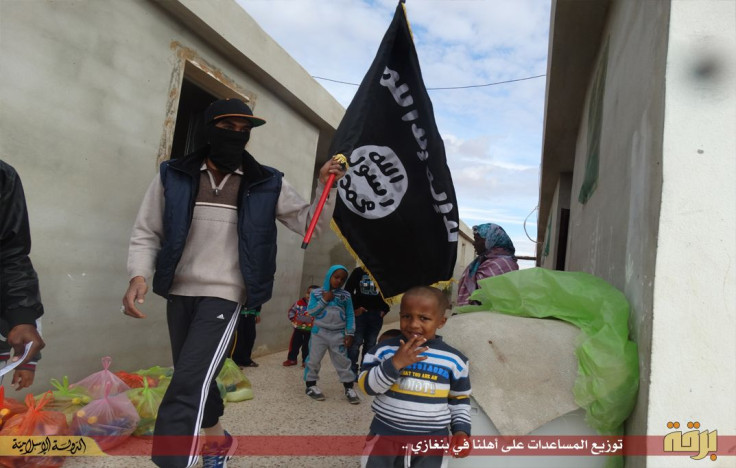 The fight against the Islamic State group has been concentrated so far in Iraq and Syria, but now the conflict has officially expanded to new theaters, in Libya and Egypt's Sinai peninsula. The extremist group's growing presence in North Africa is forcing the creation of a new coalition, and the country that probably will be at its forefront, Egypt, carried out Monday its first round of airstrikes against Libyan targets.
Intended as retaliation for the beheading of 21 Egyptian Christian captives shown in the latest ISIS video -- the first allegedly filmed outside its self-declared caliphate in Iraq and Syria -- two sets of airstrikes hit targets in Derna, a port city serving as ISIS headquarters in Libya.
On Monday, Egypt and France called for an emergency United Nations Security Council meeting to discuss the situation in Libya and measures to combat ISIS militants there. Earlier this year, French President François Hollande said he was willing to carry out a bombing campaign in Libya to "contain the terrorism that took refuge there."
But that may come as a relief to the group also known as ISIS. It may even be what it wants.
"Opening a new, broad front in Libya could relieve pressure on the Islamic State in Iraq and Syria," said Andrew Engel, an Africa analyst and author of the Washington Institute study "Libya as a Failed State: Causes, Consequences, Options." "They are trying to force the international community's hand."
ISIS now threatens to cross the Mediterranean and strike Italy next; an ISIS executioner in the video released Sunday pointed his knife to the north, announcing Rome would be next. Italian Defense Minister Roberta Pinotti announced her government was ready to send thousands of soldiers to Libya, a former Italian colony. But Prime Minister Matteo Renzi quickly backtracked, saying that there would be no unilateral Italian move without an international mandate.
For now, Egyptian President Abdel Fattah el-Sisi is charging alone against the Libyan branch of ISIS, and may soon find himself embroiled in Libya's chaotic civil war -- yet with an agenda differing from Europe's.
"Egyptian intervention is very worrisome," said Arturo Varvelli, a Libya expert and research fellow at the Italian Institute for Political Studies, where he heads the terrorism program. "Al Sisi has Islamist enemies that he identifies in a very different way from us."
Sisi has warned that the Libyan civil war poses a threat to Egypt since he took power in 2013, ousting President Mohammed Morsi and his Muslim Brotherhood backers. The Brotherhood may find support next door in Libya, where two alliances are vying for power: One is the General National Congress, based in Tripoli and made up of Islamist militants aligned with an extremist movement called Libyan Dawn. The other is based in Tobruk, in the far east of the country near the Egyptian border, and stems from the government elected in 2014. It is supported by Gen. Khalifa Hifter's militias, which are fighting against Islamist radicals and enjoy Egyptian support. Libyan Dawn seized Tripoli, the capital, during the summer and announced its own government, increasing Sisi's fears that the Islamist movement would support Egypt's Brotherhood.
On Monday, Hifter's forces in Tobruk called on the international community to intervene against both ISIS and Ansar al-Sharia, a jihadist group with ties to al Qaeda. Intervention to root out jihadists could help Hifter fight the militants on the ground, but it may backfire.
"ISIS competes with Ansar al-Sharia, but if Western troops intervene it would easy for them to become allies," Varvelli said. "This holds true even when the intervention comes from al Sisi."
What may bring that intervention closer despite the risks is that ISIS has never been closer to Europe. Italian officials have already expressed concern in recent months that boats laden with migrants coming from Libya could also harbor jihadi stowaways.
"We have been discussing this for months, but now it has become urgent," Pinotti told Italian media. "The risk is imminent, we cannot wait any longer. Italy has national defense needs and cannot have a caliphate ruling across the shores from us."
The Italian approach has, so far, been more nuanced than France's. Helped by the presence of an ambassador in the country, even after most other nations had evacuated their diplomats, the Italian government gained a reputation as a trusted partner for both the Tobruk government and the rebels installed in Tripoli.
"Italy has in fact been following a policy of mediation between the two sides in Libya," Varvelli said. Now that the Italian Embassy has been evacuated too, the last diplomatic link between Libya and the West has been severed, and the possibility of military action draws closer.
© Copyright IBTimes 2022. All rights reserved.
FOLLOW MORE IBT NEWS ON THE BELOW CHANNELS