Amid Russian Aggression, Sweden, Finland Discuss War Treaty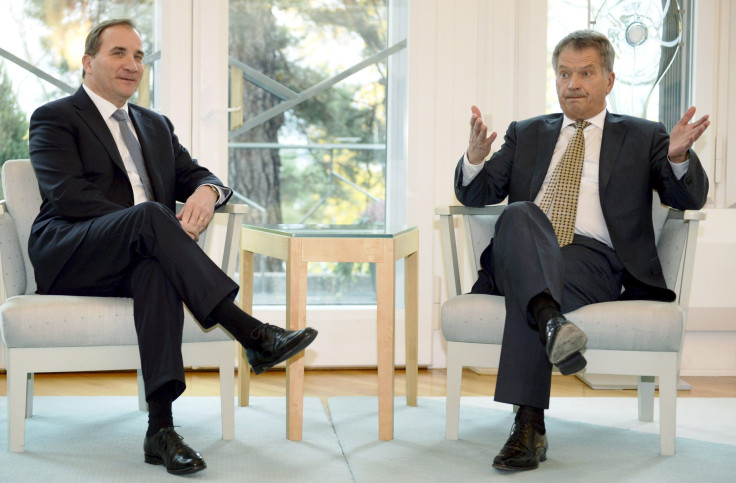 Heightened military cooperation in recent months between Finland and Sweden is moving into discussions over a possible defense union, Defense News reported Friday. Although neither country has explicitly named a direct threat to its security, officials have expressed concerns over growing tensions in the region, meaning aggressive moves by Russia.
Recent discussions over military relations have focused primarily on peacetime, but the idea of a treaty that would ensure a commitment to mutual defense in wartime has grown increasingly popular. Officials said details still needed to be thought through.
"A treaty has not been ruled out," said Jussi Niinistö, Finland's defense minister. "The cooperation that exists between Finland and Sweden is solid, but we have a long road ahead of us still."
The talks come as NATO has stepped up its presence in the Baltic Sea. During a recent trip to Lithuania, Micael Byden, the Supreme Commander of the Swedish Armed Forces, said the move, at a time when Russia has become increasingly aggressive, could affect the entire region. Sweden and Finland, which are not in NATO, have moved closer to one another amid disagreements with Russia, particularly following Moscow's actions in Ukraine. A recent NATO report found the Russian air force held a mock nuclear strike against Sweden during war games two years ago.
"We don't see a direct military threat towards Sweden," Byden said, the Baltic Times reported. "But living in the Baltic region where Russia is increasing its presence, where Russia is showing its willingness to use its military means to reach its political goals, and where we see NATO military assets arriving to the region — this means that the Baltic Sea region is now an area now where friction and confrontation may happen."
Officials said an actual treaty would require more than simply a document, it would also require a unified vision. Matti Vanhanen, a former prime minister in Finland, saw potential in a commitment to mutual defense.
"I support the school of thought that one must be very precise in respect of questions dealing with war and peace. We can never be sure whether the resources of our neighbor are at our disposal in times of need if our cooperation with Sweden is established on a voluntary basis," Vanhanen said.
© Copyright IBTimes 2023. All rights reserved.