Amino Says It's The First App To Use Health Insurance Data To Benefit Consumers, But Privacy Advocates Are Still Nervous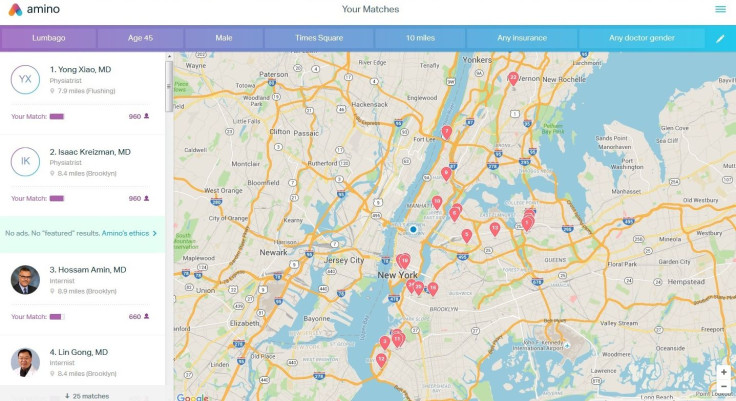 David Vivero needed a doctor. The entrepreneur and former Zillow executive didn't want just any doctor: He has hemochromatosis, a rare hereditary condition, and wanted to be sure the doctor he picked had the skills and experience to treat it.
But how, aside from patient reviews or the physician's stated specialties, would you know if the doctor specialized in genetic testing, for instance, or identifying gene mutations? Is there any way to find out how many procedures the doctor conducted in the past year?
It's in the insurance data.
So Vivero spent the past two years acquiring anonymized insurance claim data on 188 million patients and 900,000 doctors across the United States from at least a dozen public and private sources. On Tuesday he launched Amino, a free app meant to personalize the experience of finding a doctor. Users enter their location and their specific request and are shown a list of relevant doctors in the area, as well as the number of patients each doctor has treated for a certain injury or disease.
The records are primarily based on insurance claims, forms doctors fill out about each patient and send to the insurer for reimbursement. Claims may include demographic data (a patient's name, date of birth, sex, address and insurance plan number) along with the treating physician, the diagnosis, date of service, type of treatment, location of services and other sensitive information.
The ultimate goal, according to Vivero, is to replace the traditional method of asking friends and family to recommend a doctor.
"The trouble with that approach is that it's really about luck," Amino said. "I had a condition and after 13 years I've still never had a conversation with anyone who has the same condition. Amino's role is to use a data-driven, personalized experience that's not encumbered by advertising."
Amino maintains that its data is anonymized at the source, something Big Data companies do every day. It's also possible the company is compiling records from public sources like clinical journals or academic research, according to Dennis Melamed, adjunct professor at Drexel University College of Medicine in Philadelphia and a longtime researcher on federal health regulation.
"I am having trouble in seeing anything unusual in how data is being used once it's becoming available," Melamed said. "Data is here, it's a new tool, and trying to identify doctors who are acquainted with what you have can be very difficult. I think the market for that is going to be huge."
Privacy advocates are more concerned. It's incredibly difficult to re-identify data that has been anonymized, but it is possible, and only gets easier when a company obtains a larger dataset.
The problem, according to Dr. Deborah Peel, a physician and the founder of Patient Privacy Rights, is that Amino's business plan is based on a broken policy that makes it possible to sell and resell Americans' medical information without their authorization.
Most Expensive Doctors to Visit by Specialty | HealthGrove
"We are paying them for a service (insurance to cover costs of health care) and 'give' them access to our health data to only pay claims - - i.e. we must sign 'blanket advance coerced consents' every year for all our health data to be released to the health insurer so that claims will be paid," Peel said in an email. "Doctor's offices also require that we sign a release of all our records to pay claims – they want us to make sure they can send our data if it's required by the insurer to get paid."
Amino has spent two years gathering data and raising $19.4 million from venture capital firms (Accel, CRV and others). The company would not disclose its data partners, but Vivero said Amino is the first service that will leverage the power of Big Data for the consumer's benefit.
Part of that benefit is no advertising. Around 900 medical conditions are listed on Amino, users don't need to pay to use it and it's impossible for doctors to boost their ranking by paying. Still, Vivero says the monetization strategy is still in development.
"The belief here at Amino is that information should be free," he said. "We're going to be learning as we build our product, but our hope is to do what so many great Internet companies have done, which is to really understand and learn how people use or product and see if there are additional services that we can put on top that maybe consumers will be willing to pay for."
© Copyright IBTimes 2023. All rights reserved.