Amnesty International: The High Cost of Human Rights Activism And Charity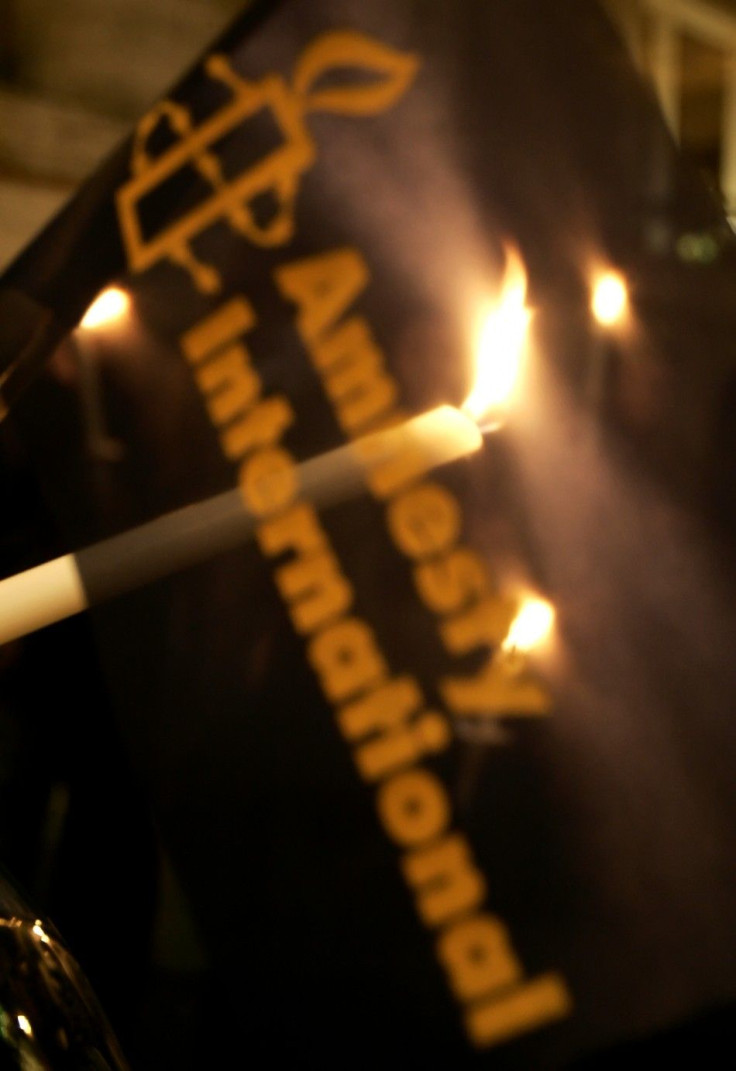 Amnesty International is perhaps the world's most honored and respected human rights organization, having fought the good fight against injustice and poverty around the world for a half century.
But, like any business or organization, Amnesty is not perfect – in recent years, it has endured a number of episodes of inner turmoil, internal conflicts and some questionable financial dealings, despite the group's noble stated intentions.
For example, Salil Shetty, the Secretary-General of Amnesty International, who has held the position since July 2010, earns nearly £200,000 ($305,000) a year, and senior directors earn up to £107,000 annually. While those salaries are roughly comparable to most other NGO senior executive pay-scales, the messy and somewhat mysterious departure of Shetty's predecessor, Irene Khan, cast a harsh glare on Amnesty's internal strife and financial issues.
Khan, who had led the organization since 2001, was given a severance pay package of more than £533,000 ($760,000 in 2012 currency), while her deputy Kate Gilmore received a hefty £325,244 ($493,000) payout. Khan, whose second and last term as secretary-general expired in December 2009, fought a bitter battle to stay on, creating a crisis within Amnesty.
As a result, after much hand-wringing and internal discussion, Khan and Gilmore finally walked off with huge payoffs. Not surprisingly, these payments raised quite a few eyebrows – among other things, the cash compensation Khan received was equal to more than quadruple her annual salary.
By now, the beleaguered charity found itself in an uncomfortable position – having to publicly explain its finances. Peter Pack, Amnesty's international executive committee (IEC) chairman, said that the financial largesse handed out to Khan and Gilmore represented the "least-worst option" in a lengthy and rambling letter to staff.
"A lot of soul-searching" was involved in the decision to pay the former officials, he insisted, in order to compel them to leave. Initially, Khan refused to go, but the IEC was adamant that her time at Amnesty was up. Pack said that a public firing of Khan would have imparted "enormous damage to the operations and reputation of [Amnesty]," having "a major adverse effect on the overall work of [Amnesty] for human rights."
Consequently, Amnesty, after consulting with an unidentified London legal firm, apparently sweetened the financial package for Khan, including bonus payments and a significant "termination fee." "There has not yet been time for us to absorb all the lessons learnt from the events of recent days," said Pack of the gargantuan settlements, which were subject to confidentiality agreements.
Given that Amnesty depends heavily on donations from well-meaning members of the public, the large severance package sparked an outcry. "I am sure people making donations to Amnesty, in the belief they are alleviating poverty, never dreamed they were subsidizing a fat-cat payout. This will disillusion many benefactors," Philip Davies, a Conservative MP, said.
An Australian blogger thundered: "I am not sure about an international organization that collects donations and then pays the leaving secretary- general £533,103 or 4 times her yearly wage... That is a lot of money and I am sure [it] could have been used much better to champion fight for human rights that Amnesty International go on about."
Late last year, the turmoil within Amnesty took another unexpected step -- staff-members around the globe went on strike, a particular embarrassment for an organization that has long advocated for labor rights. Employees at Amnesty overwhelmingly issued a no-confidence vote in their leadership, following the lay-off of several dozen people and a salary freeze. Amnesty workers picketed in Paris, Dakar, Kampala, Beirut, New York, Hong Kong and Johannesburg.
"Amnesty International cannot be an effective or credible human rights organization if it does not respect the rights of its workers," said Alan Scott, an official at Unite, the UK union that represented strikers. "[Amnesty is] one of the most mendacious employers [I have known]."
Quite a powerful indictment of a "human rights" activist organization.
Critics also charged that Amnesty, which was originally founded in 1961 to raise awareness of prisoners rights in dictatorial regimes, has lost its focus by spreading itself too thin and embracing a bewildering variety of global issues, including capital punishment, hunger, poverty, corporate accountability and even gay rights.
For example, in 2007, the Catholic Church, a long-time supporter of Amnesty, withdrew donations owing to the group's pro-abortion stance. Moreover, Shetty's plan to shift Amnesty's operations from the US and Europe towards hubs in the emerging world has also raised some hackles.
"The management... do not seem to have considered security issues properly [in the regional hubs]," an unidentified worker complained to The Independent newspaper. "But it's more than that. They seem to be moving Amnesty into campaigning mode with big stunts and branding exercises designed to boost membership -- at the expense of the detailed research on which our credibility depends. We will launch a campaign on [imprisoned Russian punk band] Pussy Riot because it's fashionable, chasing the energy, lurching from one issue to the next."
He added: "The danger is Amnesty may become less interested in helping individuals than in using them as emblems of problems which need to be tackled -- and getting them to sign a release form so we can publicize their story to raise funds. At present we are more concerned with setting up an office in India, and raising funds locally there, than in doing the basic human rights work."
One of Amnesty's most prominent critics is a former board member of the charity, Dr. Francis Boyle, professor of International Law, University of Illinois-Champaign. "Amnesty International is primarily motivated not by human rights but by publicity," he said during an interview with radio host Dennis Bernstein. "Second comes money. Third comes getting more members. Fourth, internal turf battles. And then finally, human rights, genuine human rights concerns."
NGO-Monitor, a Jerusalem-based NGO that monitors the activities of global activist organizations, has found much at fault with Amnesty. For example, while Amnesty claims it does not take donations from governments or political parties, NGO-Monitor noted, in 2008, the campaigners received a four-year grant from the British government's Department for International Development (DFID in excess £3 million, including more than £840,000 in 2011 alone.
Amnesty has also received funds from the European Commission, as well as from the government of Netherlands, the U.S., and Norway. In 2009, NGO-Monitor cites, Amnesty received €2.5 million (approximately 1 percent of its donations) from government entities. The British government was the third largest donor (at €800,000). Amnesty also received government funding in 2008 (€1million), 2007 (€1 million), and 2006 (€2 million).
(Also, under British laws, as a charity, Amnesty is exempt from paying any taxes).
Naftali Balanson, the managing editor of NGO-Monitor told IB Times that Amnesty's promotional materials obfuscate this issue, as its guidebook categorically states that Amnesty "neither asks for nor accepts direct donations from governments." Similarly, on its website, Amnesty International claims: "We neither seek nor accept any funds for human rights research from governments or political parties."
"This misleading appearance of independence is an integral part of Amnesty's international credibility," Balanson said.
NGO-Monitor also takes issue with Salil Shetty's salary. Conceding that Shetty's annual take-home pay of $300,000 is not outrageous for NGO chiefs – indeed Kenneth Roth, the head of Human Rights Watch, rakes in $400,000 per year, for instance.
But Balanson notes that "this salary [still] places them among the top earners globally and certainly calls into question why someone who prioritizes economic, social, and cultural rights earns magnitudes more than the people on whose behalf Amnesty claims to represent."
Balanson further stated that the "highly irregular" payouts to Khan and Gilmore caused '"great damage" to the organization. Indeed, an independent and confidential report by Dame Anne Owers (formerly Her Majesty's Inspector of Prisons) criticized both the settlements reached with Khan and Gilmore and Amnesty International's management.
"Owers found that the sums paid were, in both cases, higher than what had been reported by Amnesty, and Amnesty paid Kahn's legal fees," Balanson said. She called the payouts "seriously excessive" and "wholly inappropriate," citing that only about one-half of the payments reflected contractual obligations.
Moreover, as a group dedicated to fair practices and corporate responsibility, it is imperative for organizations like Amnesty to exhibit complete transparency. "Certainly, as Amnesty's budget rivals that of many large corporations [Amnesty's 2011 Report and Financial Statement they note that its "incoming resources" totaled more than £51 million], it should practice full transparency regarding its finances," Balanson added.
Balanson pointed to yet another embarrassment for Amnesty. In early 2010, a staff-member named Gita Sahgal was suspended after she condemned Amnesty for its links to and defense of Moazzam Begg, a prominent supporter of the Taliban in Britain.
"As a former Guantanamo detainee, it was legitimate to hear his experiences, but as a supporter of the Taliban it was absolutely wrong to legitimize him as a partner," Sahgal told British media. "The importance of the human rights movement maintaining an objective distance from groups and ideas that are committed to systematic discrimination and fundamentally undermine the universality of human rights."
Thus, Balanson noted, a strike by Amnesty employees was simply another chapter in this ongoing saga, "When an organization that claims to focus on economic and social rights is seen to be violating these rights regarding its own workers, it will not be taken seriously for long by a skeptical public," he said.
Dr. Chris Bart, a professor at McMaster University in Canada, and an expert on organizational mission and vision statements, noted that most board members of NGOs and not-for-profits do not take a salary, since they are so dedicated to their respective causes. Indeed, senior officials and board members usually tend to donate money to their organizations.
Incidentally, strikes by workers at charitable organizations are not entirely unheard of. Bart noted that employees at Equinox Care, a British drug and alcohol services charity, are on strike over proposed pay cuts of up to 25 percent. Unite, which represents 70 of Equinox's 120 workers, complained that some front-line staff are being asked to incur cuts of between £4,000 and £6,000 a year, while the charity's chief executive is scheduled to receive a performance-related pay bonus.
As for the industrial action at Amnesty, in January of this year, Unite reported that management had temporarily decided to halt the proposed layoffs.
On Tuesday morning, Shaun Noble, Unite's senior communications officer, told IB Times that the union would release a statement on Thursday relating to the jobs situation at Amnesty. Suzanne Trimel, Media Relations Director at Amnesty International USA in New York told IB Times that "no further industrial action is currently planned or expected."
© Copyright IBTimes 2023. All rights reserved.