Amtrak Crash Cause: For Decades, Lawmakers Demanded Positive Train Control Safety Technology That Could Have Prevented Derailment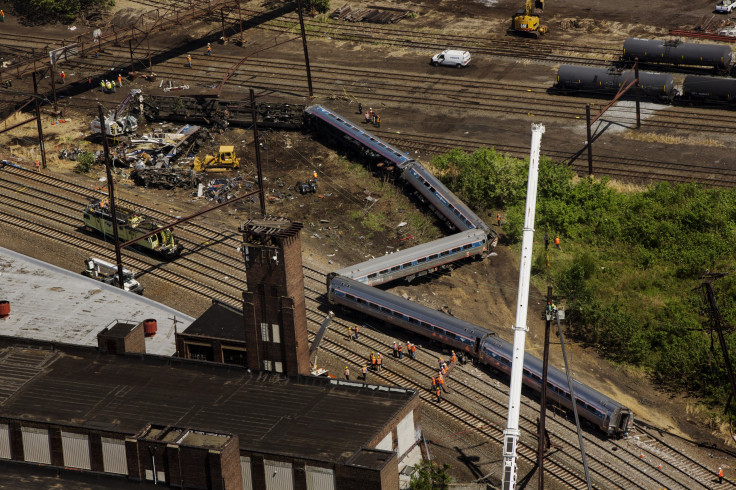 For years, U.S. lawmakers, railroad officials and advocates for railway safety have called for technology known as positive train control that could prevent accidents due to human error. The set of systems has a variety of capabilities, including detecting when trains fail to slow down when heading into a curve, which is precisely what happened when Amtrak's Northeast Region Train 188 derailed Tuesday night at a bend in the tracks in Philadelphia.
"The need for positive train control systems has been on our most wanted list for 17 years," Robert Sumwalt, vice chairman of the National Transportation Safety Board, said before a subcommittee of the House Transportation Committee in January 2007 during a hearing on the Federal Railroad Safety Improvement Act of 2007, which was signed into law in October 2008. Yet claims of high cost and the complexities of installing the technology have kept it from becoming used as widely in the U.S. as proponents would like.
Positive train control systems can help override human error, which the Federal Railroad Administration has blamed for 40 percent of all train accidents. It can prevent trains from crashing into each other or accidentally running into construction zones, among other mistakes, by using GPS technology and computer systems to detect speed limits or obstacles ahead and automatically slowing or stopping a train when its driver fails to do so.
"Why aren't we making that investment in that type of technology that will override that type of error?" Charlie Gonzalez, at the time a Democratic representative from Texas, asked during the January 2007 hearing, after pointing out the advantages of positive train control technology.
One reason positive train controls have not been implemented on railways nationwide, including where Tuesday's crash occurred, is the expense. One estimate has put the cost of installing positive train control systems all over the country at $3 billion. Although some have argued that this tab could be passed onto passengers rather than footed by the federal government, the George W. Bush White House, in a statement on the 2007 bill, complained that adding positive train controls was too costly. "The administration would strongly oppose any bill that would mandate private or governmental spending on this activity given the technology has not yet been proven," it said.
The Rail Safety Improvement Act of 2008 ultimately required that positive train controls be implemented nationwide by the end of 2015 along tracks that carry passengers as well as hazardous material, but installation has been stymied by issues of cost as well as technological challenges, such as ensuring the system works across multiple train operators. Industry experts warned as far back as 2013 that systems were unlikely to be operable by the deadline.
"2015 is not really achievable," Tom Schnautz, director of advanced train control systems for Norfolk Southern Railway, told Progressive Railroading, an industry publication, in March 2013. "The discussion will turn to how late we'll be," he added. The year before, a report by the Federal Railroad Administration had said it was facing "significant technical and programmatic issues" in trying to implement the technology.
When the Federal Railroad Safety Improvement Act was being debated, lawmakers stressed that a closer examination of railroad safety was long overdue, especially because ridership was expected to increase in coming decades. "Now is the time to make an investment in the safety of our rail infrastructure," Rep. Doris Matsui, D-Calif., said before Congress in October 2007.
In 2008, after a crash in California killed 25 people, Sen. Dianne Feinstein, D-Calif., called the positive train control systems used in California's Metrolink commuter railroad "antiquated," explaining, "this automatic train stop system … will not stop Metrolink trains that run red signals."
Over the years, cuts in staffing, plus aging railroad infrastructure, have made positive train control systems increasingly critical. Railroad staff had been cut by nearly two thirds over the course of 25 years, Edward Rodzwicz, president of the Teamster Rail Conference, pointed out in the January 2007 hearing. "We fully support development and deployment of positive train control," he said, even while adding that the technology shouldn't be regarded as a replacement for trained staff.
Some highlighted other problems, besides the costs and complexities of implementing advanced technological systems, in improving safety, such as a culture of fear for those working at railroad companies. "The railroad industry can never be safe if employees are intimidated and harassed when they report accidents, injuries and safety problems," Edward Wytkind, president of the transportation trades department at the AFL-CIO, told Congress in May 2007. "Strong whistleblower language is key to improving rail safety."
© Copyright IBTimes 2023. All rights reserved.