Amtrak Crash Philadelphia: Did GOP Funding Cuts Make Derailment More Likely?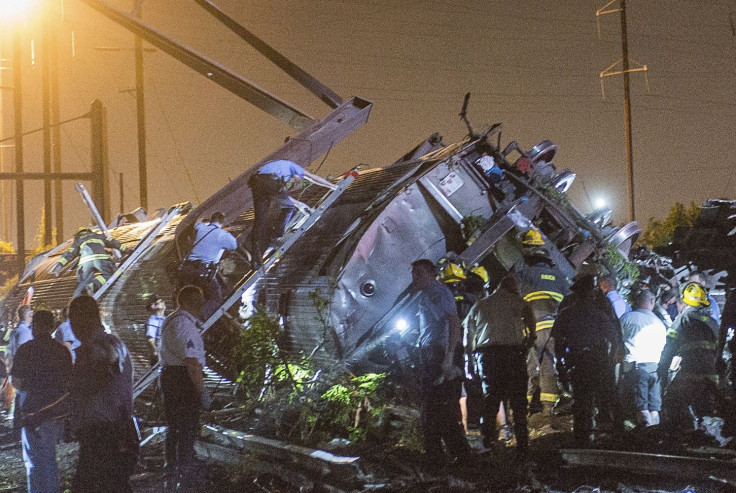 When it comes to supporting America's railroads, Republicans have a dismal track record, one that appears unlikely to change even in light of a deadly Amtrak train crash in Philadelphia Tuesday night that killed at least six people and injured 140. Republicans and conservative groups have long pushed for cutting the funding of Amtrak or even defunding the service entirely.
During a U.S. House of Representatives Appropriations Committee session Wednesday, less than 24 hours after the crash, Republicans voted not to increase funding for Amtrak. Their approach clashes with the recent repeated calls made by railway officials -- whose words seem prescient, in retrospect -- for government funding to help renovate and repair the railroad's aging infrastructure in an attempt to prevent accidents.
"We cannot prevent major infrastructure failure on the [Northeast Corridor] ... without greater federal investment on an annual basis," Robert Yaro, the president of the Northeast Alliance for Rail, argued in a letter sent to two members of the House Transportation Committee in 2014 in response to a major spending bill known as the Cromnibus. Signed into law in December of last year, the measure allocated $1.39 billion to Amtrak through September 2015, an amount reflecting a cut in funding of about $90 million, according to the National Priorities Project, a Northampton, Massachussetts-based nonprofit group that works to make budgets transparent.
Amtrak's Northeast Corridor, a long stretch of railway that encompasses the site of the Philadelphia crash, needed $2.6 billion annually "for the system to achieve a state of good repair," Yaro said. Since its founding in 1971, Amtrak has received roughly $1 billion in annual federal funding, an amount that officials argue has been grossly insufficient to support the sprawling railroad network.
"The federal investment in Amtrak is currently and has always been extremely limited, compared with federal investments in other modes of transportation," Amtrak Chairman Anthony Coscia said in testimony before a Senate subcommittee in December, referring to federal spending on highways. He said the railroad service had had to put off so many improvements of its tracks and other infrastructure that it was struggling simply to maintain what it had. He, too, described the Northeast Corridor as having "aging infrastructure" that nonetheless supported some 260 million trips every year.
However, these red flags have done little to sway Republicans and conservative groups, which have insisted on withholding as many federal dollars as possible from Amtrak on the basis that doing so would force it to become more efficient. They also have called for privatizing the service.
In March, more than 100 congressional Republicans voted against the Passenger Rail Reform and Investment Act, which called for $7.8 billion in funding for Amtrak, or about $1.7 billion annually over the next four years, an amount that would have increased current funding levels. Although the act ultimately passed the House by a 316-101 margin, with 132 Republicans and 184 Democrats voting in its favor, the GOP had in fact attempted to end federal subsidies to Amtrak entirely just before the vote was conducted. That move failed, by a 147-272 vote, as NPR reported.
"If lawmakers want to provide quality, reliable service without burdening taxpayers, they should seek to privatize Amtrak, ending federal subsidies altogether," the conservative group Heritage Action for America has said.
The House site of Rep. John Mica, R-Fla., a fervent opponent of Amtrak, describes the company as a "federally funded, Soviet style intercity passenger rail service" with "a lengthy history of mismanagement and wasting taxpayers' money." It adds, "Routine poor performance, inefficiency and waste at Amtrak demand that the United States turn to more private sector competition to help dramatically reduce the costs of operating passenger rail service."
In its 2016 budget request, the Federal Railroad Administration sought $1.9 million to improve passenger safety. This includes $1 million for a new authority that would implement passenger-safety programs and conduct inspections, and $825 million for "positive train control," a set of technologies that automatically stop or slow trains and are designed to prevent derailments, among other types of accidents.
© Copyright IBTimes 2023. All rights reserved.