Amtrak Philadelphia Crash 2015: Train Derailment History, Deadly Crashes In Alabama, Illinois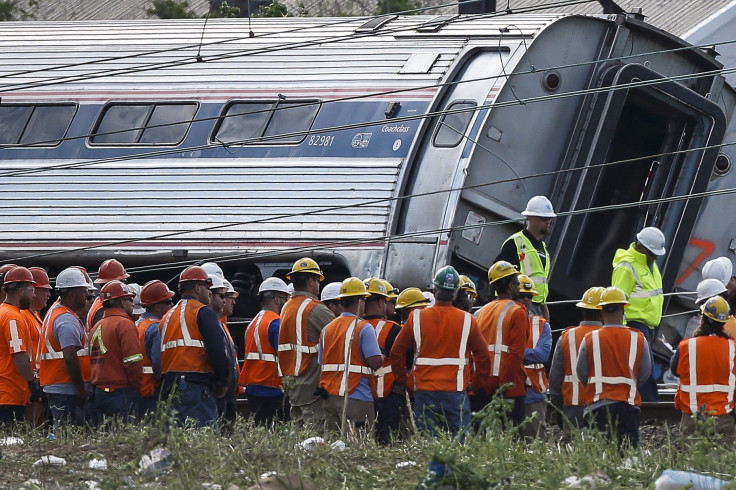 When Amtrak Northeast Regional Train 188 derailed in Philadelphia late Tuesday night, killing at least six people and injuring more than 140, it wasn't the first time a train had crashed in that same area. Frankford Junction, northeast of Center City and a few miles from the city's main train station, was the site of a horrendous accident in 1943 in which 79 people died. While Amtrak has suffered a number of accidents in its history, Tuesday's incident does not rank as one of the deadliest.
In the 1943 crash, the Congressional Limited, considered the speediest train on the Pennsylvania Railroad, was following the same route as the Amtrak train was Tuesday night -- from Washington to New York -- when it rounded the large curve of Frankford Junction and crashed less than a mile from where the Amtrak Train 188 derailed. More than 100 people were injured in the accident, which was ultimately blamed on a mechanical problem, the Philadelphia Inquirer reported.
As for Amtrak, the company has seen far deadlier crashes. In 1993, 44 people died when the Sunset Limited, traveling from Los Angeles to Miami, derailed and crashed off a bridge into a bayou in Alabama. Some of the wreckage ended up in a swamp filled with alligators and snakes. The FBI determined that a barge may have crashed into the trestle of the 84-year-old bridge and weakened it before the train crossed. Prior to that accident, 48 people had been killed, cumulatively, in Amtrak accidents, the Los Angeles Times reported.
One night in March 1999, Amtrak's famed City of New Orleans set out from Chicago. Not long after, in Bourbonnais, Illinois, 55 miles south of Chicago, the train crashed into a truck at a railroad crossing. Thirteen people were killed and the first five cars of the train destroyed, the New York Times reported. The injured numbered 116.
The cause of Tuesday's Amtrak crash remained unknown, Philadelphia Mayor Michael Nutter said. Excessive speed is one possibility. Tuesday's crash occurred in a place where a straight stretch of railroad allows trains to travel 70 miles per hour before the tracks bend into a curve where the speed is supposed to be 50, NBC News reported. The train was carrying 238 passengers and five crew. It crashed at about 9:30 p.m. EDT.
© Copyright IBTimes 2023. All rights reserved.
FOLLOW MORE IBT NEWS ON THE BELOW CHANNELS