Amtrak Train Derails In Philadelphia; At Least 6 Dead, Over 140 Injured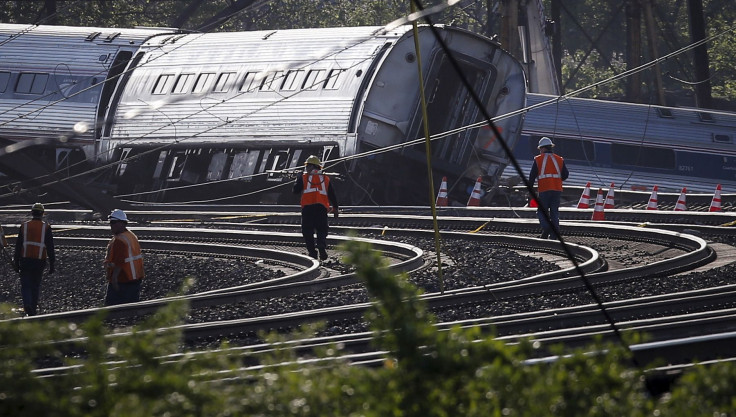 Update as of 7:07 a.m. EDT: The death toll in the derailment of the New York-bound Amtrak Train 188 has climbed to six, according to reports citing officials. More than 140 of the 243 aboard were injured in Tuesday night's accident near Philadelphia.
Eight people were reportedly in critical condition, and 25 passengers were released, NBC Philadelphia reported, citing Temple University Hospital officials.
Update as of 2:45 a.m. EDT: Amtrak announced early Wednesday morning -- several hours after a New York-bound train derailed near Philadelphia -- that the company will provide a modified service for Wednesday between Washington and Philadelphia, Harrisburg and Philadelphia, and New York and Boston.
"We are deeply saddened by the loss of life from Amtrak Northeast Regional Train 188 that derailed north of Philadelphia Tuesday evening," Amtrak said in the statement, adding: "Amtrak has also established a Family Assistance Center to work closely with family and friends of individuals on the train."
The company added that there will not be any Amtrak service between New York and Philadelphia, but New Jersey Transit will ferry customers traveling between New York and Trenton City. Amtrak's services between New York and Albany-Rensselaer; New Haven and Springfield, Mass,; and other destinations will operate as usual, the company said.
Update as of 2:33 a.m. EDT: Over 140 people have been taken to nearby hospitals to be treated or evaluated for injuries after a New York-bound Amtrak train derailed near Philadelphia on Tuesday night. At least five people are reported dead.
Seven cars of Train 188, which was carrying 243 people on board, including the engine, were in "various stages of disarray" while some of the cars were "completely overturned, on their side, ripped apart," the Associated Press reported, citing Philadelphia Mayor Michael Nutter.
Tuesday's derailment occurred in the Frankford Junction section -- which features a sharp curve -- and was the scene of one of the nation's deadliest train accidents in September 1943, when the Congressional Limited train derailed and killed 79 people.
Update as of 1:20 a.m.: The number of injured in the Amtrak accident has risen to at least 65 people, according to Twitter posts by a reporter from the Philadelphia Inquirer, who cited Philadelphia Mayor Michael Nutter. The injured have reportedly been taken to hospitals for treatment.
"I am closely monitoring the situation and I am in contact with state and local authorities," Pennsylvania Gov. Tom Wolf, who arrived at the accident site, said in a statement.
Most of the passengers on the train were from Washington, New Jersey and New York, according to reports, and so far five people have been declared dead in the accident.
Amtrak rail services are not expected to resume on this section of the line for the rest of the week while officials, including those from the federal Homeland Security department, investigate the cause of the accident.
Original story:
At least five people have been killed and over 50 people injured after an Amtrak train derailed in Philadelphia on Tuesday night. The train, which was heading to New York from Washington, D.C., was carrying about 238 passengers and five crew, according to reports.
Of those injured, six are reportedly in critical condition, while secondary searches were ongoing to look for people who may be trapped on board the derailed train cars, according to report. At least six cars reportedly overturned on the tracks, the engine was completely separated from the rest of the train, and a large beam was seen crushing one of the train cars.
"I have never seen anything like this in my life," Philadelphia Mayor Michael Nutter said late Tuesday night at a briefing, according to the Huffington Post, adding: "We have train cars that are completely overturned, on their side, ripped apart."
Nutter, who reportedly called the accident site a "disastrous mess," also said that there was no indication the derailment was the result of a collision with another train, according to CNN. Meanwhile, officials from the FBI at the accident site said that there was nothing yet to indicate terrorism, the Washington Post reported. The Federal Railroad Administration and the National Transportation Safety Board announced their officials would reach the site Wednesday morning.
Amtrak has suspended its services in the Northeast rail corridor, one of the busiest in the nation. Local commuter train operators SEPTA and Trenton Regional Rail have also reportedly suspended some of their routes after the accident. Philadelphia police have asked residents near the accident site to stay away from the scene to make way for rescue teams, according to the Post.
"We were rolling along nice and smooth, and then all of a sudden we were on our side," Don Kelleher, a passenger on the derailed train, said, according to NBC Philadelphia.
Michael Black, another passenger, reportedly said: "All of a sudden it felt like the brakes were hit hard and then our car, ... the third from the last, just slowly started going over to the side. I tried to just brace my arm against it and then just got off."
© Copyright IBTimes 2022. All rights reserved.
FOLLOW MORE IBT NEWS ON THE BELOW CHANNELS