Analysis: Economy dealing blow to Obama's 2012 hopes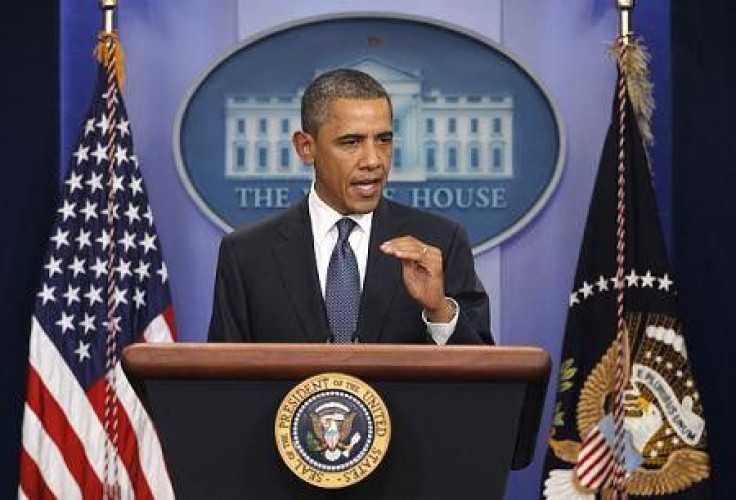 With every gloomy economic report, debt crisis and mood swing on Wall Street, President Barack Obama's fight for re-election in 2012 gets a little tougher.
The recent rash of bad economic news has deepened a sour public mood and threatens to turn a re-election campaign that Democrats once hoped would be a cakewalk into an unpredictable brawl.
"The economic head-winds Obama faces are extraordinarily difficult," said Karlyn Bowman, a public opinion analyst at the American Enterprise Institute think tank.
"The level of public pessimism and the duration of the negativity is something I haven't seen before," she said. "It's a performance-based job, and people want to start seeing the economy turn around."
Polls show at least two-thirds of Americans think the country is headed in the wrong direction, consumer confidence is hitting two-year lows and majorities disapprove of Obama's handling of the economy.
His job approval was slumping even before last week's global stock sell-off and twin debt crises in Europe and in the United States, which featured a U.S. credit rating downgrade and chaotic talks on a deal to raise the U.S. debt ceiling.
In the last week of July, Gallup put Obama's approval at a weekly low of 42 percent.
A Quinnipiac University poll taken after the debt-ceiling deal last week found a majority in the battleground state of Florida did not think Obama deserved re-election. His approval among independents in the state plunged from a 47-45 percent split in May to 61-33 percent disapproval now.
"Elections with incumbents are always referendums on the incumbent, and the first question for voters is 'does he deserve another term?' At this point, these numbers show the answer is not necessarily yes," Quinnipiac pollster Peter Brown said.
The president's slump gives new hope to Republicans, who saw several potential contenders pass on a 2012 White House race earlier this year amid speculation Obama would be too strong and too well financed to lose re-election.
Republicans plan to remind voters often of the job losses, stalled economic recovery and stagnant housing market on Obama's watch. They stepped up their criticism of the president after Friday's U.S. credit downgrade.
'OBAMA NOT WORKING'
"Barack Obama has been in office for three years and what he's done hasn't worked. It's time for him to go," Republican contender Tim Pawlenty said while campaigning in Iowa.
Republican presidential front-runner Mitt Romney has signaled a potential general election strategy, shadowing Obama's travels around the country with targeted criticism of the president's economic record in those regions.
When Obama returned home to Chicago to celebrate his birthday last week, Romney aired a Web ad slamming Obama's economic leadership and saying Chicago had seen a 48 percent increase in unemployment under Obama.
In recent speeches, Obama made clear he wants to focus on spurring job growth now that the debt-ceiling talks are done. He welcomed Friday's jobs report showing the unemployment rate ticked down slightly to 9.1 percent but said more was needed.
He will need to show significant improvement in the jobless rate to ease public worries, and he will need to do it early enough in 2012 that it sinks in with voters.
Obama also faces a tougher political map next year, with his approval plunging in traditionally Republican states he captured in 2008 like Indiana and North Carolina and in critical Rust Belt states like Ohio.
"I'm a Democrat but there is no sugar-coating it, things aren't good," said Democratic consultant Dane Strother. "The only thing on Obama's side right now is time. A week is an eternity in politics and we have 15 months."
Polls show Obama remains personally popular, and Democrats find hope in 2004. That year many voters unhappy with President George W. Bush's performance were reluctant to oust him amid the Iraq war and economic challenges.
"When people are frightened, they are more likely to stick with the guy they know than take a chance on the guy they don't know," Democratic strategist Karen Finney said.
"They still like Obama. As long as people feel like he's trying and he's making some progress, that matters," she said.
Republicans, beset by internal battles between conservative Tea Party movement activists and a more moderate pro-business faction, also must provide a viable challenger. Romney trails Obama in polls and faces a challenge winning over his party's own conservative base.
"At the end of the day it's two people, one on one, and it will be a new dynamic," Strother said. "But there is no question if 15 months from now the economy is in the tank, the election will be tough for Obama. Doable, but tough."
© Copyright Thomson Reuters 2023. All rights reserved.