Angela Merkel China Visit: German Chancellor Urges Beijing To Ensure Level Playing Field For Foreign Investors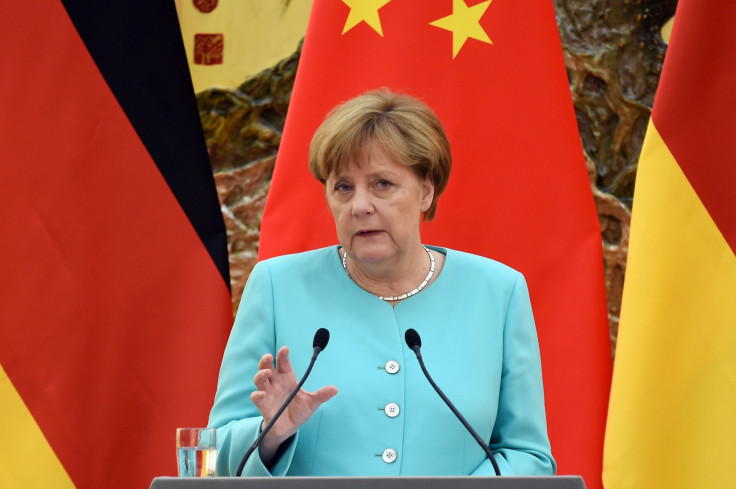 German Chancellor Angela Merkel, who arrived in Beijing Sunday for her three-day trip to China, urged the country's leadership to put in place "reliable and transparent" rules that ensured a level playing field for foreign investors. The visit, Merkel's ninth as the German chancellor, comes at a time when Beijing, under pressure from foreign firms who have complained of restrictive rules in the country, is attempting to reform its heavily regulated economy.
"As we see it, a legal framework for companies also has to be designed in such a way that foreign companies enjoy the same rights and privileges as domestic companies, for example as regards public tenders, the effective protection of brands and patents and data," Merkel said during a speech at the Nanjing University in Beijing.
China is currently one of Germany's largest sources of imports, accounting for nearly 9 percent of its total imports, and the fourth-largest destination for exports. Bilateral trade between the two countries topped $180 billion in 2015, rising 5.5 percent over the previous year.
However, Merkel's trip comes amid growing anger and unrest across the European Union, including in Germany, about China flooding global markets with cheap steel — a move that, while getting rid of overcapacity in China, has hurt the bloc's steel industry.
The excess capacity of China is estimated at 350 to 400 million tons, while the total steel demand in Europe — the second biggest steel market in the world — is around 170 million tons.
"We have to ensure that we have a level playing field," Merkel said. "No one wants to see an expanded trade war between the European Union and China. But that means we have to talk about the outstanding issues."
Given China's overproduction in several sectors, many in the EU have expressed reluctance in granting the country a "market economy status" — which, if granted, would reduce trade barriers and increase the influx of Chinese exports to the 28-nation bloc.
Many in Germany have also expressed concerns over the recent $5.2 billion unsolicited bid for German robot maker Kuka by Midea Group — China's biggest maker of home appliances. The move is being seen as part of a recent push by Chinese companies to aggressively expand overseas.
"Chinese investors' interest in Germany has increased further, which has led to a very lively debate," Merkel said. "For our part, we have this reciprocity. Of course Chinese companies will also enter the German market."
© Copyright IBTimes 2023. All rights reserved.