Angela Merkel Pig Head Controversy: Amid Refugee Crisis And Low Poll Support, Pig Head Sends Message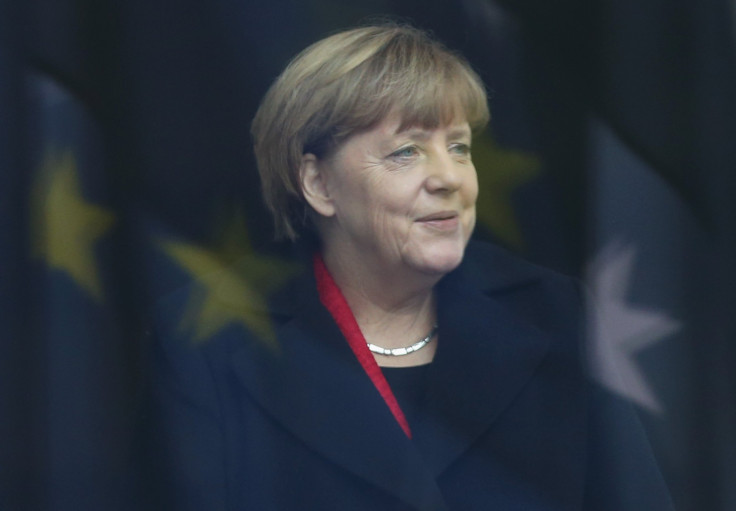 A dismembered pig's head inscribed with insults was found outside the constituency office of German Chancellor Angela Merkel on Monday in the northeastern town of Stralsund, Agence France-Presse reported. Police did not reveal the nature of what was written on the head, saying only that it was an "insulting inscription."
Police found the pig's head in the Baltic Sea town where Merkel was elected to Parliament 26 years ago. Authorities have launched an investigation into the incident, and the perpetrators could face charges of improper carcass disposal and defamation if caught.
Merkel has drawn ire over her open-door refugee policy in the past several months amid a persistent refugee crisis in Europe. Protesters have used the symbol of a dismembered pig's head with increased frequency, as pork is a food forbidden to Muslims, and the majority of new asylum-seekers in Germany under Merkel's policy are Muslim. Authorities found a similarly dismembered pig's head this year in Leipzig inscribed with the words "Mutti Merkel" ('Mommy Merkel") on the site where a mosque is set to be built, Deutsche Welle reported.
The chancellor has seen a steep dip in her popularity in the past several months. Around 64 percent of respondents said Merkel should not run for re-election in 2017, according to an INSA poll published last week, compared with around 50 percent who said the same in August 2014.
More than 1 million people fled to Europe in 2015, the vast majority of them identified by the United Nations as refugees fleeing sectarian violence in their home countries. Germany has welcomed more than 1 million of these refugees, and while many in the country at first accepted the influx, some segments of the German population have grown increasingly skeptical of the large migrant population, particularly after a series of sexual assaults took place on New Year's Eve in Cologne, allegedly carried out by asylum-seekers.
Merkel's Christian Democratic Union saw major losses in state elections in March, and it has been consistently losing support to the Euroskeptic, anti-immigrant Alternative for Germany party, which promises to crack down on immigration to the country.
Merkel said in September there was "no limit" to the number of political refugees the nation would accept. "As a strong, economically healthy country we have the strength to do what is necessary," she told German newspapers at the time.
© Copyright IBTimes 2023. All rights reserved.