Angelina Jolie And Son Maddox Visit Myanmar: Actress Meets President To Discuss Sexual Violence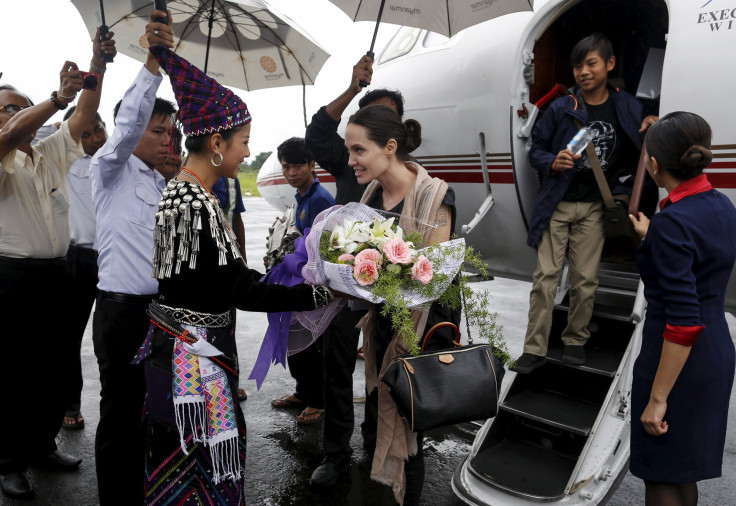 After proving her mettle in Cambodia, the birth country of her oldest adopted son Maddox, actress Angelina Jolie Pitt is now on a four-day trip to Myanmar. The special envoy for the UN Refugee Agency arrived in the Southeast Asian country Wednesday to learn more about issues related to human rights, sexual violence and democracy.
Jolie is also the co-founder of the Preventing Sexual Violence Initiative. In June 2014, the actress gave a moving speech at the Global Summit to End Sexual Violence in Conflict in London. During the summit, she met Nobel Peace Prize winner Aung San Suu Kyi, who leads the National League for Democracy in Burma, People magazine writes. Suu Kyi invited Jolie to her country personally.
Jolie will continue her efforts in this regard. "I am looking forward to meeting with many people, including women's groups, civil society, displaced people and youth, to learn firsthand from them about their concerns and hopes for the future of their country," Jolie said in a statement to People.
The actress was greeted by Myanmar's House Speaker Shwe Mann on a rainy day at the airport. Jolie's son Maddox too accompanied his mother on the trip. "With elections on the horizon in November, it is an important moment for people to exercise their democratic rights and help to address the fundamental issues critical to a peaceful future," she added.
Jolie also met President Thein Sein during her visit at the presidential palace and the two discussed about issues related to "sexual violence, a lack of transparency and child soldiers," a source present at the meeting told Mail Online. Myanmar has a history of sexual violence against women and is one of the 130 nations that have pledged to stop this abuse.
© Copyright IBTimes 2023. All rights reserved.