Angelina Jolie In Cambodia: Actress Visits Charitable Organizations Dedicated To Children Suffering From AIDS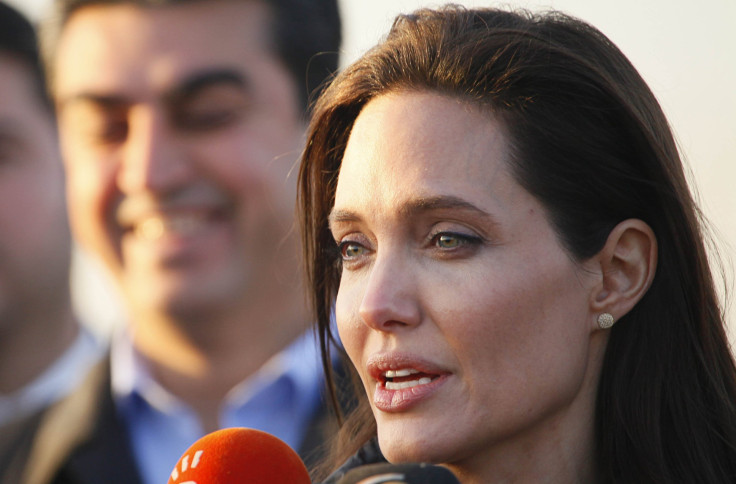 Angelina Jolie Pitt is currently in Cambodia, a country that holds a special place in her heart. The actress not only shot her 2011 film "Lara Croft: Tomb Raider" there, but also adopted her oldest son Maddox from a Cambodian orphanage a year later.
The "Salt" actress returned to Cambodia to visit her charitable organization, the Maddox Chivan Children's Center, in Phnom Penh, People writes. The magazine also published picture of a smiling Jolie surrounded by the children. The medical and educational facility looks after children who are infected or orphaned by AIDS. According to its website, it has provided care to more than 600 Cambodian children suffering from AIDS.
The special envoy to the UN Refugee Agency has another project in Cambodia, the Maddox Jolie-Pitt Foundation. It helps endangered species and is also responsible for Asia's first Millennium Village. The village boasts of various modern amenities like schools and roads. Due to her humanitarian efforts, the actress was granted an honorary Cambodian citizenship in 2005.
Jolie is also in the country to kick off production of her next directorial effort based on former child soldier Loung Ung's memoir "First They Killed My Father." The book recounts Ung's memories of growing up in 1970s Cambodia during the Khmer Rouge genocide.
Jolie has asked Maddox to help her with the research for the Cambodia-based movie. "He is turning 14 next week, and this is a very important time for him to understand who he is," she told the Associated Press in her recent interview. "He is my son but he is also a son of Cambodia."
© Copyright IBTimes 2022. All rights reserved.
FOLLOW MORE IBT NEWS ON THE BELOW CHANNELS