Angelina Jolie Testifies On Rape As A Weapon Of War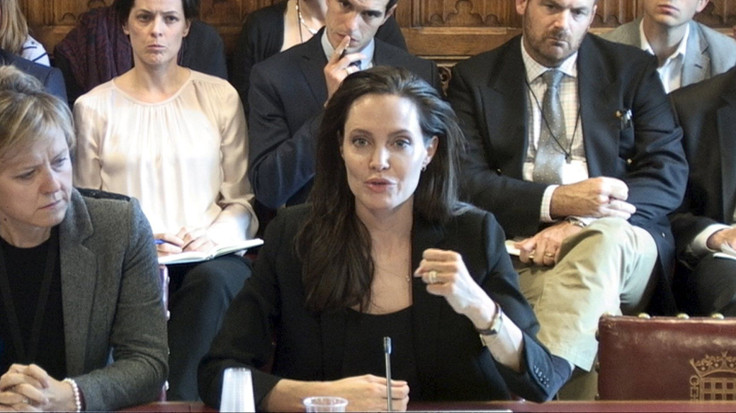 Speaking in front of a committee where the average age was 70, Hollywood actress and United Nations special envoy Angelina Jolie brought star power Tuesday to the U.K.'s newly established House of Lords Committee on Sexual Violence. Rape was being used by the members of the Islamic State militant group as "an effective weapon" to destroy families and communities, Jolie said, according to reports.
Speaking with former U.K. Foreign Secretary William Hague, Jolie presented the committee with evidence of sexual violence in war zones.
"Unfortunately it is everywhere, in and out of conflict, in every country, basically," she said, recounting stories of women raped and sold for sums as low as $40. "I can't think of one where there is not this issue."
Journalists and media outlets attempted to grab the best seats possible to watch Jolie, 40, speak during the session, which lasted for more than an hour, according to reporting by the BBC and the Guardian. The actress/director and mother of six, well aware of the power of her celebrity to attract attention to the issue, noted that "policy needs to change" if sexual violence in war is to be effectively combatted.
Hague also reiterated this point, saying that policies regarding sexual violence could not just be tacked on during peace processes and instead needed to be part of policy solutions from the beginning. He also said that men needed to be a part of any solution regarding sexual violence against women.
Jolie specifically pointed to the so-called Islamic State, also known as ISIS or ISIL, saying the group was aware of how effective rape could be to terrorize groups. ISIS' use of sexual violence as a weapon in war has been well documented. Reporting by the New York Times highlighted how female members of the minority Yazidi religious sect had been bought and sold among fighters, including girls who had not yet reached puberty being raped. ISIS is renowned for its brutality, emphasized by the beheading of journalists and aid workers.
In its coverage of the meeting, the Guardian took a skeptical position, noting that the House of Lords has "next to no hope of stopping the rape of women – and men – in conflicts around the world, but it is far better that it meets to acknowledge the problem than to do nothing."
Prior to her role as a special envoy for the U.N., Jolie was a goodwill ambassador. She has conducted more than 40 field visits around the world in order to gain first-hand knowledge of people's plights.
© Copyright IBTimes 2023. All rights reserved.