Angelina Jolie visits Libya to show solidarity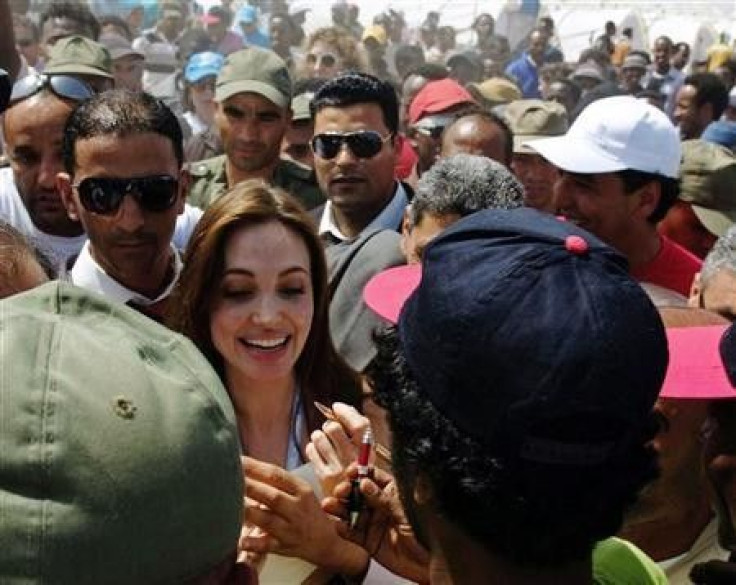 Actress and U.N. goodwill ambassador Angelina Jolie was in Libya on Tuesday for a visit to help agencies bringing aid to Libyans in Tripoli and Misrata, she said in a statement provided to Reuters.
I have come to Libya for a variety of reasons, to see a country in transition at every level and to witness efforts to fully realize the promise of the Arab Spring, Jolie said.
The country faces a host of challenges, including internally displaced people, refugees, rule of law, security, sanitation, education, health and other humanitarian needs. All of these pieces must be delivered and coordinated properly in an environment of reconciliation and justice.
The two-day trip was Jolie's first to Libya, but she previously visited Libyan refugees in Malta and on the Italian island of Lampedusa in June, and went to Tunisia in April to appeal for international support for people fleeing the revolution there.
Jolie is an ambassador for the United Nations refugee agency UNHCR and is expected to announce an expanded role soon.
On her Libya trip, she met representatives from UNHCR, Medecins Sans Frontieres and local non-governmental organisations delivering assistance to Libyans in Misrata and Tripoli.
I will be meeting with officials from all sides but above all, listening to the local people in the street. I am here to express solidarity with them. It is the work of rebuilding and recovery that will determine Libya's future.
© Copyright Thomson Reuters 2023. All rights reserved.