Anthony Weiner And Wife Huma Abedin, One Year Later: Where (And How) Are They Now?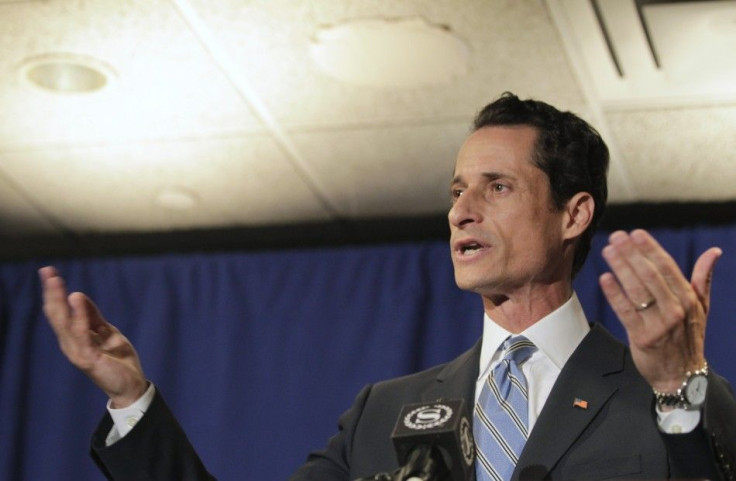 On May 27, 2011, New York congressman Anthony Weiner destroyed his career with a single tweet. Weiner, who married high-ranking adminstration official Huma Abedin the year before, accidentally posted a lewd photo of himself -- one he intended to send to a 21-year-old college student.
In the days that followed, over Weiner's initial protests that his account had been hacked, several other women began coming forward. Many claimed to have been receiving photos of politician wearing next to nothing and posing suggestively. After a weeklong firestorm of criticism and public debate, Weiner finally came clean during a press conference. He admitted to sending photos to the young woman in question, as well as six other women, and while he expressed remorse, he insisted he would not step down.
I should not have done this, and I should not have done this particularly when I was married, Weiner said, referring to the noticeably absent Abedin. I love my wife very much and we have no intention of splitting up over this. We have been through a great deal together and we will weather this. I love her very much and she loves me.
By the time of his candid admission, Weinergate was already a full-on media circus. Shows like The Daily Show had a field day with segments like Between a C---k and a Hard Place while networks like MSNBC were running news stories on the incident 24/7.
Finally, on June 20, Weiner handed in his official resignation. While he once set his sights on becoming mayor of New York, he was now forced to retreat from his political career.
But Weiner will have you know he is no lothario: There has been no evidence that suggests he went beyong sexting to engage in actual extramarital affairs. Still, the fact that Abedin was pregnant with the couple's first child while this was all going on (the Times broke the news two days after Weiner's confession) was too much for the court of public opinion to dismiss.
How has the unfortunate series of events affected Abedin? Secretary of State Hillary Rodham Clinton's top aide certainly hasn't suffered any career setbacks. If anything, the ambitious woman's professional life has benefited from the scandal.
Dubbed Clinton's Secret Weapon, Abedin was born in Michigan but raised in Saudi Arabia. Her worldly upbringing, professional relationship with the Clintons, has led to a distinguished career. She once earned a place on Time's 40 Under 40 list.
Giving birth to a baby boy, Jordan Zain Weiner, hasn't stalled Abedin's professional life. According to the New York Daily News, that's because Weiner is a stay-at-home dad. Though the outlet branded him Mr. Mom, as a putdown, there's something to be said for Weiner's current state of unemployment - it allowed Adedin to begin working again just a few months after giving birth. Instead of being on diaper duty at the couple's home in New York, she's traveling the globe with Clinton.
Participating in 2012 Fortune/U.S. State Department Global Women's Mentoring program in May, Abedin had the honor of sharing her experiences with women hoping to follow in her footsteps.
Adedin has never publicly commented on her husband's online activities or the ensuing controversy. She and Weiner have been photographed together on numerous occasions since the scandal broke, and they appear to be presenting a unified front. In July 2011, right after Weiner's resignation, the couple celebrated their anniversary in Miami. And husband and wife were spotted happily strolling with their son in New York.
All's well that ends well?
© Copyright IBTimes 2023. All rights reserved.