Anti-Islam Group Pegida's Founder Bachmann Faces Trial For Branding Refugees 'Cattle' And 'Scumbags' On Social Media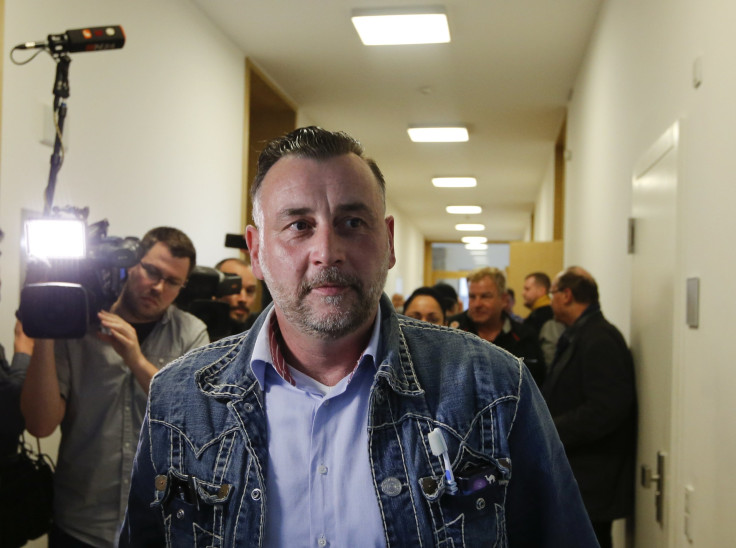 German anti-Islam group Pegida's founder Lutz Bachmann appeared in court Tuesday for calling refugees "cattle," "scumbags" and "filth" on social media. The 43-year-old faces trial, which is scheduled to last until May 10, in Dresden on hate speech charges.
Pegida, an abbreviated name for Patriotic Europeans Against the Islamization of the West, has staged several rallies protesting immigration, Muslims and Syrian refugees in Dresden and other German cities, attracting thousands of supporters.
The court reportedly said that Bachmann's comments made on Facebook dating back to 2014 not only incited racial hatred but also "disrupted public order" and constituted an "attack on the dignity" of refugees.
Several supporters protested outside the district court in Dresden, holding banners that read "Shame on you! Acquit Bachmann," BBC reported. If found guilty, Bachmann could face between three months and five years in prison.
Bachmann said, according to the Associated Press, that the trial is "purely politically motivated" and is aimed at discrediting him and Pegida.
According to reports, Pegida's demonstrations only drew a few hundred supporters in Dresden before gaining strength after wide coverage of Bachmann's overtly racist comments and the surfacing of a photograph of himself with a hairstyle and mustache reminiscent of Adolf Hitler.
© Copyright IBTimes 2023. All rights reserved.