Anti-Semitic Polish Soccer Fans Burned 'Jewish' Effigies, Called For Violence Against Jews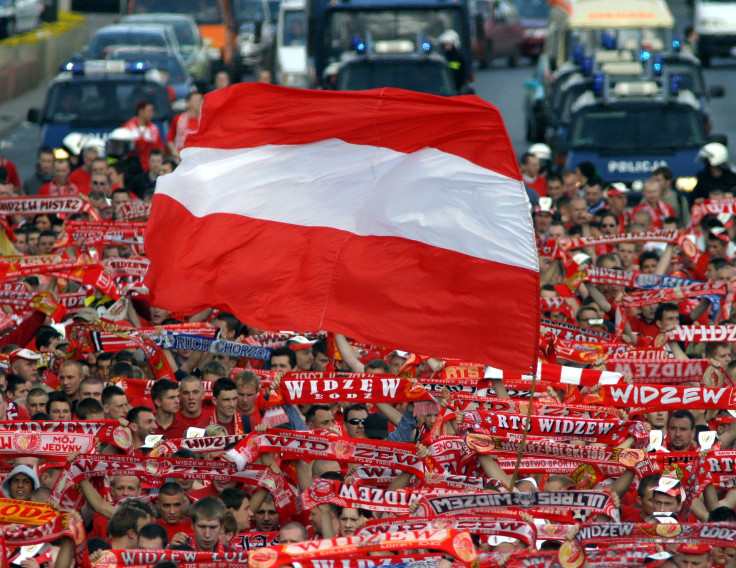 A group of fans for a Polish soccer team burned effigies apparently representing Jewish people and unfurled an anti-Semitic banner calling for Jews to be burned, reported the Jerusalem Post Monday.
The incident occurred at a rally during a match between two local rival squads. Supporters of the club Widzew Łódź apparently engaged in the anti-Semitic display against the club ŁKS Łódź, widely considered a "Jewish" club by opposing clubs' fans, like British team Tottenham Hotspur or Dutch team Ajax.
Anti-Semitism watchdog group the Coordination Forum for Countering Antisemitism put out a report detailing what it found happened at the rally. About 50 supporters of Widzew Łódź gathered at a local train station and displayed a banner reading, "19.08, today the Jews were named. Let them burn, motherf----rs," the group found. The date relates to ŁKS Łódź, which was founded in 1908.
The report also stated that, "photos from the demonstration show effigies appearing to be dressed as Orthodox Jews being strung from rope and set on fire."
Jonny Daniels, head of the Holocaust research group From the Depths who works with the Polish government, expressed the need to take action against the Widzew Łódź supporters.
"This is a shameful example of xenophobia, racism and anti-Semitism in sports, where it truly has no place," Daniels told The Algemeiner, a U.S.-based Jewish newspaper. "We are calling on the Polish government to take strong measures to ensure that such repulsive acts are met with a strong hand and the full force of the law. Poland is a modern, open country and hooligans such as these belong in jail, not watching soccer matches."
This is far from the first case of anti-Semitism in Polish soccer. In fact, there have been a couple of instances against fans of Widzew Łódź, which is also known as a so-called Jewish club. In 2013, ŁKS Łódź fans held an event in which fans could throw objects at "Jews," or people dressed in Widzew Łódź uniforms. That same year, fans of another club chanted during a game against Widzew Łódź, "Move on, Jews! Your home is at Auschwitz! Send you to the gas [chamber]," according to CNN. After an investigation a prosecutor decided not to take against the fans of the other club, Lech Poznan, "on the grounds that their chants were directed at the opposing team and not specifically at Jews," CNN reported.
© Copyright IBTimes 2023. All rights reserved.