Anti-Vaxxer Influencer Refuses To Wear Mask Inside Plane, Brags About It On Instagram
KEY POINTS
The social media influencer traveled from Perth to Hobart before making her way home to Queensland
Anna-Rose Richards also posted a maskless selfie on her flight to Queensland
Her Instagram page was earlier shut down for spreading Covid misinformation
An Australian social media influencer, known for her anti-vaccination status, has bragged about breaking COVID-19 norms, including not wearing a mask inside an airport and airplane. The woman also refused to fill in mandatory border declarations.
Anna-Rose Richards, a native of Queensland in Australia, who saw her Instagram account shut down last year for vaccine and Covid misinformation, told her 14,000 followers on her new Instagram account that she went on a country-wide trip without a mask on flight or airport. She said that she also refused to show her "vaccine passport or complete an entry form," reported News.com.
Richards reportedly traveled from Perth to Hobart, capital of Australia's island state of Tasmania, before making her way home to Queensland.
While documenting her trip on Instagram, Richards told her followers that she reached Tasmania, a high-risk area, without realizing that further restrictions had been added.
"So I get off the plane and everyone is showing their phone. I knew immediately I've missed a VERY important piece of information. Turns out I missed several. Not only is the whole of Australia 'high risk' to Tasmania ... you must be fully double jabbed to enter ... and also have completed a Tas check-in visa approval to enter," she wrote in her Instagram post.
"I have neither. And I had no mask. But I know my rights. I know how absolutely stupid and ridiculous these measures are and I knew with a calmness I may get out of this. AND. I. Did."
She said she refused to show her vaccine passport when asked by an officer.
"I just smiled, remained calm, and said 'guys, I'm passing through, I'm not leaving your airport, my next flight is in 90 minutes. Put a police officer with me if need be but the end result for all of us is me on that flight," she wrote in her Instagram post.
Richards also posted a maskless selfie on her flight to Queensland. "She bl**dy did it," she captioned the photo. "It's tough holding true to your convictions and values," she added.
As per Australian rules, it is mandatory to wear masks in airports and on planes, except when eating and drinking.
Richards had courted controversy earlier too with her anti-vaccination stance. Her Instagram page was shut down for sharing anti-vaccination views and Covid misinformation after she did a live podcast, claiming that a 17-year-old Tom Van Dijk had died as a result of receiving Pfizer in a mass vaccination program for students. However, Dijk never actually received a vaccine.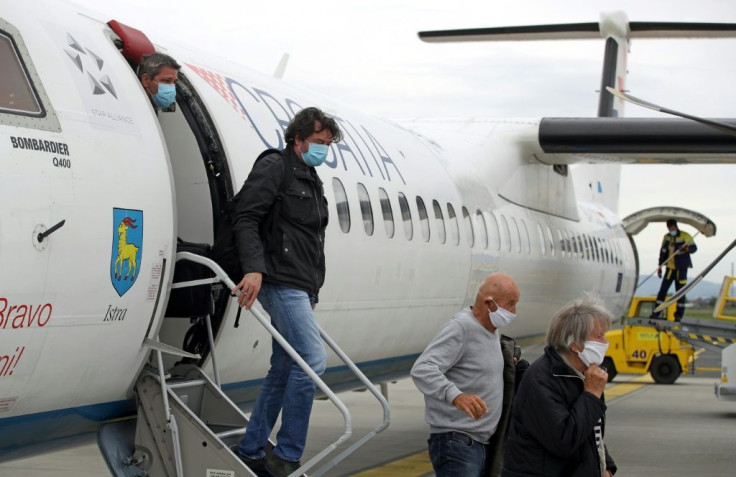 © Copyright IBTimes 2023. All rights reserved.
FOLLOW MORE IBT NEWS ON THE BELOW CHANNELS