Antibiotics In Meat: Chickens To Be Med-Free By 2017, Tyson Says, Citing Concerns About Drug Resistance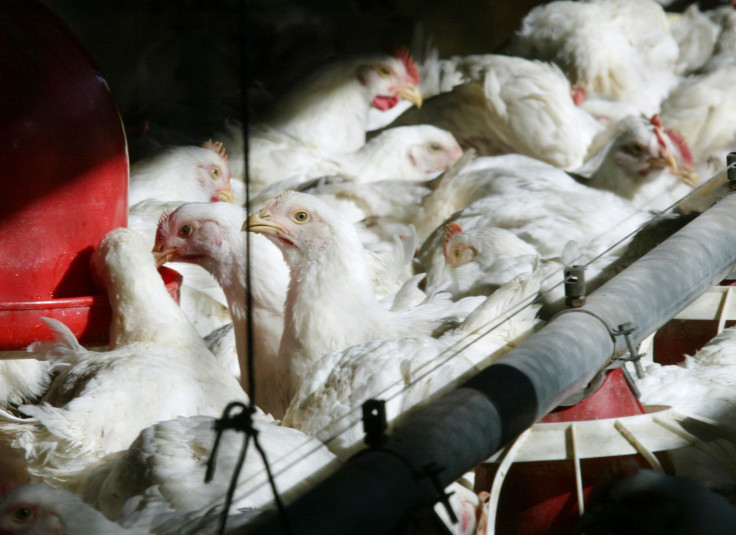 In two years, its chickens will no longer be fed human antibiotics, Tyson Foods, the largest producer of poultry in the United States, said Tuesday. The announcement comes a few months after the fast food chain McDonald's, one of Tyson's largest customers, announced it would cut back on using chicken raised with antibiotics.
The company specified that it would aim to stop using human antibiotics in broiler chicken flocks in the U.S. by 2017. It has already cut the use of such antibiotics in these flocks by 80 percent since 2011. Broiler chickens are those raised for meat (as opposed to hens that lay eggs). In a statement, it cited antibiotic resistance, a phenomenon where infection-causing bacteria fail to respond to medicines to designed to kill them, as one of the reasons for its decision.
"Antibiotic resistant infections are a global health concern," Donnie Smith, the president and CEO of Tyson, said. He added that the company was confident its meat was safe, but wanted to do its part in ensuring that antibiotics would remain effective in humans. The company has already stopped using antibiotics in hatcheries for these chickens, the company statement added, and said that the end of September 2017 was a realistic deadline. Tyson said that it was "committed to taking similar measures on antibiotic use in its global chicken operations but has not set a timeframe."
Public awareness and concern about antibiotic resistance have surged in recent months amid reports of so-called superbugs, bacteria that cannot be killed by a majority of drugs, if any at all. In February, a hospital in California reported two deaths linked to CRE, a family of highly resistant bacteria. In early April, the U.S. Centers for Disease Control and Prevention warned that a multi-drug resistant stomach bug, Shigellosis, was spreading in the country.
Though bacteria develop resistance to antibiotics for many reasons, the low-level use of antibiotics in livestock, which can help animals grow bigger faster, is one of the primary factors, experts and public health officials say. As a result, the practice poses serious risks to human health, but meat producers have pushed back against calls to stop using antibiotics on their livestock, arguing that these drugs are important to keep their animals healthy.
Steve Roach, a senior analyst for the organization Keep Antibiotics Working, praised the company's decision and said he hoped that more companies and restaurants would do the same. He also called for other sectors in the meat industry to follow suit, asking, "Why are the turkey, pork and beef industries lagging so far behind?"
In its statement, Tyson said it would start meeting with suppliers of beef, pork and turkey this summer to work on reducing antibiotics in their animals.
© Copyright IBTimes 2023. All rights reserved.