Apple iPhone 5 Preorders Launch In China: Release Date Coming Soon? More Mock-Up Photos And Specs Surface On Pre-Sale Page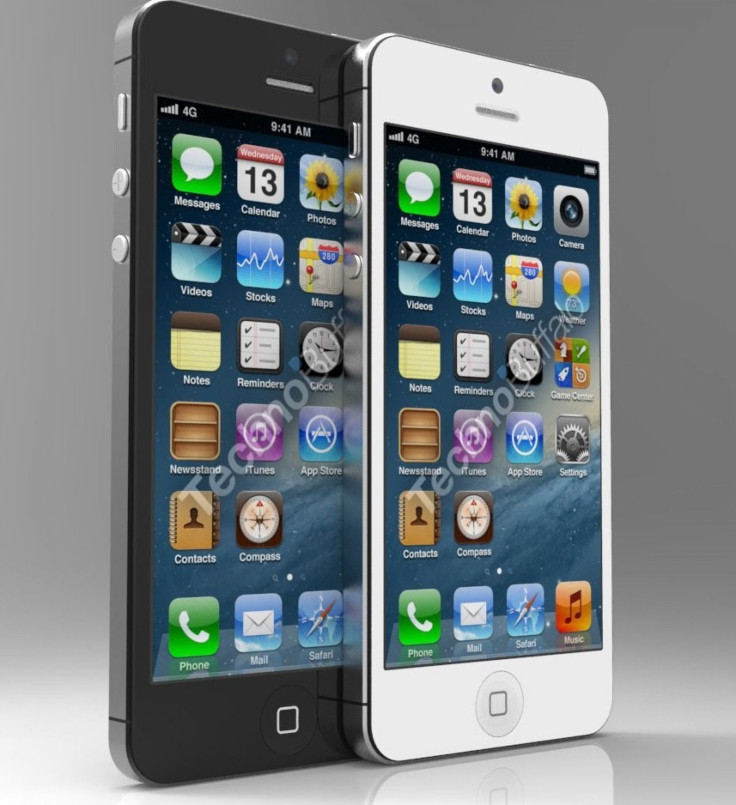 Although Apple hasn't officially unveiled its next-generation smartphone, online retailers in China have already started rolling in preorders for the iPhone 5. A Chinese e-commerce website has begun offering pre-release sale for what could be the biggest consumer electronics launch in history.
The website, Taobao, is accepting preorders complete with mock-up photos and tech specs, according to Reuters. Apple has been keeping quiet about the device, rumored to be called the iPhone 5, which is said to have a bigger screen than previous models and more powerful Siri functions.
Taobao is accepting orders for the iPhone 5 and in some cases has charged up to 1,000 yuan ($160) for a deposit. One seller, Dahai99888 even asked for the full payment upfront which amounted to 6,999 yuan ($1,100). Sellers that spoke with Reuters said that they planned to purchase the iPhone 5 in Hong Kong or the United States and then bring it to mainland China, but could not confirm a specific delivery time.
Demand is high. Yesterday someone just bought two phones. Altogether we have about two dozen ordersm a Taobao seller called Xiaoyu said to Reuters. Apple has not yet responded to requests for comment.
Hard-shell cases and soft silicon cases for the upcoming iPhone 5 have also been peddled by sellers located in China via Alibaba.com, the business-to-consumer platform of Alibaba Group. These cases indicate that the iPhone 5 could be elongated with some versions showing an earphone jack located at the bottom. A seller from the website told Reuters, saying that the cases were guaranteed accurate and that the company has received the dimensions from certain channels.
These retailers were correct with past Apple products, such as the case for the iPad 2 before its official launch in early 2011. The case sold on Alibaba.com accurately placed the device's rear-facing camera.
In a sense this is a fitting tribute to many months of furious iPhone 5 speculation, writes Jonny Evans of ComputerWorld. For months the rumor mill has been churning, constantly grinding out rumors surrounding when the next-generation iPhone will launch and what new features fans can expect. The most recent metal mock-up that surfaced on Gotta Be Mobile lines up with previously rumored speculations and features. The website claimed to have obtained the image from a trusted source inside the Apply supply chain in Asia.
Demand for Apple products in China is extremely high, with users smuggling goods in order to get them before the official Chinese release. Earlier this year, scalpers lined up overnight outside of an Apple store in Beijing to get the latest version of the iPhone 4. The scalpers then pegged the retailer with eggs after Apple decided against selling the phone due to security concerns.
It's not so easy to bring the phones from overseas, there's a limit to how many you can carry in...If we could bring in a few thousand that will be great! Xiaoyu said to Reuters.
One teenager in China even sold a body part to raise money to purchase an iPhone.
It clearly reflects the mood in China where mini riots took place when Apple shut its retail store for iPhone 4S sales, Evans also wrote.
The release date for Apple's iPhone 5 is rumored for fall 2012, and another recent rumor to crop up about new features comes from a patent filed by Apple back in 2008. This filing indicates that a Near Field Communication chip and an iTravel app could make it to the company's next-generation smartphone.
The patent application is for a system and method for transportation check-in, and mentions using NFC to access a traveler's information. Of course, this has yet to be confirmed by Apple, but here is a list of the other expected upgrades Apple fans are hoping to see in the iPhone 5, courtesy of ComputerWorld:
A 4-inch display
An improved quad-core processor, likely manufactured using 32nm process tech
Improved graphics and a better camera
A new Dock connection, likely to be Thunderbolt or mini-USB
Tougher glass
A thinner chassis
International support for those 4G/LTE networks which exist
Much-improved iCloud integration
iOS 6: Many improvements in Siri
iOS 6: Apple Maps
iOS 6: Passbook, potentially though not necessarily featuring NFC payment support
iOS 6: Facebook and Twitter integration
Sales of the current iPhone have already begun to slow as fans eagerly await the new model, and Foxconn leader Terry Gou boasts that the iPhone 5 will put Samsung's Galaxy S III to shame.
Apple has yet to give more information, but those in China anticipating the smartphone's release can place orders now, indicating that a release date shouldn't be too far off.
© Copyright IBTimes 2023. All rights reserved.