Arizona Gay Adoption: Republican Governor Doug Ducey Allows State's LGBT Couples To Parent Foster Children Again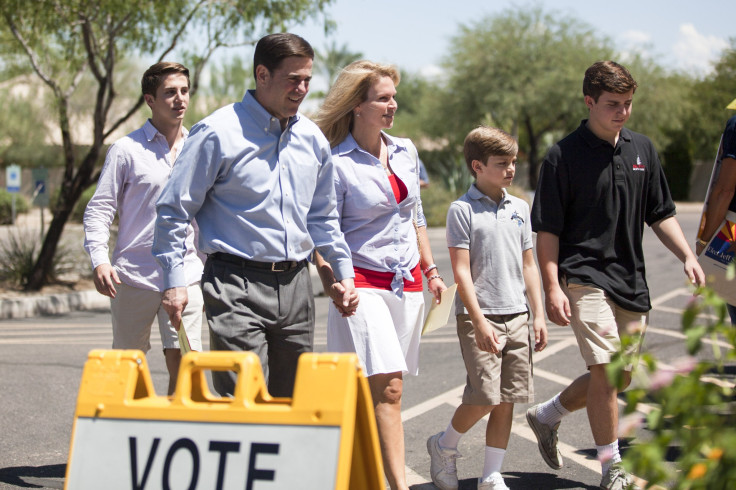 It's not every day that a Republican governor in the U.S. stands up for the equal rights of same-sex couples looking to legally adopt and foster children. That happened this week, though, when Arizona Gov. Doug Ducey ended a halt to joint foster care licenses and adoptions for same-sex couples, a policy he considered harmful to the state's foster children.
Effective Wednesday night, all married couples in the state were allowed to adopt and foster Arizona children together, Ducey said in a statement reported by the Arizona Republic. Having previously allowed married same-sex couples to adopt, Arizona is among the more than half of states where LGBT couples have these rights, according to gay rights advocates.
"With 17,000 children under the state's care, we need more adoption in Arizona, not less," Ducey said in the statement. "That's why I feel strongly -- as I have said many times before -- that all loving families should be able to serve as foster parents and adopt."
Although the license halt happened in early February, the governor said he only recently learned about it. "Practices have been brought to my attention that do not match those priorities. Therefore, I'm instructing the Arizona Department of Child Safety to immediately ensure that all legally married couples in Arizona are able to jointly serve as foster parents and adopt," Ducey said. "All children deserve a loving home, and under my watch, I'm committed to making sure government encourages that."
When Arizona was an anti-gay marriage state, same-sex couples were not allowed to be licensed to adopt or foster as a married couple. But most LGBT couples got around the issue by having one partner file as a single person, which is legal across the country. After the U.S. Court of Appeals struck down Arizona's gay marriage ban in November, the state's Department of Child Safety began issuing licenses to legally married same-sex couples. The only reason given for why officials halted gay adoption licenses on Feb. 4 was the U.S. Supreme Court's announcement in January that it would take up the issue.
Earlier this month, Ducey vetoed a bill passed by the Arizona Legislature that would have allowed individual counties to deny adoption rights to same-sex couples. Ducey also fired the Child Safety Department's director in January, about a week after the license halt memo went out. The American Civil Liberties Union of Arizona had threatened legal action but never received a response from the state's attorney general or the child safety director, according to the Arizona Republic's report.
© Copyright IBTimes 2023. All rights reserved.