Army Staff Sgt. Robert Bales Pleads Guilty To Killing 16 Afghan Civilians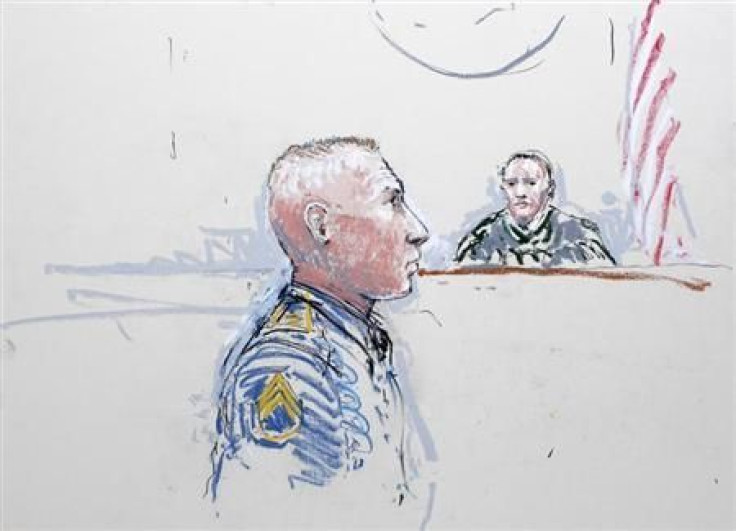 [Update 5:13 p.m.:] A military judge has signed off on the plea deal, according to the Associated Press.
Army Staff Sgt. Robert Bales pleaded guilty Wednesday to killing 16 Afghan civilians as part of a deal to avoid the death penalty.
Military prosecutors said Bales, 39, of Lake Tapps, Wash., started opening fire on civilians, mostly women and children, in Kandahar Province in March after straying from his post. Bales was expected to plead guilty, and the Associated Press tweeted that he did so Wednesday morning during a court-martial proceeding at Joint Base Lewis-McChord in Washington state.
The sentencing portion of Bales' court-martial is scheduled to start Aug. 19, according to the Tacoma News-Tribune. The paper noted that the Army has not executed a soldier on criminal charges since 1961.
Emma Scanlan, Bales' attorney, told Reuters that Bales agreed to a plea deal in which he would admit to murdering 16 Afghans in exchange for prosecutors agreeing not to seek the death penalty. The deal still has to be cleared by a judge.
Prosecutors alleged Bales was intent on killing civilians when he abandoned his post in the night, arming himself with a pistol, rifle and grenade launcher. He left his post on two separate occasions to commit the murders.
After returning to his Army base, Bales allegedly told a soldier in his unit, "I just shot up some people," according to Reuters.
The soldier reportedly didn't believe Bales' boast of murdering civilians until the staff sergeant went missing the next day, the News-Tribune noted.
Scanlan claimed that Bales suffered from post-traumatic stress syndrome, which she said he had before being deployed to Afghanistan. She also said he had a brain injury.
Bales was reportedly in dire financial straits, owing some $1.4 million related to a "fraud judgment" against him, according to the News-Tribune. He was also under water on mortgages for real estate he owned in Washington, the paper reported.
© Copyright IBTimes 2023. All rights reserved.