Arsenal 0 - 2 Liverpool: Lack of Centre Back Comes Back to Haunt Gunners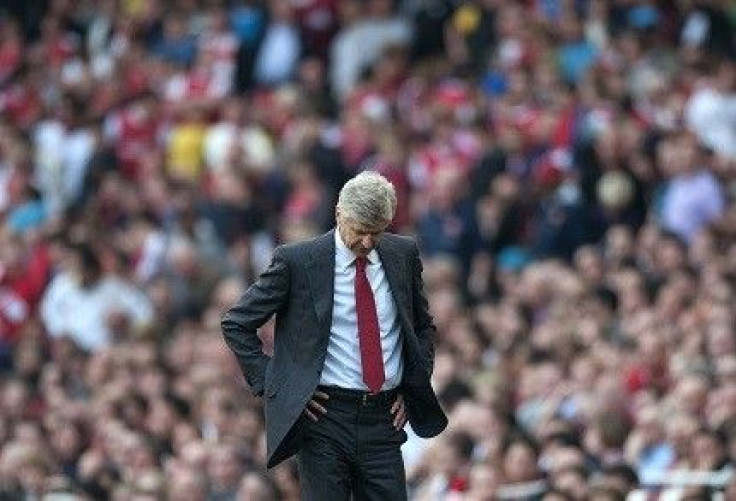 Arsenal proved they couldn't overcome injuries, suspensions, and some poor luck with a rainy home opener loss to Liverpool, 2-0, on Saturday at Emirates Stadium.
An own goal by Aaron Ramsey in the 78th minute, and a goal by Luis Suarez in the 90th minute, sealed the victory for the Reds.
The Gunners played with Samir Nasri and Nicklas Bendtner -- two players who are the verge of departing from the club. While centre back has been a contentious issue this summer, Arsenal got even thinner at the position, as Laurent Koscielny left the match early in the first half with what appeared to be back spasms. He was replaced by young Spaniard Ignasia Miguel.
Having a youth-filled lineup proved to be a problem as Emmanuel Frimpong, filling in for suspended Alex Song, received his second yellow card in the 70th minute, for his over-zealous challenges.
Playing a man down, Liverpool was able to put more pressure on Wojciech Szczesny, Miquel tried to clear the ball away, but it hit the chest of Ramsey and founds its way into the back of the net. On the replay, it looked like Suarez was offsides.
Suarez's goal was icing on the cake, as the Reds received a long-awaited road victory over Arsenal. The Uruguayan star continues his stellar play. Suarez, who came on as a sub, now has two goals in two matches this season for Kenny Dalglish's squad.
Liverpool took 14 shots in the match, while Arsenal took 12. Time of possession was 50 percent for each club.
As for Arsenal, the lack of experienced players was certainly showing, and remains an issue that the Gunners desperately need to address.
© Copyright IBTimes 2023. All rights reserved.