Arsenal FC News, Schedule: Reasonable Projections For Gunners To Win The 2016 Premier League Championship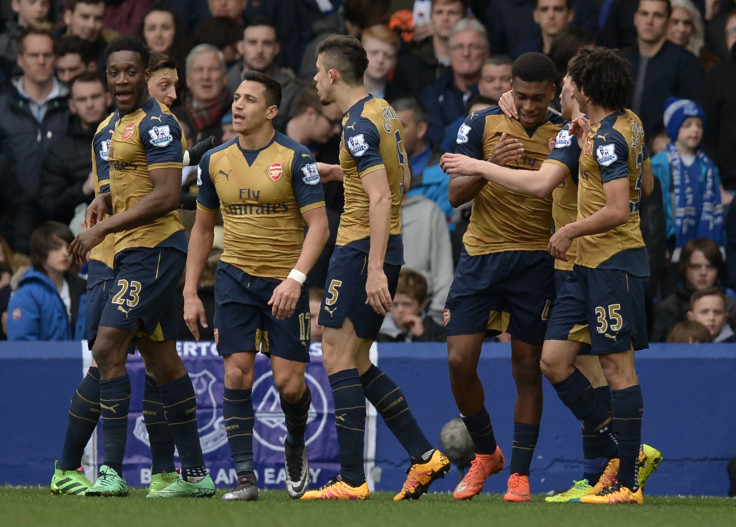 Sir Alex Ferguson offered his thoughts on the 2015-2016 Premier League championship race, while keeping mum on Arsenal as a legitimate contender for the crown. Trailing Leicester City by 11 points and local rival Tottenham by six points with eight games remaining, Arsenal are seemingly so much a longshot in Ferguson's eyes that the former Manchester United boss would not even reference the club by name.
"There will be testing times for [Leicester City]," Ferguson told Sky Sports in an interview that aired Thursday. "I think that they have to get in their mind that they're going to drop a point or two. Or maybe drop three points—they may lose a game. But others will drop points. That's the name of the game in the Premier division.
"I can only see Tottenham as being a danger, to be honest with you. I think that Tottenham, at the moment, are playing some of the best football of any Tottenham team I've seen for many, many years. But Leicester I think have got the edge. I thought they've got that 'togetherness."'
By stating how "others will drop points," Ferguson appears to suggest that this is more than a two-club battle. While adding that he "can only see Tottenham" remain in the race, the comment provided a quiet commentary on Arsenal. Ferguson would later show admiration for Leicester's impressive "consistency" and how they are "deserving to win" the title.
Southampton manager Ronald Koeman recently shared Ferguson thoughts. "It will be a fight between Tottenham and Leicester. They (Arsenal) are out of the title."
Of course, Ferguson and Koeman reveal nothing bold by backing the league leaders. And while many share their opinion, an overriding sentiment lingers that Leicester may still falter under the weight of this improbable run. A club that finished 14th in 2014-2015 and wasn't even in the Premier League in 2013-2014, can't just feel assured of capturing the title with so many points still up for grabs. Yet, through the course of the arduous season, Claudio Ranieri's side somehow earned victories against determined opponents that didn't fall into the trap of underestimating the improbable leaders.
Through it all, Leicester have persevered despite Arsenal representing two of their three losses and after imposing matchups against the Premier League elite. With seven matches remaining on their schedule, Leicester can even perhaps lose multiple matches and still take home the title, just as Ferguson claims. But could Ferguson be selling Tottenham and Arsenal short by expecting them to surrender critical points in the season's final stretch?
Arsene Wenger's side still own an outside chance of playing spoiler, though the prospects admittedly look dim. Despite the mounting injuries and missed opportunities, this battle-tested unit can still mount a serious threat, though not without a heavy dose of good fortune.
In a familiar refrain, Arsenal continue to compete with an undermanned squad, though the midfield received some good news this week. While Santi Cazorla and Alex Oxlade-Chamberlin remain roughly a month away from returning, Wenger welcomes back Jack Wilshere and Tomas Rosicky to full training. Petr Cech also returned to training, though his availability this weekend against Watford remains in doubt. Aaron Ramsey, meanwhile, could feature against West Ham on April 9.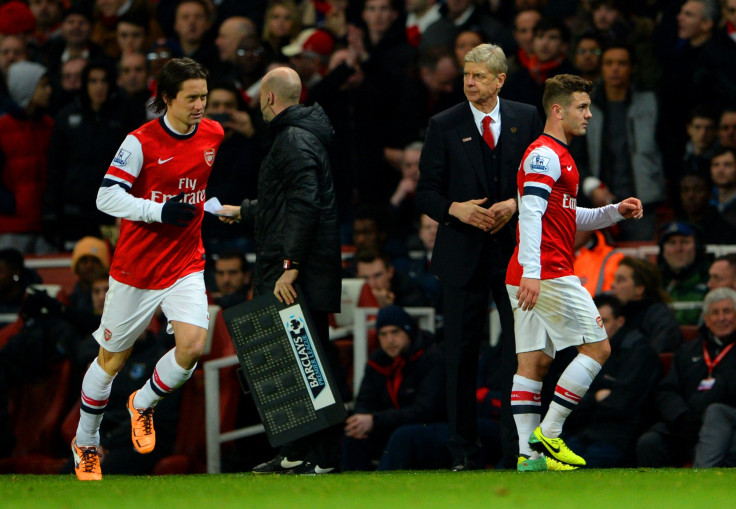 Wenger, mired by yet another wave of criticism for Arsenal's inconsistent play, can once again silence his detractors by completing the campaign with the signature dominance that highlighted the famous "Invincibles" season of 2003-2004. It's a tall order, but upcoming matches suggest a promising final six weeks.
By comparing and contrasting Leicester and Tottenham's schedules, Arsenal have extremely little room for error. Center back Gabriel recently struck an optimistic, and perhaps naive, tone when asked about Arsenal's outside shot at a title.
"We have a great chance to be champions this season," the Brazilian said. "But we do not throw in the towel. We can make a difference in the battles we have to fight for the Premier League title."
Here's a guide for Arsenal's schedule and the most feasible win-loss-draw scenario for the Gunners to mount an improbable comeback at the expense of Leicester and Tottenham.
ARSENAL 55 points (Home: 8-3-3; Road: 8-4-4)
Watford (Emirates, April 2) – The Hornets are in 14th place and in no danger of relegation, and with minimal chance of advancing to Europa League. They have a 5-3-6 road record, but were trounced by Arsenal on Oct. 17, 3-0. Projection: Arsenal win
West Ham United (Upton Park, April 9) – The Hammers would be the headlining underdog story if not for Leicester. With only two losses at home, it's probably a stretch for Arsenal to secure three points in this contest. Arsenal's opening-day loss to Slaven Bilic's side at the Emirates was surprising at the time, but now the 2-0 result seems far more forgivable given the Hammers' overall success. Will West Ham downplay this fixture by looking ahead to their FA Cup quarter-final match against Manchester United on April 13? Projection: Draw
Crystal Palace (Emirates, April 17) – The Eagles seem certain to avoid relegation, but don't seem to be playing for anything other than climbing to at-best an 11th-place finish. Arsenal pulled off a 2-1 win on Aug. 16, so the Gunners should have confidence entering the match. Arsenal will be playing with more urgency than the visitors. Projection: Arsenal win
West Bromwich Albion (Emirates, April 21) – Though seated in mediocrity, the Baggies may present Wenger's side a serious test after the shocking 2-1 win at the Hawthorns on Nov. 21. West Brom own a respectable road record (4-5-5), so Arsenal can't expect to cruise to a win. A blue-collar effort against a hard-nosed team will be necessary. Projection: Arsenal win
Sunderland (Stadium of Light, April 24) – The situation could turn dire for the Black Cats by late April, as they make a push out of relegation. Unfortunately, they can't count on home wins against elite competition. A draw would probably suffice here for Sam Allardyce, but the same can't be said for Wenger. After a 3-1 Arsenal win on Dec. 5 that included an own-goal by Olivier Giroud, Arsenal should have the confidence and temperament to mount a serious attack and get a road win. Projection: Arsenal win
Norwich City (Emirates, April 30) – Like Sunderland, Norwich may be fighting for their Premier League lives at this point. The Canaries have been dreadful on the road, so this looks like another trap match for Arsenal. But Cazorla and Oxlade-Chamberlain are slated to return at this point, which should provide a serious boost. Added midfield options could do wonders for Arsenal's overall confidence. Projection: Arsenal win
Manchester City (Etihad, May 7) – The toughest opponents on the schedule, City are historically dominant at home and will likely be competing for a Champions League berth. However, Manuel Pellegrini's lame duck status and their five home losses provide Arsenal some hope. Perhaps this match will mean little to City based on their place in the standings, but this talent-rich roster won't go down quietly. Arsenal will need a strong effort from the four-man defense. Projection: Draw
Aston Villa (Emirates, May 15) – Arsenal don't deserve even a top-four finish if they can't come away with three points against the worst club in the Premier League. Projection: Arsenal win
Projected Total: 20 points in eight games; Arsenal finish with 75 points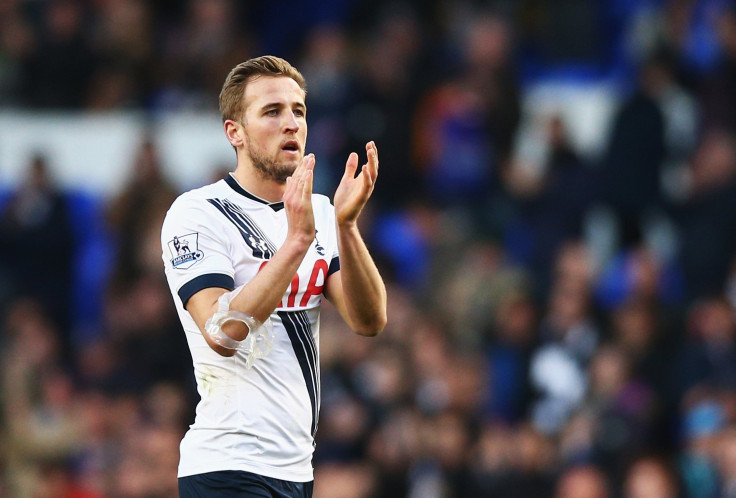 TOTTENHAM 61 points (Home: 9-5-2; Road: 8-5-2)
Home (3): Manchester United (April 10), West Brom (April 25), Southampton (May 7)
Road (4): Liverpool (April 2), Stoke City (April 18), Chelsea (May 2), Newcastle (May 15)
Tottenham Projection Summary: Would anyone be shocked if Spurs failed to earn a point against Liverpool, Manchester United and Chelsea? Mauricio Pochettino's side have a loss and two draws against those talented but underachieving clubs, and all three have pressure to finish the season strong. The season finale against Newcastle should be an easy three points, but West Brom, Southampton and Stoke may all finish in the Top 10 and can't be taken lightly. This won't be easy for Harry Kane and Co. as the season winds down and after winning eight of their last 10 matches. For Arsenal to leapfrog their local rival, it will take a sluggish effort from Spurs against the middle-tier clubs. At best for Arsenal, Tottenham could win two games, draw two games and lose three to finish with eight points. But it seems more likely that Spurs should manage at least 11 points.
Projected Total: 11 points in seven games; Tottenham finish with 72 points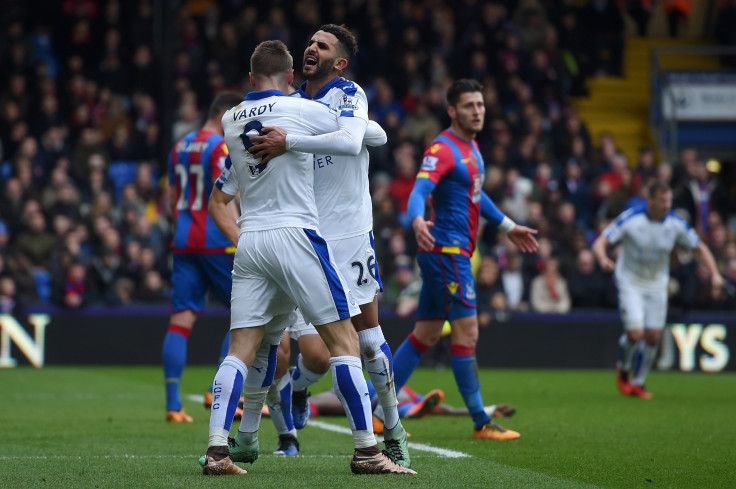 LEICESTER CITY 65 points (Home: 9-5-1; Road: 10-4-2)
Home (4): Southampton (April 3), West Ham (April 17), Swansea City (April 24), Everton (May 7)
Road (3): Sunderland (April 10), Manchester United (May 1), Chelsea (May 15)
Leicester Projection Summary: This Foxes clearly have a tougher schedule than Arsenal, but it's weaker than Tottenham. Will reality finally set in for Leicester against traditional titans Manchester United and Chelsea? Ranieri's squad may be due for a letdown, but they own an impeccable five wins and two draws this season against their upcoming opponents. Looking at this from Arsenal's very rose-colored glasses, Leicester can defeat Swansea at home and suffer draws against Southampton and Sunderland, along with losses to West Ham, Manchester United, Everton and Chelsea to end with a meager five points. More than likely, Leicester will do better than that and finish with a minimum of nine points.
Projected Total: Nine points in seven games; Leicester finish with 75 points
Conclusion: On the surface, Arsenal rattling off 20 points in eight matches seems like a stretch. However, with a mostly weak schedule, and only West Ham at Upton Park and Manchester City at the Etihad posing legitimate challenges, Arsenal appear poised for a points surge. The challenge for Arsenal's title hopes lay in Manchester United defeating both Leicester and Tottenham, Chelsea earning home wins against the two clubs, along with Southampton at least earning a draw against them. With the right amount of fairy dust, Arsenal may have just enough to pull off the impossible.
FOR FREE to continue reading
✔️ Unlock the full content of International Business Times UK for free
offer available for a limited time only
✔️ Easily manage your Newsletters subscriptions and save your favourite articles
✔️ No payment method required
Already have an account?
Log in
© Copyright IBTimes 2023. All rights reserved.