Arsenal vs Olympiakos: Van Persie on the Bench; Prediction, Preview and Lineups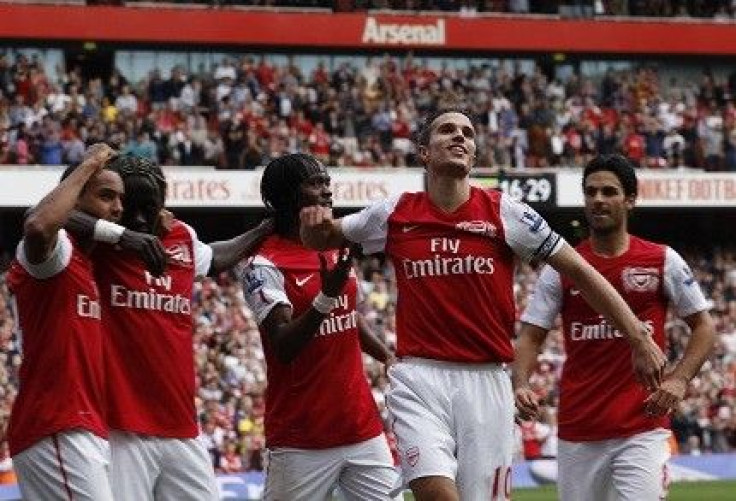 Arsenal are riding a pair of positive results as they host Greek club Olympiakos at Emirates Stadium on Wednesday in Champions League group play action.
Manager Arsene Wenger has been subject to a great deal of criticism in the past two months, but it now seems that the long-time Gunners boss has survived calls for being sacked, and has Arsenal riding momentum heading into their second Champions League match, after a 1-1 result with Bundesliga club Borussia Dortmund, but two victories over Shrewsbury and Bolton.
Wenger remains burdened with an injury-plagued squad. Arsenal will be without wingers Theo Walcott (knee) and Gervinho (hamstring), as well as centre back Laurent Koscielny (ankle) on Wednesday, who make up just the newest collection of hurt Gunners.
This is nothing new for Wenger, who will also be without three other centre backs: Thomas Vermaelen, Johan Djourou and Sebastien Squillaci. Midfielders Yossi Benayoun, Abou Diaby, along with Jack Wilshere, who may be out until February, are also inactive for the Olympiakos match.
Robin van Persie is not in the starting lineup, as Wenger appears to be resting the star forward. Alex Oxlade-Chamberlain is in the starting lineup along with Marouane Chamakh.
The cascade of injuries means Arsenal will have to rely even more heavily on a makeshift midfield.
Wenger will need Mikel Arteta and Andrei Arshavin to step up in the absence of van Persie, Walcott, and Gervinho. It will be interesting to see if Wenger brings in Chu Young Park as a substitute along with van Persie.
But the real problem for Arsenal will be in central defense. Without three regulars, Per Mertesacker will have a great deal of responsibility as the lone true centre back as defensive midfielder Alex Song has moved back to fill in for Vermaelen.
Olympiakos enter Wednesday's match without even earning a draw in England and having scored only one goal. The famed Greek club will surely be playing for a draw, and have the defenders that might be able to thwart the Arsenal attack. Olympiakos lost to Marseille at home in their lone Champions League match, but have won their only two Greek League matches, though they will look to a trio of defenders at Emirates.
The club has a pair of solid defenders in Vasilis Torosidis and former Aston Villa, and Juventus, centre back Olof Mellberg,
Young Belgian forward Kevin Mirallas is considered the lone scoring threat for head coach Ernesto Valverde's squad. However, veteran attacking midfielder David Fuster has played in La Liga for Villarreal, so he is accustomed to playing strong competition, and figures to play an important role on Wednesday.
Arsenal are not in the position to be over-confident for their home match given their history and their numerous injured players.
I have a lot of respect for Olympiakos, said Wenger. In the Champions League you never win easily. If we have not learned that after 14 years in the competition we are really stupid.
ARSENAL
G: Szczesny
D: Sagna, Mertesacker, Song, Santos
M: Rosicky, Chamberlain, Frimpong, Arshavin
F: Chamakh, Arteta
OLYMPIAKOS
G: Costanzo
D: Marcano, Mellberg, Holebas, Torosidis
M: Orbaiz, Fuster, Fesja, Djebbour, Mirallas
F: Ibagaza
PREDICTION: Arsenal's lack of depth at centre back won't be as much of a problem as some might think, as Olympiakos struggle to move the ball into the attacking half. The Gunners will be more burdened by a lack of space to work, as Arteta will have difficulty finding space to operate. Arsenal won't be able to get many shots off, and the match will stay scoreless for a majority of the match, before the Gunners sneak one past Argentine goalkeeper Franco Costanzo.
PREDICTED SCORE: Arsenal 1, Olympiakos 0.
© Copyright IBTimes 2023. All rights reserved.