Asian Shares And Sterling Skid, Yen Firms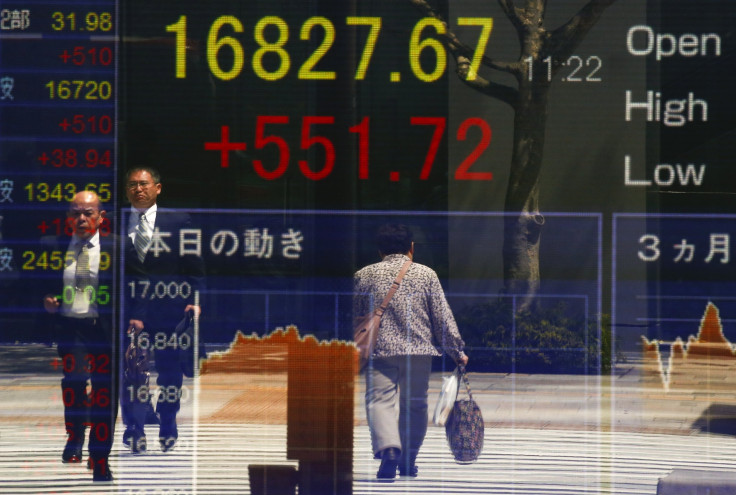 Asian shares and sterling skidded in early Asian trade on Monday and the perceived safe-haven yen rose, as investors fretted ahead of this week's central bank meetings as well as Britain's June 23 referendum on whether to remain in the European Union.
Also adding to the grim U.S. mood, an man armed with an assault rifle killed dozens at a packed gay nightclub in Orlando, Florida, on Sunday, which President Barack Obama described as an act of terror and hate and an attack on all Americans.
The U.S. Federal Reserve, Bank of England, Swiss National Bank and the Bank of Japan will all meet this week. All are expected to hold monetary policy steady against a backdrop of caution about the global economic outlook as well as the impact about a possible "Brexit."
MSCI's broadest index of Asia-Pacific shares outside Japan was down 0.4 percent after skidding 1.2 percent in the previous session.
S&P e-mini futures ESc1 were down 0.3 percent after Wall Street marked steep losses on Friday.
Chinese data released over the weekend offered nothing to reassure investors. China's foreign direct investment (FDI) fell 1 percent in May from a year earlier to 56.77 billion yuan, or $8.89 billion, the Commerce Ministry said on Sunday.
Japan's Nikkei stock index tumbled 2.1 percent, feeling the pain of the stronger currency.
"Investors concerned about the possibility of Brexit and yen strength may weigh down the Nikkei today, leading to a third day in a row drop of the N225," said Hiroki Allen, chief representative of Superfund Securities Japan in Tokyo.
Two polls on Saturday showed British voters were still closely divided on whether to stay or go.
The British pound has whipsawed in recent weeks on news related to the upcoming votes.
Early on Monday, the pound fell to as low as 150.63 yen, its lowest level since August 2013 while the euro fell to 119.52 yen, a level last seen in April 2013.
"Ahead of the referendum, many look for sterling to underperform and the yen and Swiss franc to outperform," Marc Chandler, global head of currency strategy at Brown Brothers Harriman, said in a note.
"The euro and central and eastern European currencies are vulnerable, while risk assets, in general, are expected to weaken on a Brexit victory," he said.
Against the yen, the dollar fell 0.4 percent to 106.57 JPY=.
But the dollar gained on the euro, which slipped 0.1 percent to $1.1246, well off last week's one-month high of $1.1416. That helped lift the dollar index, which added 0.1 percent to 94.669 and was trading close to one-week highs.
Crude oil futures extended losses after plunging 3 percent on Friday, pressured by the stronger dollar and data showing the U.S. oil drilling rig count rose for the second week in row.
U.S. crude futures fell 0.8 percent to $48.69 a barrel, while Brent slipped 0.6 percent to $50.25.
Gold rose, hovering close to three-week highs. Spot gold added 0.3 percent to $1,277.51 an ounce.
© Copyright Thomson Reuters 2023. All rights reserved.