Aspartame In Milk: Big Dairy Wants To Sneak In Sweeteners Without Labels, But There's One Last Chance To Comment On FDA Petition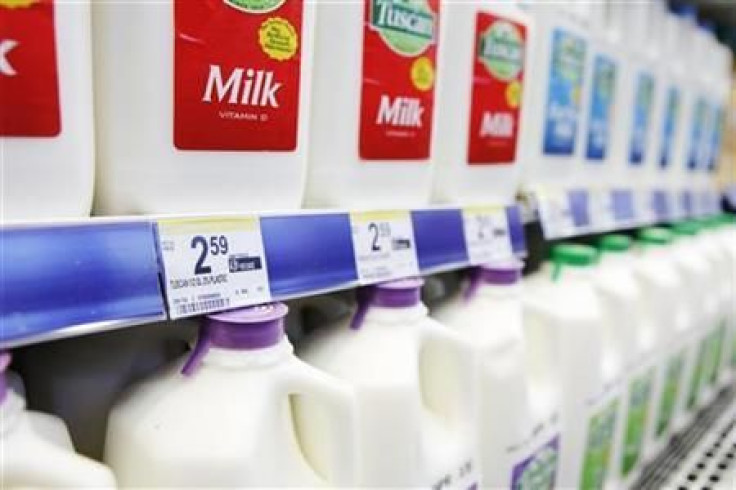 Milk may do a body good, but that could soon change if Big Dairy gets its way.
On Tuesday night at precisely 11:59 p.m., the public-commenting period will end for the dairy industry's efforts to sneak aspartame and other artificial sweeteners into 18 different dairy products, including milk, without consumers' knowledge.
Nutrition advocates and consumer-rights groups are urging people to publicly condemn a controversial petition by the International Dairy Foods Association and the National Milk Producers Federation, which are asking the Food and Drug Administration to change the official standards of identity for dairy products and allow for the use of "safe and suitable" sweeteners. If the FDA accepts the proposal, the move would allow the dairy industry to add artificial sweeteners to dairy products without saying so on labels.
According to the petition, the dairy industry is arguing that labels such as "reduced calorie" are a turn off to children, and that "consumers can more easily identify the overall nutritional value of milk products that are flavored with non-nutritive sweeteners if the labels do not include such claims."
But consumer-rights advocates say that backward logic is akin to saying consumers are somehow better off not knowing what's in their milk. The real motive, as nutrition expert Barry Popkin told NPR earlier this month, is to be freed up so that they may sell sweeter milk to kids without having to say it's been sweetened. He added that if the goal is to reduce the amount of calories kids get from sweetened beverages, then the dairy industry should be concerned with removing sugar from dairy products, not adding aspartame.
Big Dairy's petition was quietly submitted to the FDA in 2009. But it caught the attention of consumer groups in March of this year, when the agency began accepting public comments. Since that time, more than 38,000 people have submitted comments, which can be made either in writing or electronically on Regulations.gov. While many of the commenters expressed concerns about adverse health effects of aspartame, the majority seemed more shocked by the idea that the government would allow it to be added to products without our knowledge.
"Some hypersensitive people including my children get urticaria or [sic] angidedema from using the aspartame sweetener," wrote one commenter.
"Many people have allergies and food companies are adding so many things that I have had to go back to basic ingredients with my gluten allergy or celiac disease," wrote another.
Meanwhile, the consumer group SumOfUs has launched a petition calling on the FDA to decline the dairy industry's proposal, citing health issues thought to be associated with aspartame.
"Aspartame has a particularly sketchy history as an artificial substance. It has long been linked to a host of health issues, and was banned by the FDA before a Reagan appointee rigged a committee to approve it. The food industry claims that aspartame helps fight obesity by offering up a low-calorie alternative, but by training the brain to crave sweets, aspartame's been having the opposite effect."
As of Tuesday, a SumOfUs petition has garnered more than 117,000 signatures.
Got a news tip? Send me an email. Follow me on Twitter: @christopherzara
© Copyright IBTimes 2023. All rights reserved.
FOLLOW MORE IBT NEWS ON THE BELOW CHANNELS