Assad's Forces Kill 103 in Syria, including 14 Children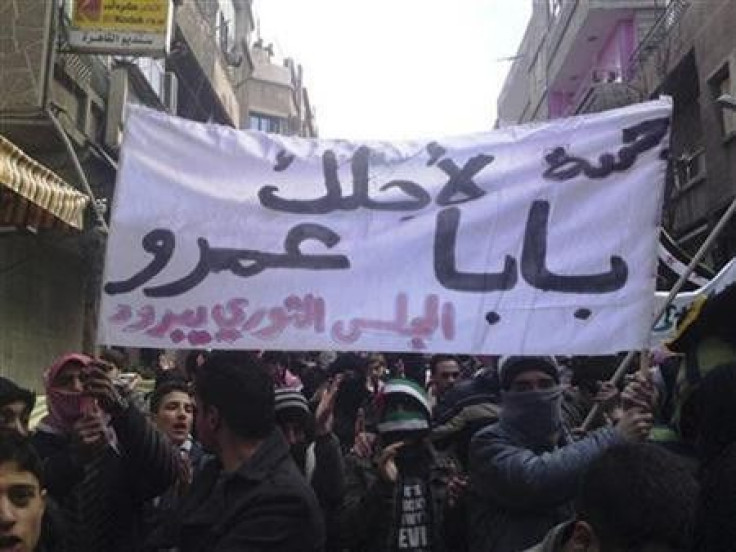 President Bashar al-Assad's forces killed 103 people in Syria on Friday in the bombardment of the besieged city of Homs and in attacks on the countryside of Hama and the east and north of the country, the activist group Local Coordination Committees said.
Most of those killed were civilians, including 14 children and one woman, it said.
Demonstrators take part in a protest against Syria's President Bashar al-Assad after Friday prayers in Yabroud near Damascus February 24, 2012. The banner reads ''For Bab Amro''.
Anas al-Tarsheh, an activist in Homs who has been filming the bombardment and uploading the footage on YouTube, was also killed by the shelling, the grassroots opposition activists' organisation said in statement.
The group said at least 36 people had been killed in Homs and 32 in the province in Hama. Five were killed in and around the northern city of Aleppo, Syria's main commercial and industrial hub, it said.
Security forces also shot dead 10 people the eastern city of Hasaka, where crowds were fired upon when they tried to bring down a statue of Assad's late brother Bassel, said the group, which has been documenting what it describes as human rights abuses since the popular uprising against Assad broke out 11 month ago.
Other scattered killings took place across the country, it said.
© Copyright Thomson Reuters 2023. All rights reserved.