'Assassinated' NYPD Officers' Personal Details: Commissioner Bratton Reveals Recent Marriage And Birthday Celebrations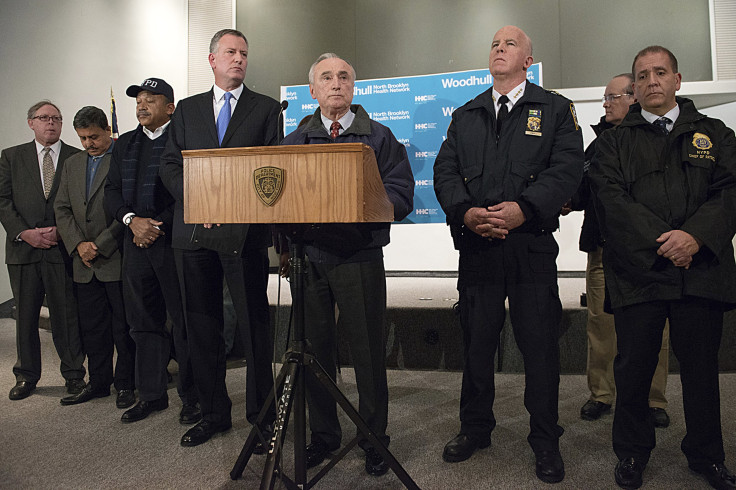 Murdered New York Police Department officers Wenjian Liu and Rafael Ramos were both celebrating milestones in their lives at the time of their deaths. Police Commissioner Bill Bratton said Liu was married two months ago and Ramos recently observed his 40th birthday, according to WNBC-TV in New York.
The two officers were shot in the borough of Brooklyn Saturday. Bratton recounted at a press conference how the cops were killed, with the video of his statement hosted by CNN.
"They were two of New York's finest, shot and killed with no warning, no provocation," Bratton said. "They were quite simply assassinated. ... According to witness statements, the suspect, who has been identified as 28-year-old Ismaaiyl Brinsley, walked up to the police car. He took a shooting stance on the passenger side and fired his weapon several times through the front passenger window, striking both officers in the head. Officer Liu and Officer Ramos never had the opportunity to draw their weapons. They may never have actually even seen their assailant, their murderer."
Bratton said Brinsley shot himself in a subway station while police were chasing him.
Patrick J. Lynch, president of the Patrolmen's Benevolent Association, didn't leave blame with the suspected shooter. Lynch appeared to blame Mayor Bill de Blasio for the situation. Lynch cast aspersions on "[t]hose that incited violence on the street in the guise of protest, that tried to tear down what New York City police officers did every day," Lynch said at a press conference, Newsday reported. "We tried to warn it must not go on, it shouldn't be tolerated. That blood on the hands starts at the steps of City Hall in the office of the mayor."
The Sergeants Benevolent Association shared Lynch's feelings. They sent out a tweet blaming de Blasio, as well:
The mayor kept his statement at the hospital focused on the shooting victims. "When a police officer is murdered, it tears at the foundation of our society," CNN quoted de Blasio as saying. "It is an attack on the very concept of decency."
After officers turned their backs to de Blasio at the press conference, his office released a statement: "It's unfortunate that in a time of great tragedy, some would resort to irresponsible, overheated rhetoric that angers and divides people. Mayor de Blasio understands this is the time when we must come together to support the families and friends of those brave officers New York City lost tonight -- and the entire NYPD community."
© Copyright IBTimes 2023. All rights reserved.