NYPD Officers Turn Their Backs On Bill De Blasio; Police Unions Say Mayor Has 'Blood' On His Hands [VIDEO]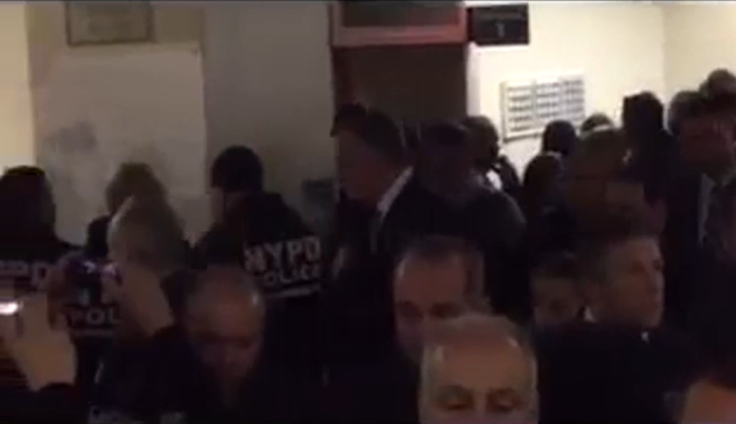 New York Police officers turned their backs on Mayor Bill De Blasio Saturday, in a gesture of displeasure following the execution-style killing of two of their colleagues. De Blasio was making his way to a press conference at Woodhull Hospital, where the two slain officers, Rafael Ramos and Wenjian Liu, were pronounced dead earlier in the evening.
Cellphone video obtained by WPIX, New York, shows a number of officers pointedly turning their backs as he passes. Police unions, which have had a combative relationship with the mayor in the wake of the Eric Garner killing and subsequent protests, were quick to condemn De Blasio in the wake of the killings.
"There's blood on many hands tonight. Those that incited violence on the streets under the guise of protest that tried to tear down what New York City Police officers did every day. We tried to warn it must not go on, it cannot be tolerated," Patrolmen's Benevolent Association (PBA) President Patrick Lynch said. "That blood on the hands starts at City Hall in the office of the mayor."
In addition, the Sergeants Benevolent Association tweeted, "The blood of 2 executed police officers is on the hands of Mayor de Blasio. May God bless their families and may they rest in peace."
Lynch's comments come after the PBA denied it had issued a widely circulated memo that made comments including, "The mayor's hands are literally dripping with our blood because of his words actions and policies," according to Capital New York.
De Blasio's office later issued a statement, cited by CBS News, saying, "It's unfortunate that in a time of great tragedy, some would resort to irresponsible, overheated rhetoric that angers and divides people. Mayor de Blasio understands this is the time when we must come together to support the families and friends of those brave officers New York City lost tonight -- and the entire NYPD community."
© Copyright IBTimes 2023. All rights reserved.