Astronaut Jessica Meir Shares Incredible Spacewalk Selfies
KEY POINTS
Astronaut Jessica Meir shared spacewalk selfies on Twitter
In one of the photos, the Earth can be seen behind her
Meir has so far had three spacewalks starting from the historic first all-female spacewalk
So far, there have been 227 ISS spacewalks
Some selfies are just out of this world and NASA astronaut Jessica Meir's selfies are some of them. In a single tweet, Meir shared two photos of herself during a spacewalk and one of them even shows the "magnificent" Earth behind her.
Compared to the spacewalk selfie that Meir previously shared where her face was not seen because the visors were down, the new ones show the astronaut's face.
Meir's first spacewalk was the historic first all-female spacewalk back on Oct. 18, 2019, when she and fellow astronaut Christina Koch spent seven hours and 17 minutes outside the International Space Station (ISS) to replace a failed battery charge-discharge unit.
Spacewalks
January 2020 has, so far, seen three spacewalks by Expedition 61 crew members Andrew Morgan, Luca Parmitano, Christina Koch and Jessica Meir. However, there have, so far, been a total of 227 spacewalks at the ISS since December of 1998.
Also called extravehicular activity (EVA), spacewalks can be done for various reasons, from conducting science experiments to repairing or testing vital ISS equipment.
When astronauts go on spacewalks, they actually have to wear the spacesuits hours before the spacewalk and they have to breathe in pure oxygen for several hours. This way, all the nitrogen in the astronaut's body is released. If the nitrogen is not released, an astronaut may form gas bubbles in their body and get "the bends" or pain in their wrists, knees, elbows and shoulders.
One of the ways that astronauts train for spacewalks is by going for a swim, since floating in space is rather similar to floating in the water. However, the astronauts don't go for ordinary swimming training, as they have to train in a massive pool that holds 6.2 million gallons of water for seven hours for every hour that they might spend on a spacewalk.
The first person to ever go on a spacewalk was Russian Alexei Leonov in March of 1965. Just months later, the first American to go on a spacewalk, Ed White, completed the task on June 3, 1965. Leonov's spacewalk lasted for 10 minutes, while White's spacewalk lasted for 23 minutes.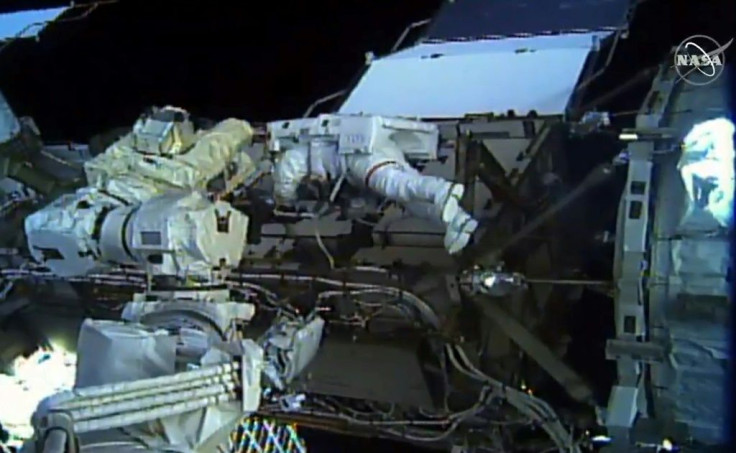 © Copyright IBTimes 2023. All rights reserved.