Attacks On Hospitals In War: 2 Years, 594 Attacks, 959 Deaths At Healthcare Facilities, From Syria To Afghanistan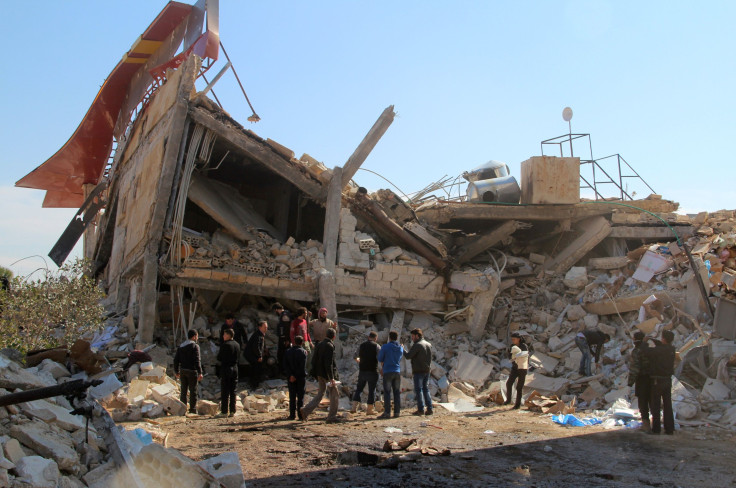 In two years, nearly 1,000 people have died and more than 1,500 have been injured in attacks on healthcare facilities and workers in 19 countries in conflict, the World Health Organization said Thursday in a new report.
The report, the first of its kind to consolidate information on such assaults, was published just three days after a suicide bomber attacked a hospital in the coastal Syrian city of Jableh, killing 43 people, including three doctors and nurses. The blast also damaged the hospital to the point where it was no longer operational.
The consequences of these attacks are devastating, killing and injuring not only patients but also the very people who are capable of saving their lives.
"Patients are shot in their hospital beds," the report said. "Medical personnel are threatened, intimidated or attacked, hospitals are bombed."
These attacks, which target patients, doctors and nurses alongside ambulances, hospitals and clinics, destroy crucial infrastructure and further reduce access to vital medical care. In the WHO report, such attacks varied widely in nature, from hijackings and robberies to arson, abduction of healthcare workers or forcing them to act against their will.
Sixty-two percent of the attacks reportedly deliberately targeted healthcare, the WHO noted. Why those people and places had been selected, however, might vary. "Possible reasons might include military/political gains, religious beliefs, theft, vandalism, fear, anger or dissatisfaction with the provision of health services," the report suggested.
Of the 19 countries included in the report, Syria vastly outstripped the others in total number of attacks. Its 228 attacks on healthcare in 2014 and 2015 constituted 38 percent of all attacks collected in the report. The Palestinian territories of the West Bank and Gaza Strip were a distant second, with 53 attacks, followed by Iraq and Pakistan, with 43 attacks each. Countries in Africa, Latin America and Asia, including Sudan, Guinea, Colombia and Myanmar, filled out the list.
"We've never seen anything like what's going on in Syria," Susannah Sirkin, a policy expert for Physicians for Human Rights, told STAT News. "It's the destruction of an entire advanced healthcare system." More than 725 of the country's medical personnel have been killed in the ongoing five-year civil war there. The city of Aleppo, home to 300,000, has nine places remaining where patients can find medical care, and one of its last pediatricians was killed in April in an airstrike on a hospital.
The WHO report covered 2014 and 2015 and was based on secondary data from open sources and databases, imposing certain limitations on its findings. "Underreporting of attacks is assumed due to limited awareness of the possibility, means and use of reporting," the report noted — some attacks were difficult to verify and corroborate, especially because reports were collected from a variety of sources, primarily English-language ones. The WHO called for better, more detailed information and reporting on such attacks.
In early May, the United Nations condemned attacks on healthcare facilities and workers, with Secretary-General Ban Ki-moon decrying them as "shameful and inexcusable." He pointed to high-profile attacks from the past year, including a deadly American airstrike on a Doctors Without Borders hospital in Kunduz, Afghanistan, as well as strikes on a hospital in Yemen that had served about 120,000 people. Although the U.N. Security Council has adopted a resolution aimed at protecting healthcare workers, its impact remains highly questionable.
© Copyright IBTimes 2022. All rights reserved.
FOLLOW MORE IBT NEWS ON THE BELOW CHANNELS