How The Syrian War Has Left Local Hospitals Understaffed, Under-Resourced And Under Attack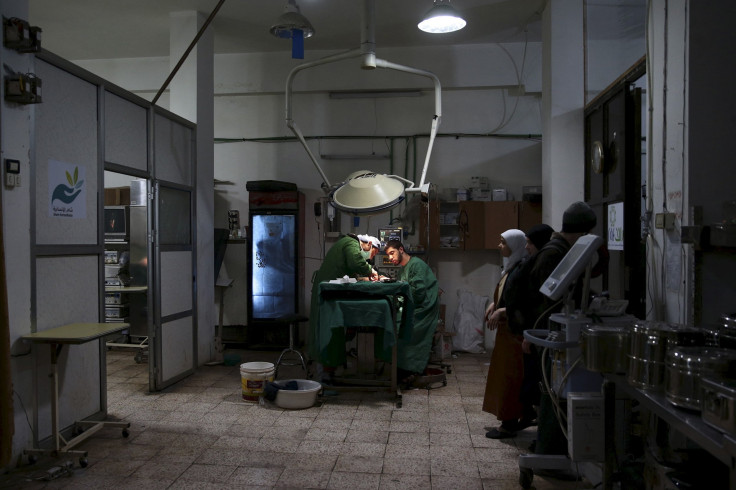 Dr. Abdullah Sutuf stood facing the operating table, not knowing what to do. In a makeshift field hospital in northern Syria, the general surgeon was confronted with the critically injured body of a 5-year-old boy whose stomach, minutes earlier, had been lacerated by shrapnel from a Russian airstrike. The sedative he had injected into the boy's arm was wearing off, the small body writhing in agony. Sutuf tried to plug the boy's bleeding vessels with his fingers in the open wounds, but he couldn't find them: The electricity had gone out again.
"He died in his father's arms that day," Sutuf said in a telephone interview with International Business Times. "His father cried. I cried. The whole hospital cried."
It wasn't that Sutuf didn't know how to save the boy's life — six years of medical school and 35 years of medical experience had taught him that. But five years of bloody conflict has left Syria's hospitals in a state of chronic paucity where medicine, equipment and medical staff are in short supply. The war has honed Sutuf's improvisation skills. He has become adept at operating by the amber light of battery-charged flashlights, but increasingly, he told IBT, he is overwhelmed by the number of patients who rely on him, the solitary general surgeon in his town. At a time when global powers are heralding an internationally brokered ceasefire, Sutuf is struggling to save lives more than any other time in the war's history. The irony is not lost on Sutuf and Syria's remaining doctors.
"Before [the ceasefire], patients were referred to Damascus and Aleppo and they would have everything they needed," said Abdul Tennari, a doctor in a field hospital in Sarmin, a small town outside of Idlib in northwestern Syria. "Now there are no big hospitals where we can send patients so that they can get diagnosed and treated correctly."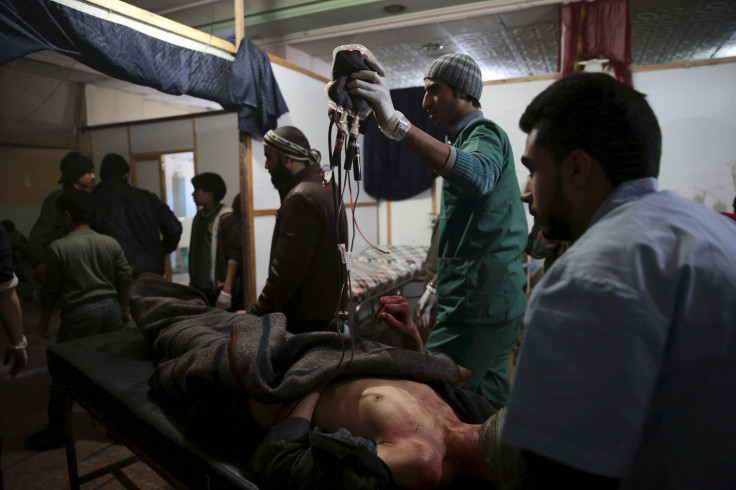 A truce has technically been in place since Feb. 27, but several major opposition fighting forces are exempt from the cessation of hostilities. The embattled Syrian government and its Russian allies have vowed to continue the fight against terrorism throughout the ceasefire, dropping bombs in densely populated rebel-held areas, killing civilians.
Russian airstrikes began five months ago, first targeting rebel positions, then hitting hospitals. Physicians for Human Rights, a monitoring group in Syria, has recorded 323 attacks on 225 medical facilities and the deaths of 679 medical personnel since March 2011.
In the early weeks of Russian airstrikes, a barrel bomb landed near Tennari's field hospital in Sarmin. Tennari was stitching up a wound on a man's leg when the bomb hit the abandoned school next door. He ran outside, preparing to gather up the injured.
"We saw so much dust. When we ran outside the hospital, it was hard to see more than a few meters ahead," Tennari said.
As the dust settled, dozens of people appeared, running toward the clinic, crying out for help.
A video sent to IBT of the airstrike shows the wreckage: Volunteers ease the bodies of two young girls onto a stretcher. Before leaving the devastated area, a man finds a pair of severed feet wedged between rocks. Wordlessly, he places them onto the stretcher with the girls' bodies.
Assaults like these underscore the complete collapse of the country's healthcare system, doctors in Idlib and Aleppo provinces told IBT.
The number of doctors remaining inside Syria is at an all-time low: By 2013, more than two-thirds of the medical workforce had fled to neighboring countries. A year later, only two vascular surgeons and one plastic surgeon remained. Before the war, some 6,000 physicians served the 2.5 million population of Aleppo, Syria's largest city. Five years on, 70 doctors are serving a decimated population of around 50,000, many of whom are in urgent need of medical and psychological care after protracted bombardment.
The exodus of trained staff has left junior residents and medical students in charge of cases that require at least five additional years of experience. They are also performing procedures without the proper tools: Due to a lack of regular shipments, doctors are diluting antibiotics with water so they can treat more people; patients who need surgery receive sedatives through an intravenous drip in lieu of anesthesia machines. With only one CT machine in Syria's entire northern region, internal injuries are virtually impossible to diagnose. As a result, people are dying needlessly, Sutuf said.
"We continuously have cases where the sick and wounded have died because of our inability to treat them," he said.
Doctors treating patients in Syria, as in other conflict zones, live in constant fear of losing their own lives as well as their patients. The Syrian war shares similarities with World War II in regard to what doctors experience on a day-to-day basis. Seventy-five years ago, doctors did not have machine-generated ventilators and often improvised new types of medication and treatment based on what was available. Although most wars bring in trauma cases, the Syrian war differs from recent conflicts in Iraq and Afghanistan. Unlike those countries, in Syria, there are no accessible hubs or hospitals designated as safe havens for medical treatment and, since there are no Western powers with boots on the ground, Syria is lacking medical facilities to treat soldiers and equipment to diagnose internal injuries.
This decline in healthcare is in sharp contrast to before the war, when Syria had a thriving medical sector that was the envy of the Middle East. The country housed some of the region's most renowned medical schools in Aleppo and Damascus. As more students enrolled in medical school, the government allocated more money to their education. Healthcare in Syria improved rapidly in the 1970s into the beginning of the 21st century before the start of the conflict. Life expectancy increased from 56 years in 1970 to 75.9 years in 2010, and infant mortality and maternal mortality dropped significantly, according to the U.S. National Library of Medicine.
During the beginning of the 21st century, Syria produced 90 percent of its medication domestically and, despite advanced procedures being out of reach for Syria's rural poor, access to everyday medication was assured.
The outbreak of war put an end to that as government funding for medical education plummeted, and those who could fled the country, sparking a massive brain drain. Newborn Syrians now have the same life expectancy as their grandparents. According to a 2014 report written by Syrian doctors in the American Thoracic Society, life expectancy at birth is now estimated at 55.7 years, reducing longevity and life expectancy by 20 years.
The Syrian Center for Policy Research said in its recent report that almost half a million Syrians have died, combatants and civilians, as a result of the war, almost twice the figure calculated by the United Nations in 2014. Of these an estimated 80,000 were civilians who have died not only in airstrikes but as a result of chronic illnesses such as diabetes, lung and heart disease, for which there is a dearth of doctors and vital medications.
The situation for doctors working in Syria has grown progressively worse, said Dr. Zaher Sahloul, chair of the Syrian American Medical Society, a nonprofit assisting Syrian doctors. Russian airstrikes have cut off major supply roads that humanitarian organizations use to deliver lifesaving supplies. Although warring parties in the country recently agreed to a ceasefire, doctors are still treating victims from ongoing airstrikes — violations that have been reported but largely ignored by the international community, Zaher said.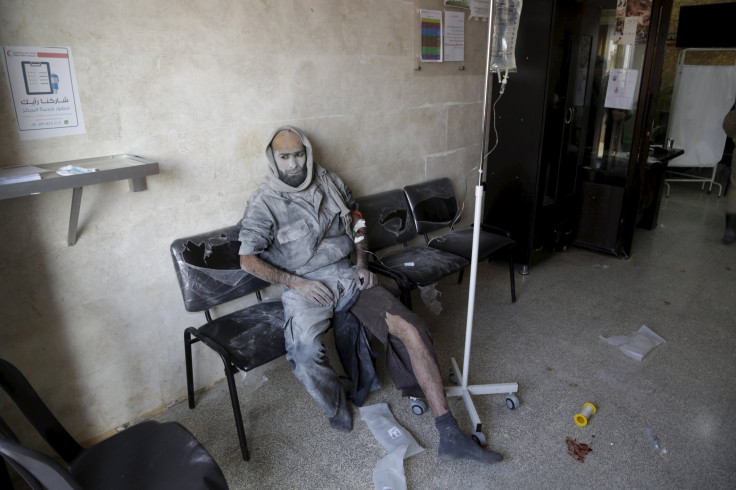 Children have also been badly affected by the privations of war and the lack of experienced doctors. In September 2014, 17 infants died in Idlib when they were mistakenly injected with a measles vaccine diluted with atracurium, a muscle relaxant used for major surgical operations, instead of sterile water. Had supportive therapy been available, the children would likely have survived, Sutuf said.
Infants are the most difficult patients to treat in the field, Sutuf told IBT, because their surgeries require special techniques — ones that only one or two doctors in Syria have the skill to perform. Doses of medicine for children are radically different from adult doses, especially during chemical attacks, which are frequent in northern Syria.
From December 2012 through late 2015, there have been a total of 152 documented attacks using toxic gases, including eight using the nerve agent sarin and 92 with chlorine gas. Rebel-controlled areas do not have mechanical ventilators, so suffocation from a chemical attack is a common cause of death, Tennari said. Instead of relying on machine-regulated ventilators, doctors insert tubes down their patients' throats and use hand-held self-inflating plastic bags to open their airways.
It's a primitive method that doesn't always work, Tennari says, recounting the day almost a year ago when the Syrian regime dropped five rounds of bombs filled with chlorine gas on the small town of Sarmin.
"We started to notice a strange smell. It was clear that the smell was chlorine," Tennari said.
People first began pouring into Tennari's clinic in the morning, complaining of sore throats and difficulty breathing. The clinic's doctors and nurses filled buckets of water from the bathroom faucets, splashed water on the patients lying on gurneys, and inserted hand-held ventilators. Two hours later, another helicopter dropped the second round of chlorine bombs.
"With the first attack, we could treat all the patients," Tennari said. "But with the second attack, the patients' symptoms were so much more severe."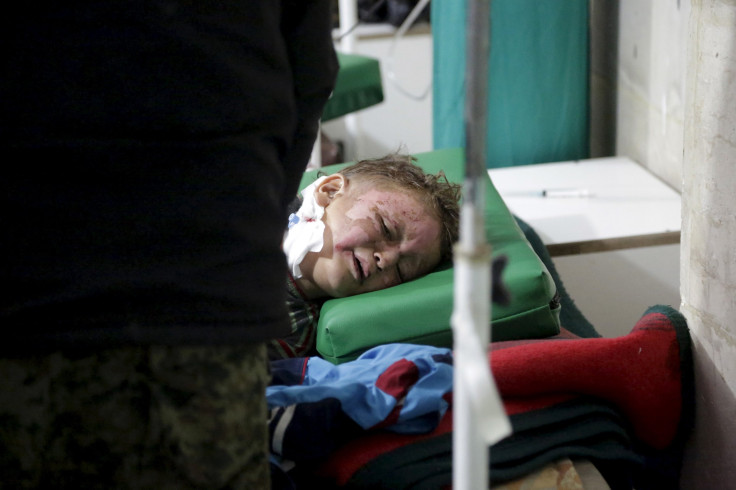 One family entered the clinic in Sarmin after the second attack when a bomb fell directly on their home. Because they all had a buildup of fluid in their bronchial tubes, Tennari diagnosed them with acute respiratory distress syndrome.
"They all died," he said. "We don't have ventilators. Maybe they died because they were not available. It was 12 o'clock at night, and transferring them to another city was dangerous because [Syrian President] Assad's aircraft were flying over the town."
Before the rise of terrorist groups like ISIS and the corresponding increase in Russian airstrikes on Aleppo and Idlib, Syrian doctors transferred critical patients like those in Sarmin to Turkey for urgent care. But now that the roads to Turkey are closed, doctors in Syria are having to learn to perform dangerous procedures on the fly.
Physicians from the U.S. and other Western countries are trying to train doctors through video conferences: Dr. Sahloul's organization, the Syrian American Medical Society, provides remote online coverage via video camera to nine major intensive care units in remote or besieged Syrian cities. But because of the lack of electricity, the speed at which doctors can learn these new skills is achingly slow.
For now, doctors in Syria are working on avoiding detection. As Russian and regime airstrikes continue to bombard civilian areas and medical facilities, doctors are building clinics on mountainsides. With each passing month, Sutuf said, bulldozers are carving their way into new, discrete valleys in the countryside of Idlib and Aleppo, hoping that their new clinics will outlive the airstrikes.
"Everyday we go to the hospital and see the helicopters overhead, knowing they might attack us," Zutuf said. "Working conditions are next to impossible, but it is [equally] impossible not to do all we can to help our people."
© Copyright IBTimes 2023. All rights reserved.