Aung San Suu Kyi's First China Visit: Will Pragmatism Overshadow Human Rights Concerns?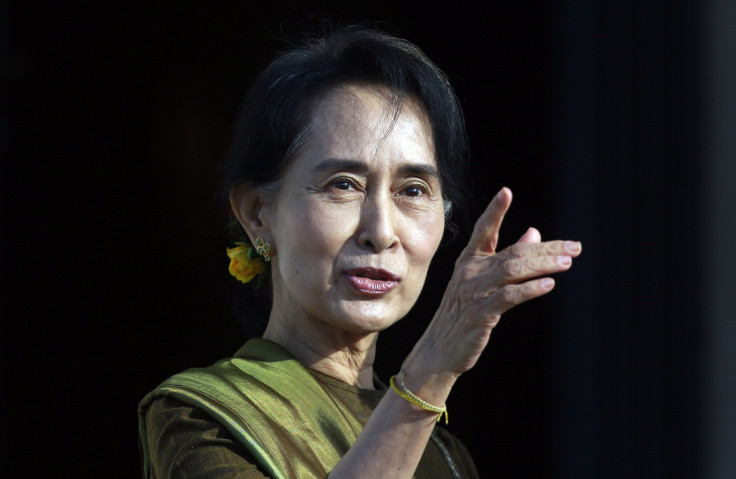 SHANGHAI -- Myanmar opposition leader and Nobel Peace Prize laureate Aung San Suu Kyi arrived in China on Wednesday, on her first visit to one of the closest backers of the military regime that previously held her under house arrest for many years.
She is accompanied by two other members of her National League for Democracy party, on a visit that analysts said was designed to build the party's relations with Beijing, ahead of elections in Myanmar expected in the autumn, which observers say may leave the NLD as the largest party in the country's parliament.
NLD sources have said Suu Kyi is expected to meet both Premier Li Keqiang and President Xi Jinping. China has given few details of her itinerary, but a foreign ministry spokesman described the trip as an "important party-to-party exchange" between the NLD and China's ruling Communist Party. The official Global Times said the invitation to Suu Kyi was seen as a "strategic move from China to safeguard ties with its southern neighbor," since the NLD's political influence was "projected to grow in the upcoming elections."
The visit raises potentially sensitive issues on both sides, however. Not only has China long been a loyal supporter of the military junta that kept Suu Kyi under house arrest for a total of almost 15 years, in the two decades to 2010, but human rights groups have also called on the 1991 Nobel Peace Prize winner to speak out publicly in support of fellow laureate Liu Xiaobo, who was jailed by China for 11 years in 2009 for calling for multi-party democracy.
Beijing, meanwhile, has long regarded Suu Kyi with suspicion, as a symbol of the type of Western values it strongly opposes -- and the holder of a prize that China routinely denounces as being awarded for political motives to those who promote such values. Her comments are rarely reported in Chinese media -- and the Global Times this week described her as, "Long-hailed by the West as an icon of democracy."
However, the paper also suggested that her visit "highlights Beijing's pragmatic approach to diplomacy," while the Xinhua news agency said that the Communist Party had a history of communicating "not only with foreign political parties that adopt the same ideology, but also those with a different political vision."
Zhao Gancheng, a professor at the Shanghai Institute for International Studies, said the invitation to Suu Kyi had come "as Myanmar's political situation evolves and Suu Kyi is no longer an activist but an opposition leader," the Global Times reported. Another academic, Zhu Zhenming, of the Yunnan Academy of Southeast Asian and South Asian Studies, told the paper that China wanted "to see a stable and prosperous Myanmar," as this would safeguard its own economic interests in the country. For this reason, he said, "China welcomes the democratic development in Myanmar and wants the country to be more united."
Xinhua added that "China welcomes anyone with friendly intentions and it bears no grudge for past unpleasantness." Given Beijing's links to her former jailors, the question may be whether Suu Kyi herself bears a grudge.
But Nicholas Farrelly, a Myanmar specialist at the Australian National University, emphasized that as leader of her party, Suu Kyi "is getting on with the business of trying to win an election. She will be utterly pragmatic about what is at stake and cannot afford to indulge undue sentiment," he told Agence France-Presse, adding: "She knows that China will play a mighty role in Myanmar's future."
Xinhua also suggested the Nobel laureate would be pragmatic, quoting her past comment that, unlike married couples who "could always get a divorce if they do not get along, nothing can be done to change the fact that China and Myanmar are each other's neighbor."
There is a precedent for an international human rights icon avoiding sensitive topics while in China -- Nelson Mandela, the late South African president and long-time political prisoner, visited China in 1999 and studiously avoided talking about human rights in public, at a time when China had recently jailed a number of pro-democracy activists.
But even if Suu Kyi does not embarrass Beijing by speaking out publicly on human rights, there are other potentially awkward topics: Xinhua pointed out that there had been "disturbances" in relations between the two countries over recent years. These include two China-funded projects in Myanmar, the Letpadaung copper mine and the Myitsone Dam, both of which have been suspended after local opposition. The Global Times noted that Suu Kyi had led opposition to the latter.
There has also been tension on the two countries' joint border in recent months: in March, five people were killed after a Myanmar military bomb, ostensibly aimed at rebel forces inside its borders, fell on the Chinese side. Thousands of refugees are also reported to have fled into China because of the clashes. Beijing responded last week by carrying out large-scale, live-fire military exercises close to the border. And some observers have suggested that the overtures to Suu Kyi are designed to send a warning to Myanmar's current leadership to change its strategy in the border region.
Nevertheless, Xinhua said, the two countries had "made progress in addressing these undesired events and both sides have the will to keep things going that way."
Suu Kyi is currently barred from becoming Myanmar's president under the country's constitution, but if her party is to take a leading role in the country's governance in future, the visit to China may be a good introduction to the realities of global geopolitics.
FOR FREE to continue reading
✔️ Unlock the full content of International Business Times UK for free
offer available for a limited time only
✔️ Easily manage your Newsletters subscriptions and save your favourite articles
✔️ No payment method required
Already have an account? Log in
© Copyright IBTimes 2023. All rights reserved.