Why Nobel Laureate Aung San Suu Kyi Is Unlikely To Heed The Dalai Lama's Pleas To Help Rohingya Muslims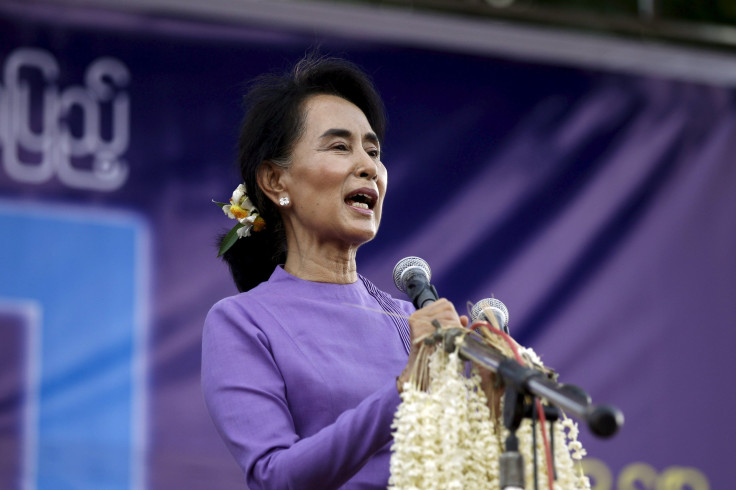 The migrant crisis that has seen thousands of Rohingya Muslims flee Myanmar on perilous boat journeys has thrown the spotlight on pro-democracy icon Aung San Suu Kyi's adamant silence on the issue. On Thursday, the Dalai Lama became the latest prominent international figure to urge Suu Kyi, the leader of Myanmar's opposition, to publicly speak out about the persecution faced by the country's Muslim minority.
The Tibetan Buddhist spiritual leader told The Australian newspaper that the world could not continue to ignore the plight of the minority. Thousands have been landing on the shores of neighboring countries like Indonesia, Malaysia and Thailand, often abandoned by human traffickers, the Associated Press reported.
"It's not sufficient to say: 'How to help these people?' " he said, adding that he had discussed the Rohingya issue with Suu Kyi in earlier meetings. "I mentioned about this problem and she told me she found some difficulties, that things were not simple but very complicated," he was quoted as saying. "But in spite of that, I feel she can do something."
Despite the pleas from the Buddhist spiritual leader and fellow Nobel Peace Prize laureate, the extreme sensitivity of the Rohingya issue in Myanmar means that Suu Kyi is unlikely to risk the almost certain backlash that would result from her speaking out about the Rohingya Muslims.
Myanmar's government refuses to even recognize the term "Rohingya," instead insisting on referring to the minority population as "Bengalis." This policy reinforces the widely held view that Rohingya -- many of whom have lived in the country for generations -- are immigrants from neighboring Bangladesh. As a result, the minority group has been denied citizenship, making the 1.3 million Rohingya in Myanmar officially stateless. Their tenuous status is further compounded by a host of discriminatory laws, including severe restrictions on movement and employment, as well as a two-child limit on Rohingya families.
Mob attacks against Rohingya have also increased amid a rise in animosity toward the group in the predominantly Buddhist country. Protesters rallied in the country's capital of Rangoon this week to call for members of what they referred to as an "invented ethnicity" to be deported.
International observers have hoped that Suu Kyi, who became an international hero after years under house arrest for speaking out against Myanmar's military regime, could use her moral authority to oppose the violence and persecution. However, Suu Kyi has avoided lending her voice to international calls in support of the beleaguered minority.
"Those who criticize me for not condemning one side or the other -- they've never said exactly what they hope will come out of such condemnation," she told Canada's Globe and Mail in an interview in April. "You're just taking the moral high ground for the sake of sounding good -- it sounds a little irresponsible."
The pro-democracy activist, who some expect to run for Myanmar's presidency in 2016, has had to strike a delicate balance on the issue, likely out of fear that she or her party risk a tremendous backlash for defending the Rohingya. Suu Kyi has also been wary of provoking the military, which continues to wield significant political power in Myanmar, despite the country's official transition to civilian leadership.
These political considerations, however, are nothing in the face of the moral imperative to speak out against the persecution, some activists have argued. "In a genocide, silence is complicity, and so it is with Aung San Suu Kyi," argued Penny Green, a law professor at the University of London and director of the State Crime Initiative, in a commentary for The Independent.
"It is true that to speak out against the genocidal persecution of the Rohingya is likely to lose her many votes among the Burmese Buddhist majority, but it might not," Green wrote. "She once held enormous moral and political capital and had the chance to challenge the vile racism and Islamophobia that characterize Burmese political and social discourse."
FOR FREE to continue reading
✔️ Unlock the full content of International Business Times UK for free
offer available for a limited time only
✔️ Easily manage your Newsletters subscriptions and save your favourite articles
✔️ No payment method required
Already have an account? Log in
© Copyright IBTimes 2023. All rights reserved.