Australia Begins Airstrikes Against ISIS In Syria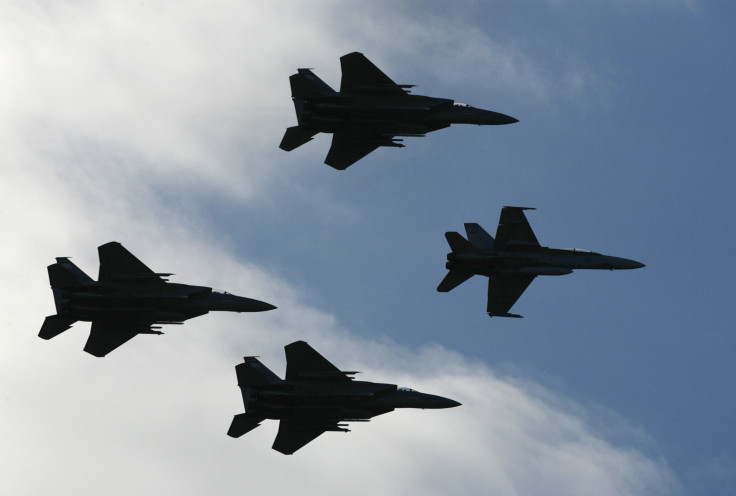 Australia -- part of an international coalition bombing Islamic State group targets in Iraq -- carried out its first airstrikes against the militant group in Syria earlier this week, the country's defense minister said Wednesday. The airstrikes, conducted in collaboration with the United States, reportedly destroyed an armored vehicle used by ISIS.
"Two days ago, Australian Hornet fighter aircraft destroyed a Daesh armored personnel carrier with a precision-guided missile," Australian Defense Minister Kevin Andrews reportedly said Wednesday morning, using the Arabic acronym for the Sunni militant group. "Two of our Hornets identified the personnel carrier, which was hidden in a Daesh compound. That information was reported back to the combined operations centre … and upon receiving authorization to proceed, one of the Hornets employed a precision-guided weapon to destroy the target."
The airstrikes come just a week after former prime minister Tony Abbott confirmed that Australia would extend its anti-ISIS operation from Iraq to Syria at the request of the U.S. Australia has been carrying out airstrikes in Iraq since the start of the anti-ISIS campaign in August last year.
According to a statement issued by the U.S. Central Command (Centcom), Monday's airstrikes also targeted a crude oil collection area in the eastern city of Deir el-Zour. In addition to Australia and the U.S., Bahrain, Canada, Jordan, Saudi Arabia, Turkey and the United Arab Emirates also participated in the airstrikes.
"We're obviously hoping to make Syria safer and to stop the persecution of millions of people there as ISIS advances," Australia's Assistant Treasurer Josh Frydenberg told ABC TV Wednesday. "This is part of Australia's global responsibility that not only makes the world safer but also protects us here at home."
In order to curb the rise of ISIS in the region, Australia has also sent 330 troops in Iraq on a training mission. However, Andrews reportedly ruled out sending troops to Syria.
"We're not contemplating boots on the ground," he said, during an interview with Sky News last week.
© Copyright IBTimes 2022. All rights reserved.
FOLLOW MORE IBT NEWS ON THE BELOW CHANNELS