Australia, Indonesia Mend Ties Following Allegations Of Spying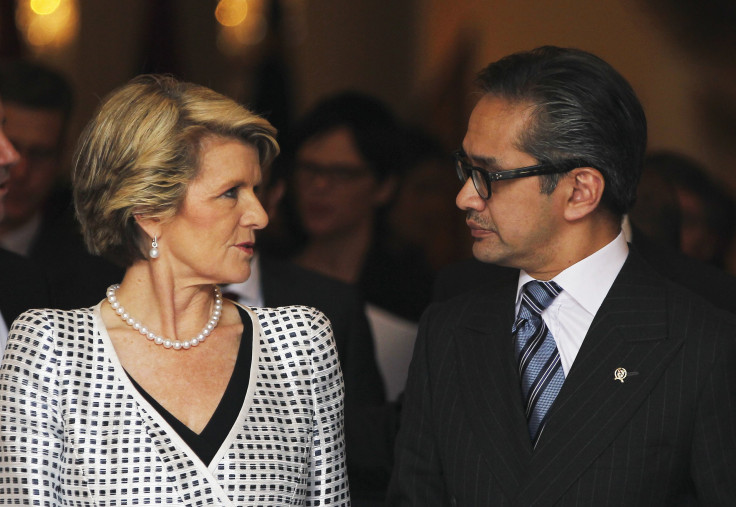 Australia and Indonesia have come to a "joint understanding" following a diplomatic row after reports surfaced last year alleging that the former had spied on its Asian neighbor.
According to Julie Bishop, Australian's foreign minister, the two countries are now preparing to sign an agreement that will make way for a resumption of cooperation on military, intelligence-sharing and border issues, BBC reported Tuesday. The agreement ends the diplomatic row that began after news of Australian agents spying on the Indonesian president broke in 2013, and threatened to sour relations between the countries.
While the exact details of the pact have not yet been released, Bishop reportedly told Fairfax Media that the deal was a "concise statement of our commitment to respect each other's sovereignty," adding: "This means we will not be using our intelligence resources to harm Indonesia's interests."
Indonesia briefly withdrew its ambassador to Australia after documents leaked by Edward Snowden claimed that Australian spy agencies were snooping on top Indonesian politicians. Australian media had first reported the spying allegations in November 2013.
The alleged spying, which took place in 2009 as part of a U.S.-led spy network in Asia, had Australian spy agencies tapping the phones of Indonesian President Susilo Bambang Yudhoyono, the first lady, the vice president and other senior Indonesian ministers. Reports also alleged that Australia used its embassy in Jakarta in the spying effort.
Yudhoyono had reacted angrily to the spying allegations at the time, stating that ties between the two nations had been damaged by Australia's "hurtful actions," leading to a suspension of cooperation between the two countries.
© Copyright IBTimes 2023. All rights reserved.