'Anonymous Indonesia' Hacks 170 Australian Websites Under #OpAustralia, Protests NSA Spying Report
A group of hackers identifying themselves as "Anonymous Indonesia" and claiming to be an offshoot of the larger hacktivist collective, said that they hacked more than 170 Australian websites in response to a report that Australia used its embassy in Jakarta to conduct spying efforts spearheaded by the United States.
According to the Indonesian website Tempo.co, the group claimed responsibility for synchronized cyberattacks on more than 100 Australian websites. Links to those websites were posted on the group's Twitter account.
Tempo reported that the majority of those websites belonged to small businesses, and that many of the pages were defaced with the message "Stop Spying on Indonesia." One hacked website stated: "Tell on your government stop all forms of tapping into Indonesia. Or we will make your internet network destroyed," Fairfax Media reported.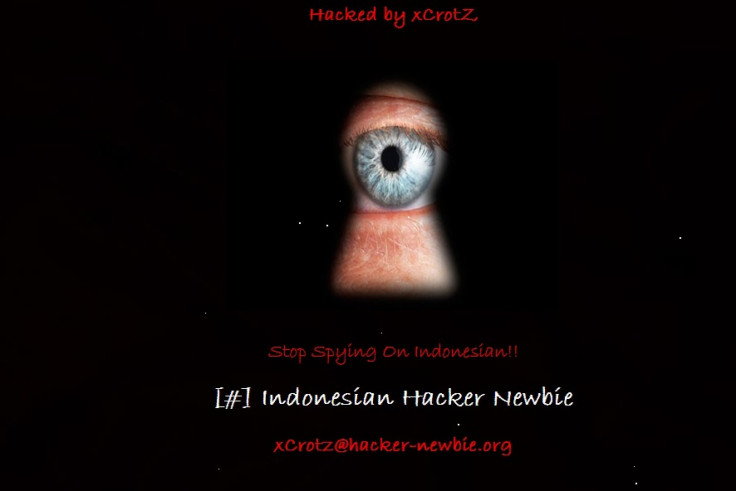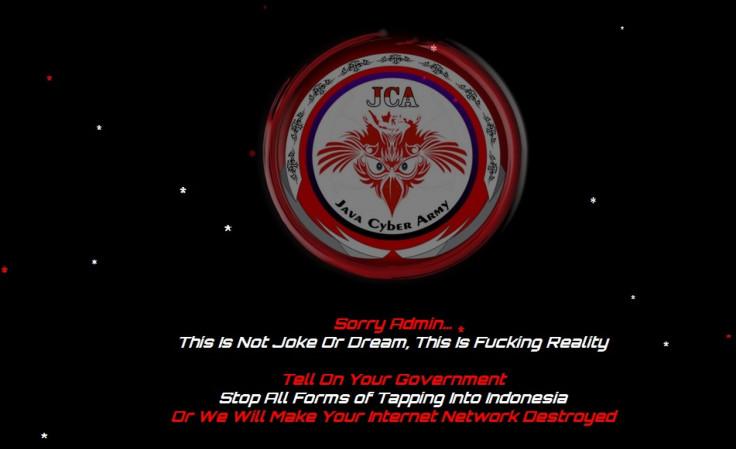 As of Monday, some of the sites, including Daewoo Buses and The Station Hotel, had returned, but others still displayed the hacked messages.
Jamie Yousuf, whose Web design company was targeted in the attack, called it shocking.
"I have never come across it before with any of my client's sites or my own sites so yeah it's pretty shocking," Yousuf told Australia's ABC News. "You hear about it all the time, [but] usually they target bigger businesses and international companies and so on and and so forth just to get immediate action."
The synchronized attacks, named #OpAustralia, are believed to be an act of retaliation brought on by yet another leaked NSA document. That report, shared by former contractor Edward Snowden and published in Germany's Der Spiegel magazine recently, has resulted in a wave of protest from Asian countries including China and Indonesia, the BBC reported.
The report stated that Australia and other countries including Canada and Britain participated in a signals intelligence collection program, codenamed "STATEROOM," which operated out of U.S. embassies and "at Australian diplomatic facilities" and used to eavesdrop on Asian countries.
The document also claimed that Australia's secretive Defence Signals Directorate (DSD) went to great pains to conceal its spying from most staff members at participating facilities.
"They are covert, and their true mission is not known by the majority of the diplomatic staff at the facility where they are assigned," the document stated. "For example, antennas are sometimes hidden in false architectural features or roof maintenance sheds."
A former Australian defense intelligence officer corroborated the report, telling Fairfax Media that Australia's embassy in Jakarta helped collect intelligence on terrorists and people smuggling, but that "the main focus is political, diplomatic and economic intelligence."
"The huge growth of mobile phone networks has been a great boon and Jakarta's political elite are a loquacious bunch. Even when they think their own intelligence services are listening they just keep talking," the former intelligence officer said.
Australia's Ambassador to Jakarta was reportedly summoned to a meeting with Indonesia's Ministry of Foreign Affairs on Friday. The country's Foreign Minister Marty Natalegawa said that the reports warranted an official explanation from the United States.
"Indonesia cannot accept and strongly protests the news about the existence of tapping facilities at the U.S. embassy in Jakarta,'' he said. ''We have spoken to the U.S. embassy representative in Jakarta demanding an official explanation from the U.S. government about the news. If it's confirmed, then it's not only a breach of security, but a serious breach of diplomatic norms and ethics, and of course it's not in line with the spirit of having a good relationship between the two countries.''
© Copyright IBTimes 2023. All rights reserved.
FOLLOW MORE IBT NEWS ON THE BELOW CHANNELS