Australian GP 2018: Lewis Hamilton Hits Back At Nico Rosberg's Inconsistency Comment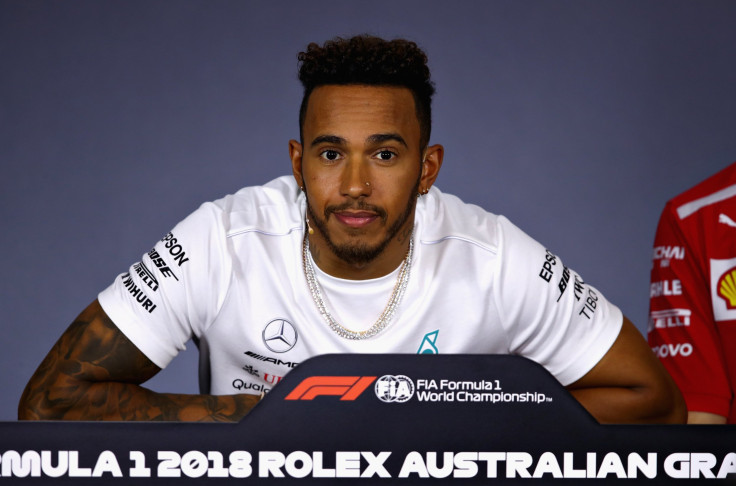 Lewis Hamilton on Thursday hit back at Nico Rosberg after his former teammate pinpointed to the Briton's lack of consistency during the course of a season as the only way his rivals can beat him.
Rosberg was the only person to beat Hamilton while driving the same car after the German won the 2016 Formula 1 Drivers' championship while they were teammates at Mercedes.
In 2016, Hamilton suffered more reliability issues than his then teammate which cost him his shot at the title despite the British driver winning more races. In 2017, the Mercedes driver finished every race in the points and was outside the top five on just two occasions.
Hamilton is the favorite going into the 2018 season and Rosberg believes, his challengers, Ferrari's Sebastian Vettel, Mercedes teammate Valtteri Bottas and Red Bull Racing duo Max Verstappen and Daniel Ricciardo will have to have a perfect season while also taking advantage of Hamilton's inconsistency to have a chance of winning the title ahead of the Briton.
The four-time world champion, however, was in no mood to ignore his former teammate's comments when it was put to him during the pre-race press conference in Melbourne on Thursday. He was quick to point out that it was his consistency last season that helped him beat Vettel to the title.
Hamilton also suggested that Rosberg's comments were borne out of the need for attention, as he is not directly involved with the sport at the moment. The German will be working as a television pundit during the upcoming campaign, and a face-to-face between the two former teammates is certain.
"I think I proved that's not the case last year and… yeah… again, I think there's a lot of people that need to get headlines, and so maybe that's one way of saying it," Hamilton said in Melbourne on Thursday, as quoted on f1.com. "No, the goal this year is to be even more consistent that I was last year. I think consistency was the reason that I won the Championship last year."
Meanwhile, during the same press conference, Vettel, who was seated next to Hamilton was asked the same question about the weaknesses of his title rival going into the new season. The German was a little apprehensive about answering the question with the Briton staring at him.
Vettel chose to focus on himself after admitting that the Mercedes driver, who is entering his 12th season in F1 does not have too many weaknesses. He suggested that all drivers have some drawbacks but that he mainly thinks about his own weaknesses in order to rectify them.
"Well, there aren't many, so I think he's doing a very, very good job for many years now. So, I think it's always a bit of a weird question to answer when the person is sitting right next to you. But, as I said, there aren't many," Vettel added.
"I'm sure we all have our weaknesses. Maybe some are part of our characters, maybe some are part of our driving — but to be honest I don't think about those too much. I think about mine quite a lot and try to get better at what I need to improve. But yeah, concerning other people, it's not in my hands. So, I try to finish my plate."
© Copyright IBTimes 2023. All rights reserved.