Back to business for NFL as labor dispute settled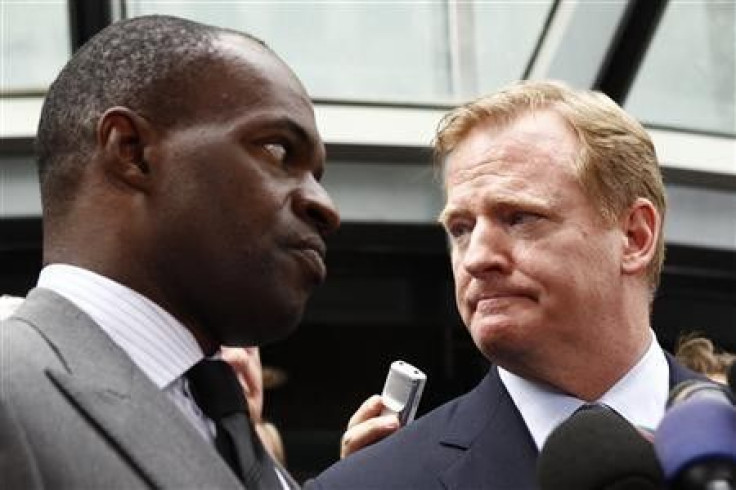 The National Football League (NFL) and its players ended their months-long row over how to carve up their financial empire Monday by agreeing to a multi-billion dollar, 10-year deal.
Key players from both sides shook hands and hugged each other like old friends during a news conference that signaled America's richest and most popular professional sport would proceed next season as planned.
"This has been a long time coming," NFL Commissioner Roger Goodell trumpeted. "Football's back and that's good news for everybody."
Although the new collective bargaining agreement still had to be ratified by the players, the four-and-a-half-month-old lockout ended with confirmation the NFL Players Association (NFLPA) and player representatives backed the deal.
"Obviously, we have a collective bargaining ratification process that has yet to start," said NFLPA Executive Director DeMaurice Smith. "But our men believe that they should make this decision as players."
The players cannot vote on the deal until the NFLPA is recertified, but that was considered a formality.
The league set a deadline of August 4 for recertification but normal service will resume almost immediately with teams set to open doors Tuesday for training while the annual free agency frenzy gets off to a belated start.
"This is a fair deal that we're excited to present to our players," said Jeff Saturday, a player representative and center for the Indianapolis Colts.
Both sides have been heavily criticized in the United States for trading insults and squabbling over a fortune at a time when many families are struggling to make ends meet.
But Saturday provided a lasting image of the new goodwill between the sides when he embraced New England Patriots owner Robert Kraft, who played a pivotal role in securing the deal despite dealing with the recent death of his wife to cancer.
"I believe you're going to see a very great NFL over the next decade," said Kraft.
"And I hope we gave a little lesson to the people (politicians) in Washington because the (national) debt crisis is a lot easier to fix than this deal was."
STEADILY BUILDING
Speculation about a pending agreement had been steadily building for over a month and was considered a certainty after the league's 32 team owners voted 31-0 last week, with the Oakland Raiders abstaining, in support of a new deal.
But the agreement was dependent on the support of the players, who spent the weekend huddled down with their lawyers reviewing the proposal before signing off.
"Congrats to both parties on settling the lockout," Philadelphia Eagles quarterback Michael Vick said on Twitter. "Intelligent men always find ways to win."
The regular season will begin as scheduled on September 8 when the Green Bay Packers host the New Orleans Saint while the preseason will start August 11. The only game lost as a result of the lockout is the annual Hall of Fame Game that was scheduled for August 7 between the Chicago Bears and St. Louis Rams.
The new deal included proposals for limits on training and offseason programs, rookie wage scales, additional funding for retirees and a lot more money for everyone.
"We didn't get everything that either side wanted but we did arrive at a deal that we think is fair and balanced," Smith said. "I know it has been a very long process ... but our guys stood together when nobody thought we would. And football is back because of it."
BEST PAID
Although NFL players are among the best paid sportsmen on the planet and each of the 32 clubs was on the latest Forbes Magazine list of the world's 50 richest sporting teams, neither side could reach agreement on a range of issues centered around how they should divide more than $9 billion in annual revenues, a figure that was projected to double by 2016.
The players, led by high-profile quarterback Tom Brady, filed an antitrust lawsuit against the NFL and its owners, who responded by imposing the lockout.
The matter has been in and out of the courts for months, with judges urging both sides to sort out their differences through mediation, but was teetering toward a critical stage with the preseason due to start next month and the regular season scheduled to kick off.
"We know what we did to frustrate our fans," Goodell said.
"We think with this 10-year agreement we've secured our future. But we have some work to do with the fans."
© Copyright Thomson Reuters 2023. All rights reserved.