Baghdad Prepares To Stand Against ISIS Assault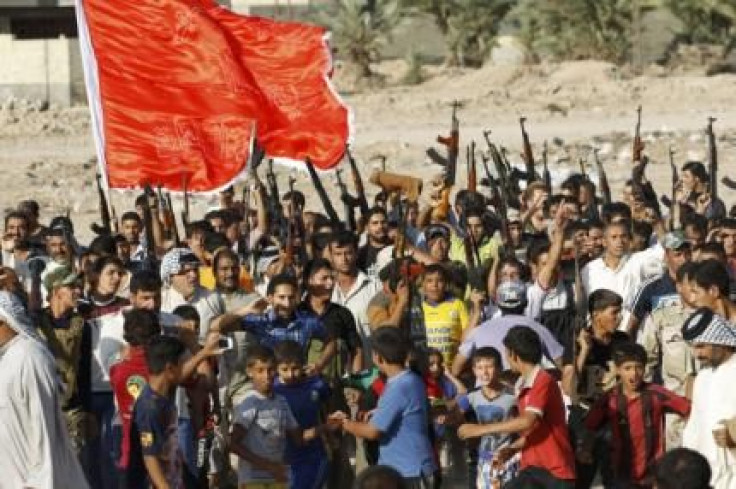 Residents of Baghdad and the surrounding area are gearing up to repel Sunni insurgents who have rampaged through the north from Syria, capturing major cities with stunning rapidity.
Provinces surrounding Iraq's capital have sent more than 40,000 men -- most of them untrained -- to help keep the Islamic State of Iraq and Syria from seizing Baghdad, residents of which have been buoyed in recent days by indications from U.S. President Barack Obama and Iranian President Hassan Rouhani they would send help and Grand Ayatollah Ali al-Sistani's ability to mobilize a division of militia men in less than a day.
The British newspaper the Observer reports fighters are rallying around Shiite symbols rather than Iraqi banners.
The New York Times reports ISIS' stunning victories last week were the culmination of a yearslong strategy. The group, led by Abu Bakr al-Baghdadi, wants to carve out a caliphate ruled by Islamic law taking in the Sunni areas of Iraq and Syria.
Last week's sweep also shored up the group's finances. Forces amassed hundreds of millions of dollars from banks as they swept through Mosul.In the meantime, Kurds in the north were trying to capitalize on Baghdad's preoccupation with survival. Peshmurga forces moved into Kirkuk and as far south as Baquba.
"They arrived at the battalion and talked to my commander and told him to surrender the whole unit's equipment and ammunition. They said they had spoken with the brigade commander. They said 'Da'ash is on its way and it will be your responsibility,'" an Iraqi army sergeant in Jalula in central Iraq told the Observer.
"They arrived in civilian cars and packed more weapons in the trunks, and they filmed us with their cell phones as we left. Then they raised the Kurdish flag over our base. Overnight the Kurds became a state."
© Copyright IBTimes 2023. All rights reserved.