Bahraini protesters move to parliament building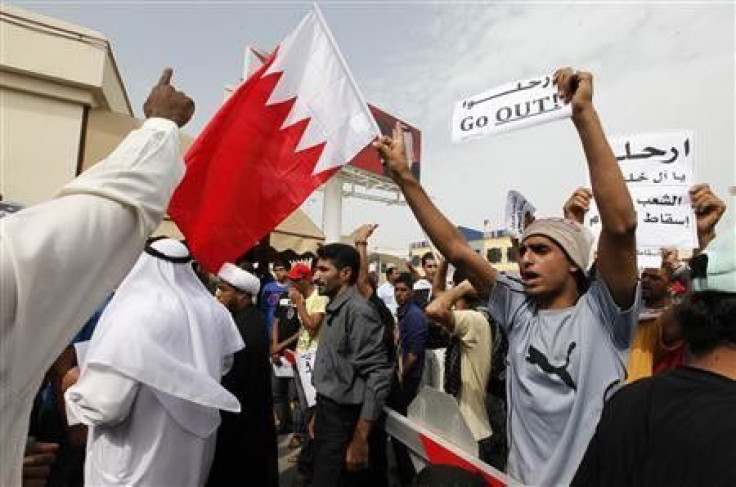 Bahrainis campaigning for democratic reforms in the Gulf Arab state staged a protest outside the U.S. ally's parliament building on Monday, demanding that all its members resign over protester deaths.
Seven people were killed and hundreds wounded in protests earlier this month by Bahrainis mainly from the majority Shi'ite Muslim community who complain of repression by the Sunni monarchy and Sunni ruling elite.
We came to this parliament to say that you represent the people and you represent us -- take an honourable position over the killings by the army, said Mirza al-Shihabi, one of around 500 protesters outside the building in central Manama.
They carried banners complaining of Sunni Muslim foreign nationals employed in the army and police who they say are given nationality and enjoy many benefits.
Shi'ites say the government excludes them from jobs, healthcare and other opportunities, a charge the government has denied. They also say the authorities, who are close to Sunni Muslim power Saudi Arabia, have settled Sunnis from other Arab countries and Pakistan in an effort to offset Shi'ite numbers.
There are Yemenis and Pakistanis in the police force while our children can't get jobs. Everyone in parliament has to resign because they are doing nothing about it, said Umm Jasser. Protesters say many Jordanians are also employed.
Out with the naturalised citizens! some slogans read.
Members of the Shi'ite Wefaq bloc resigned from parliament over the deaths at nearby Pearl Square, where protesters have since camped out to press their demands for reform. But parliament has little power and the cabinet is appointed by the king and most ministers are from the royal family.
Bahrain's rulers, under pressure from Western allies, have since pledged to allow peaceful protests and offered dialogue. They also released more than 300 people detained since a crackdown on Shi'ite unrest last year and the king reshuffled his cabinet on Saturday, appointing four new ministers.
Hassan Mushaimaa, a dissident from the more hardline Haq movement, returned from London on Sunday saying he was prepared to accept a Western-style constitutional monarchy in the kingdom, a regional banking hub that hosts the U.S. Fifth Fleet.
Some protesters are demanding that the al-Khalifa family quit power. When a man in civilian clothes was seen on the rooftop of the parliament building taking photographs of Monday's protesters, they immediately shouted: Get out, get out al-Khalifa! and the people want the fall of the regime.
The protesters are trying to put more pressure on the government by staging protests around city, while maintaining their presence at Pearl Square.
On Sunday, some marched to a court building in Manama's commercial district, their deepest foray into the city so far. Referring to the king, they chanted, Down, down Hamad!
Tens of thousands of pro-government supporters have also taken to the streets in recent days, saying that reforms launched by Bahrain's king a decade ago have resulted in freedoms and democracy unique in the Gulf Arab region.
© Copyright Thomson Reuters 2023. All rights reserved.