Balinese Priests Hike To Top Of Volcano Expected To Erupt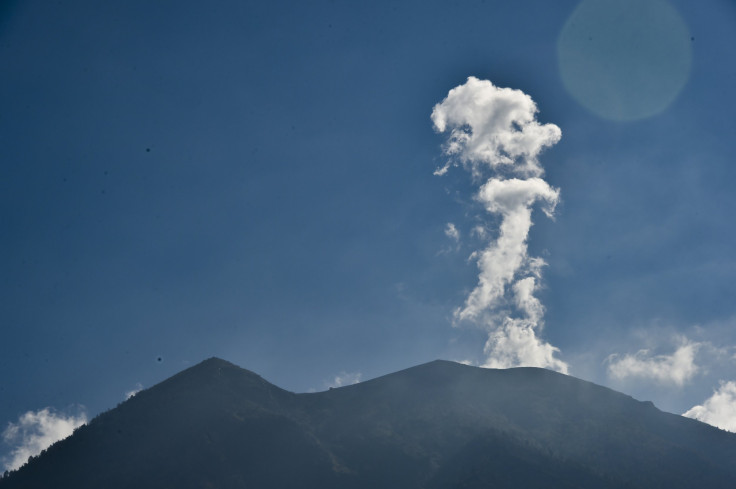 Three Balinese priests on Friday hiked to the top of an Indonesian volcano predicted to erupt, saying they wanted to survey the volcano despite the evacuation of over 140,000 people in the surrounding area.
Mount Agung has displayed signs of erupting soon, with tremors and steam prompting authorities and experts to warn people away from the site. Volcanologists encouraged a 7.5-mile exclusion zone around the volcano, claiming it could erupt at any moment. However, the three Hindu priests were not deterred and climbed to the top of the volcano.
Jro Mangku Kari, one of the priests, and his nephew Wayan Ada, also known as Mangku Mokoh, took photos and video of themselves on the top of the volcano. Mokoh said he was "not sure that Mount Agung will erupt," denying volcanologists' assertions. One of the other priests said told him to make an offering at the top of the volcano.
"My goal was to pray for people's safety and that they be protected from harm," VIVA News reported Kari said. He also reported the hike took them four hours.
Indonesian authorities denounced the priests for their trek, worrying that others would be inspired to act similarly. More than 1,100 people died when Mount Agung erupted in 1963. However, they said tourists were still allowed on the Bali island's resorts.
"To all who live within the 50 villages in the safe zone, if they want to go home, they are welcome to go home," the island's governor, Made Mangku Pastika, said.
Fairfax Media reported he claimed some refugees not in the danger zone did not need to evacuate.
The governor's comments came as a response to the evacuation of approximately 70,000 people who live in officially safe areas. He said they are currently a "burden" on evacuation shelters.
"They have their lives there, they have their animals there," he added. "Who will care for them if they leave for a long period of time?"
Despite warnings, some people who live in the danger zone— a few who survived the 1963 eruption— refused evacuation orders. Others stayed because of tradition. Still, others placed their faith in God to keep them safe from possible disaster.
The volcano has been on the highest possible alert since Sept. 22. Experts are unsure when it will erupt, but Coconuts Bali reported Friday that a fissure vent was seen at the crater—a sign the volcano could erupt soon.
"The probability of eruption at the moment is high. Still, this probability may change at any time," Dr. Devy Kamil Syahbana, from the Centre for Volcanology and Geological Hazard Mitigation, said to Channel News Asia. "Still, this probability may change at any time. It depends on what the volcano wants."
© Copyright IBTimes 2023. All rights reserved.